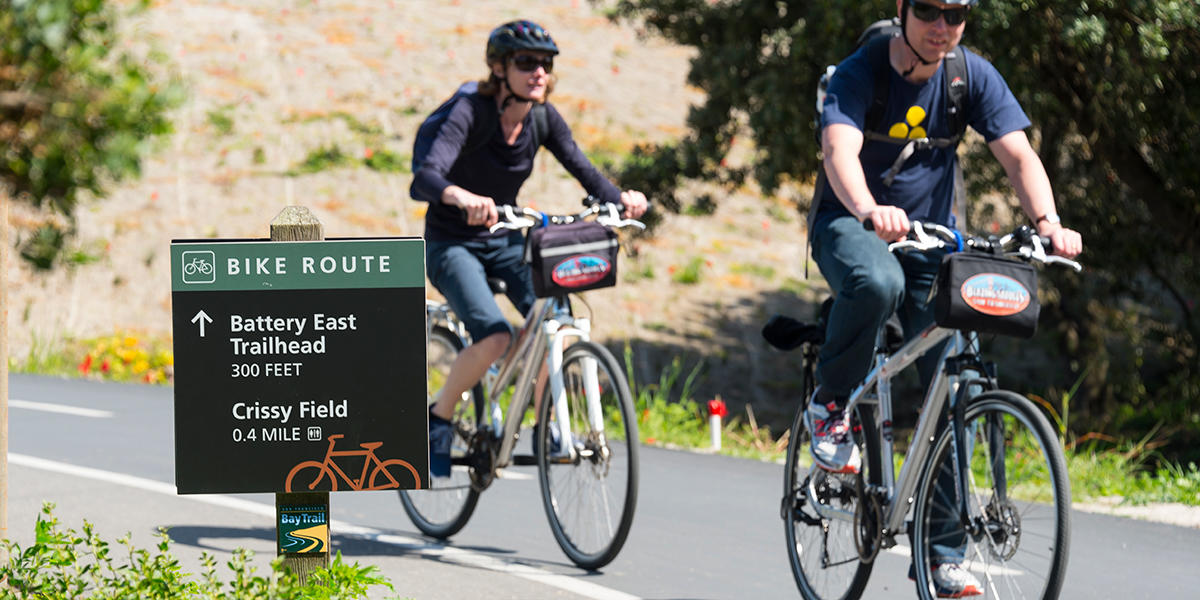 Biking
Alison Taggart-Barone/Parks Conservancy
The Golden Gate National Parks are comprised of more than 30 distinct park sites scattered across 80,000 acres, and serves a regional population of over 7 million people.
Each year more than 15 million people visit the parks to walk, hike, bike, swim, surf, nature-watch, and learn about local history and natural resources. And each visitor in each park is guided and instructed by information in the form of signs and interpretive displays.
The park has installed 771 new wayfinding signs since 2006 under the current parkwide sign plan, which won a design award in 2007 from the Society for Environmental Graphic Design. These signs and displays play a major role in helping visitors enjoy the parks.
A result of close cooperation among the Parks Conservancy, National Park Service, and the Presidio Trust, the parkwide sign plan is part of an ongoing effort to improve the trails, trail system, park resources (such as sensitive habitats for native species), and the overall visitor experience.
Other fundamental goals of the parkwide sign plan include:
Improve enjoyment and understanding of the parks.
Improve safety and accessibility for all visitors.
Attract new visitors.
Encourage visitors to experience more areas in the park.
Foster improved stewardship of the land and historic sites.