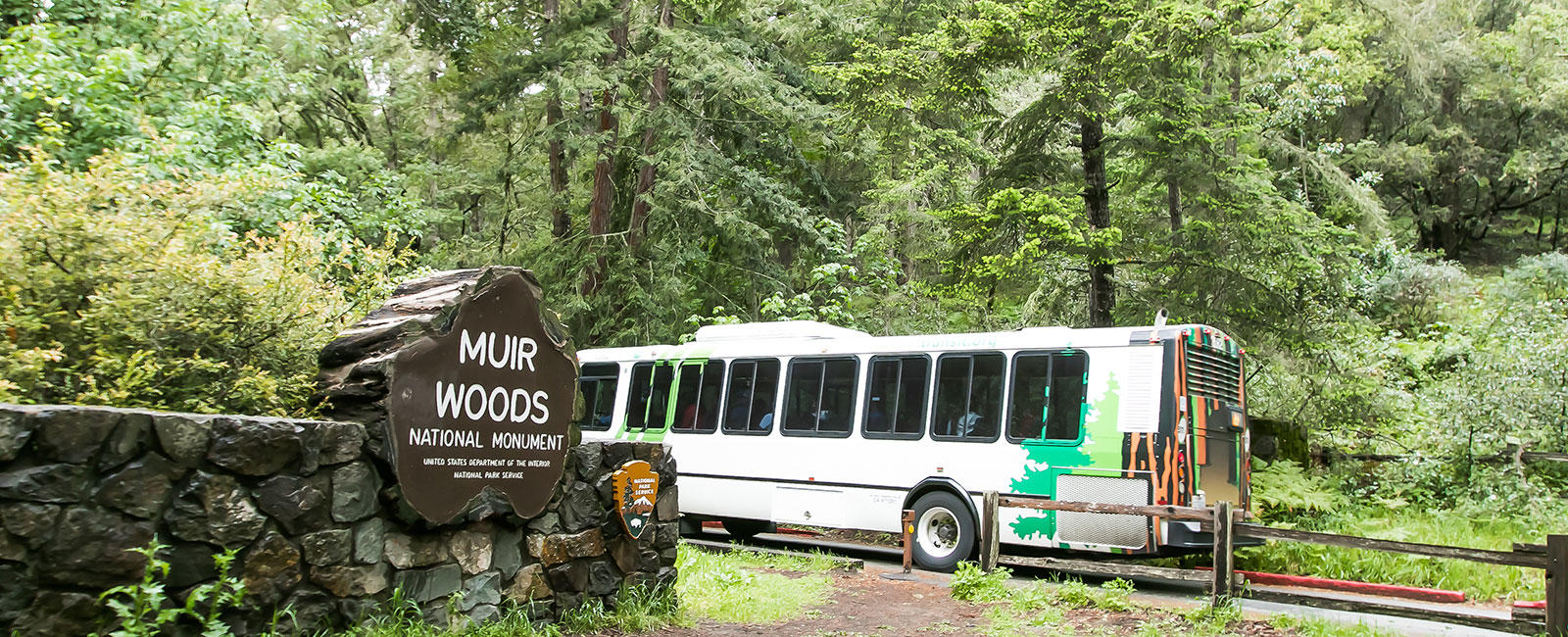 Bus entering Muir Woods National Monument
Kirke Wrench/National Park Service
This is a list of tour operators that provide service to Muir Woods and other Golden Gate National Park sites.
A Capital Limousine & Sedan Services
No set schedule - charter service
Alma Mater Inc. dba Bonjour Transportation
No set schedule
Best Bay Area Tours
8 am–1 pm or 1:30–6:30 pm
Blue Heron Custom Tours & Travel
No set schedule
City Sightseeing Corporation
Departure every 30 minutes, 10 am–2 pm
Coach Coach Coach, Inc. dba Coach 21
No set schedule
Dylan's Tours
Departs 9:40 am from Fisherman's Wharf and 10 am from Union Square, with 3–3:30 pm SF arrival
Extranomical Adventures, Inc.
Daily guaranteed departures. Complimentary hotel pick-up and drop-off. Start at 8:00 am-8:40 am (depending on pick-up location); Return at approximately 1 pm
Gray Line of San Francisco
7:45 am to 8:30 am pick-up
Golden Horizon Travel, LLC
9 am pick-up
Incredible Adventures
8:15 am–9 am pick-up
King's Tour, LLC
No set schedule
Mercury Tours
No set schedule
Minitrans Corp dba San Francisco Minibus
No set schedule
Myway Tours, Inc.
No set schedule
Peninsula Tour
No set schedule
Portofino Tours Services aka USA Tours
No set schedule
Ram Tours
No set schedule
S & S Tour USA, LLC
No set schedule
San Francisco Chinese Tour
No set schedule
San Francisco Comprehensive Tours LLC - San Francisco Shuttle Tours
12:45 pm–5:30 pm
Tour Transport, Inc.
9 am and 1:30 pm pick-up
Tower Tours/Divine Transportation
Daily Tours at 9 am and 2 pm (11 am during the summer)
Find out ways to visit the park with Transit & Trails, an easy to use website providing directions by walking, hiking, car, and/or bus to any trail system in any park.
Today's Hours: 8:00 am-6:00 pm
Sun - Sat:
8:00 am-6:00 pm