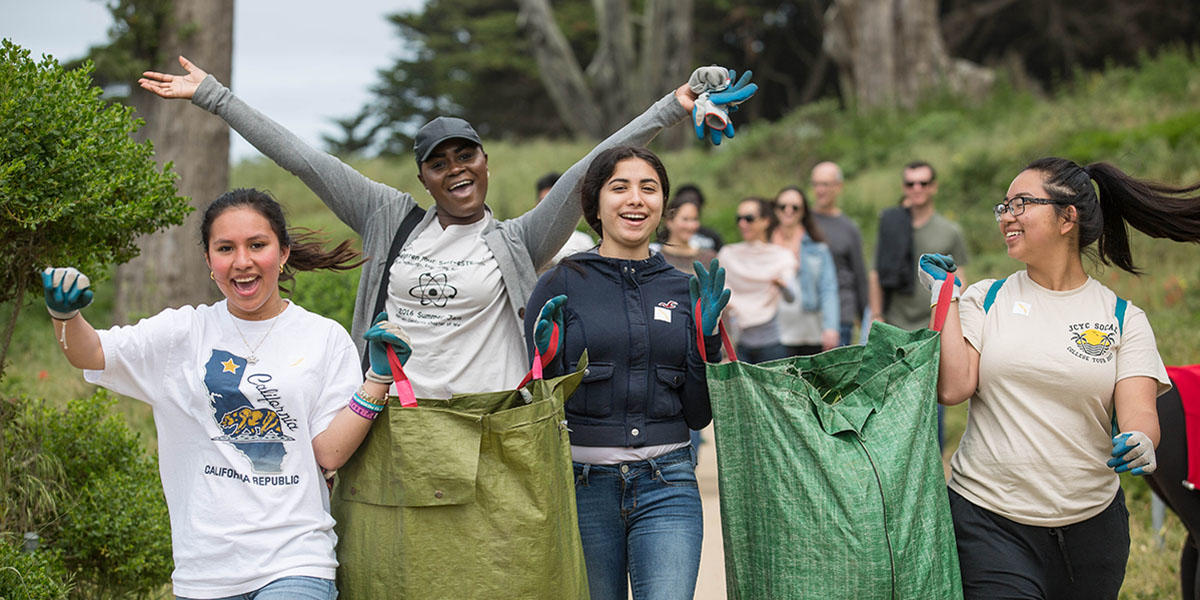 Volunteers Celebrate at Lands End
Maria Durana
When: Thursday, October 27th, 2022 - Sunday October 30th, 2022
Where: Project locations vary throughout the GGNRA, Muir Woods, and Fort Point. See below for more details.
Registration: Scroll down to browse project options and to register. Registration is required.
The Golden Gate National Recreation Area (GGNRA) is turning 50 years old on October 27, 2022! Help us celebrate the 50th anniversary by rolling up your sleeves and giving the parks some TLC! Volunteers have been part of the fabric and heart of the GGNRA from the start, so this is also a celebration of all the volunteers that have shared their time and care over the years to keep these special places healthy and thriving. We've got a number of volunteer activities lined up from Thursday 10/27 – Sunday 10/30 at sites throughout the park. It's going to be a fun and impactful few days carrying forward the volunteer tradition established by the National Park Service, Golden Gate National Parks Conservancy and Presidio Trust over the last 50 years, and kicking off the next 50 years of helping our parks. Join on your own, grab a friend, or bring some family. Check out the options below and sign up to get more details.
volunteer projects
Thursday, October 27th
Friday, October 28th
Saturday, October 29th
Sunday, October 30th

Groups
Groups of five or more require special arrangements and must be confirmed in advance. Please review the List of Available Projects and fill out the Group Project Request Form.
 
About the GGNRA: The Golden Gate National Recreation Area is one of the largest national parks in an urban setting. The park welcomes over 15 million visitors a year across its more than 82,000 acres of coastal and urban lands, north and south of the Golden Gate Bridge. It includes Alcatraz Island, the site of a 1969 protest which began the American Indian Civil Rights Movement; Crissy Field and the Marin Headlands, which offer iconic views of the Golden Gate and city; the Presidio of San Francisco, which includes military landmarks across more than 200 years of history and Presidio Tunnel Tops, our newest park site; Stinson Beach, a popular coastal destination in the Bay Area; and Rancho Corral de Tierra, the newest addition in San Mateo County. Congress established GGNRA on October 27, 1972, to provide a national park experience to a large and diverse urban population while preserving and interpreting the outstanding natural, historic, scenic, and recreational values of the park lands.
 
The Golden Gate National Parks Volunteer Program is a cooperative parkwide effort of the Golden Gate National Parks Conservancy, the National Park Service, and the Presidio Trust.
On Oct. 27, 1972, a collection of former military, private, and public lands spanning three Bay Area counties was united and officially designated as public parklands for all. Those lands are the Golden Gate National Recreation Area (GGNRA), and we're celebrating the milestone 50th anniversary year of their founding!