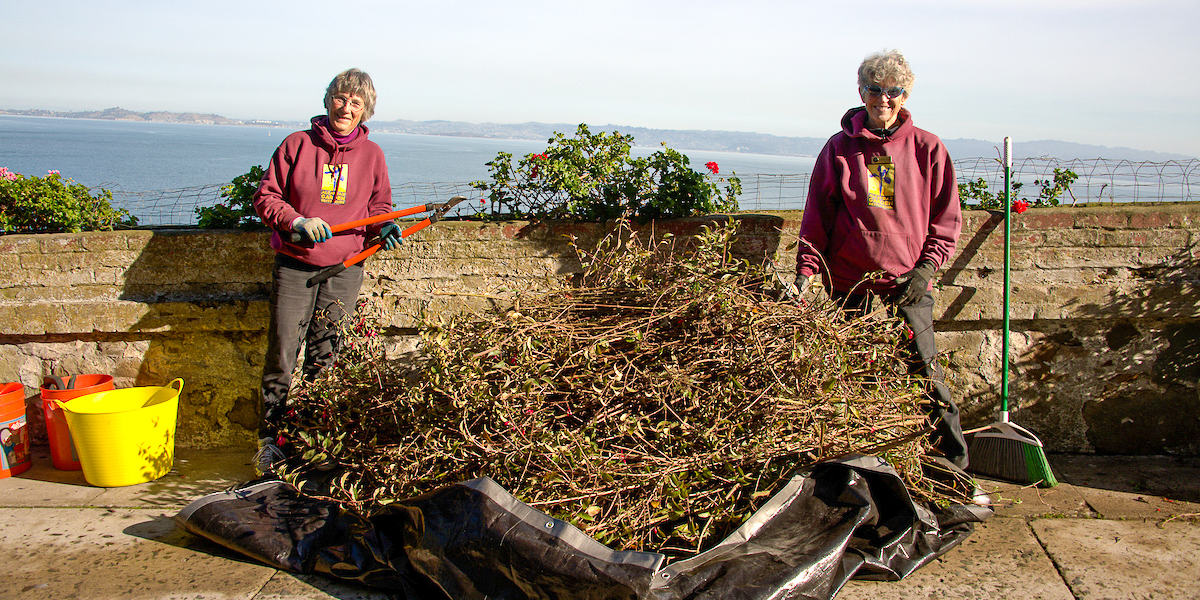 Alcatraz Garden Volunteers
Alison Taggart-Barone
Ferns, mosses, Pelargoniums, Geraniums, and other plants cascade from a wall along the switchbacks that take Alcatraz visitors from the dock to the cellhouse. Aptly named, the Fern Wall is particularly special to volunteer Corny Foster, who has been stewarding this unique portion of Alcatraz Gardens since 2004. Corny hasn't been able to tend to her favorite garden plot since shelter-in-place began. While the Alcatraz Garden volunteers have not been able to interact with the beautiful land they care for since March 13, that hasn't stopped them from staying connected with one another.
Shelagh Fritz, the Program Manager at Alcatraz Gardens, highlighted that some members of this team have been volunteering on the island for over 15 years, and that they are a "tight knit group. We have the gardens in common, but still really get along outside of that."
"I miss the work tremendously," said another longtime volunteer, Marian Beard. "The volunteers are old friends of mine that I stay in touch with in other ways."
Fritz and fellow Program Manager Natalie Korengold have been organizing meaningful ways for the site's 40 regular volunteers to stay connected. 
"Many of the volunteers have a garden area they tend every time they come out to volunteer," said Fritz. "I've been taking pictures of the areas and emailing them to the volunteers to let them know how their special spot is faring."
After seeing a photo from Fritz of the Fern Wall, Corny said "right now it's glorious. It's full of blooming Centranthus, which is a bright pink, very showy plant. I was very proud to see the Fern Wall."
In addition to sending photo updates from the gardens, Shelagh and Natalie also organize weekly Zoom discussions, facilitate a Facebook group, check in via email and phone, and host an online book club where they discuss articles relating to human interaction with nature. The volunteers even organized a virtual birthday party for one of their members, wearing fancy hats and sharing life wisdom.
Like the plants that use their intertwining roots to stay attached to the Fern Wall, the Alcatraz Garden volunteers have held on to the community space they've cultivated over many years, staying passionate about the work they share.
"The gardens were abandoned for 40 years...200 of those species survived 40 years without anybody doing anything to them. So I don't think that any of us are worried that the gardens will be lost. They'll be some overgrowth and there will be work to do," Corny said. "I know as soon as all of us can be volunteering again we will be."
What can you do to help support Alcatraz Gardens? Become a member, donate, or plan a trip when the island safely reopens. A portion of your ticket sale will go to supporting the gardens.
July 22, 2020