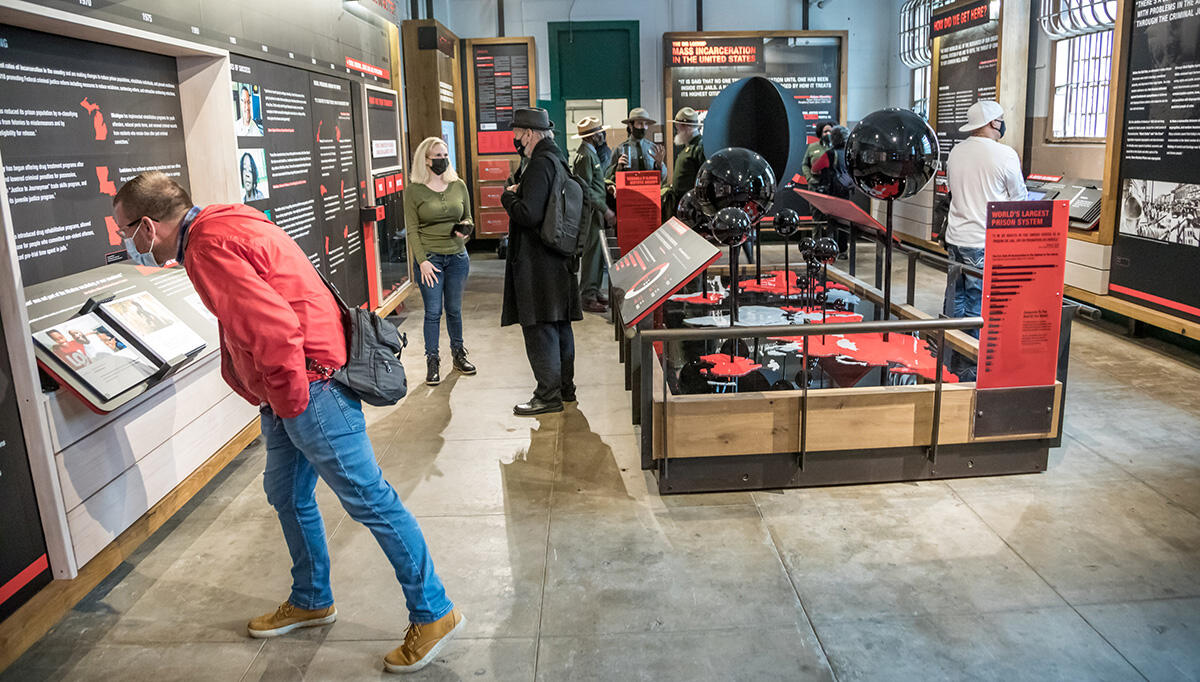 'The Big Lockup' exhibit seen on Alcatraz Island.
Will Elder / NPS
Alcatraz Island is full of doors that lead to the past, and right now there are several unique and new experiences on the island to check out.
A new permanent exhibit on Alcatraz Island tells the story of the United States prison system through the voices and experiences of those formerly incarcerated, scholars, and criminal justice advocates. The Big Lockup: Mass Incarceration in the United States is a free self-guided experience that uses text, photographs, multimedia and interactive content to engage audiences on the history of incarceration in the country, both before and after the period during which Alcatraz Island was a military prison and federal maximum security penitentiary. Find out more on the exhibit.
Also this winter, make sure to find the Agave Trail, which is only open during a select few months of the year. Winding along the southern edge of the island, the Agave Trail features lots of its namesake plant, plus up-close views of the city skylines and two magnificent bridges. Note: The Agave Trail is a natural feature of the island and may be closed due to other factors. If you can't make it to the trail, we recommend taking in the views from the Parade Ground or the West Side Gardens.
Our unique Alcatraz Night Tours and Behind the Scenes Tours are also back. You'll get access to hidden areas of the island on small tours led by NPS rangers and historical experts from the Parks Conservancy. No two tours are ever the same, perfect for a birthday or other special occasion. Get tickets today from Alcatraz City Cruises and find more info about how you can Escape to Alcatraz!
October 22, 2021