A view from inside Alcatraz as it currently stands.
Paul Myers / Parks Conservancy
Alcatraz Island is home to many things—migrating birds, a museum, an art gallery, gardens. It's also home to the known and unknown stories of 1,567 incarcerated people. We know the tales of its most infamous residents, and stories of escape attempts loom large in popular culture, captivating visitors from around the world. But like most things on the island, there's more there and there are more stories to be told.
Like the story of Robert Lipscomb, a Black man from Cleveland, Ohio who grew up during the Great Depression and eventually ended up in the Alcatraz Federal Penitentiary.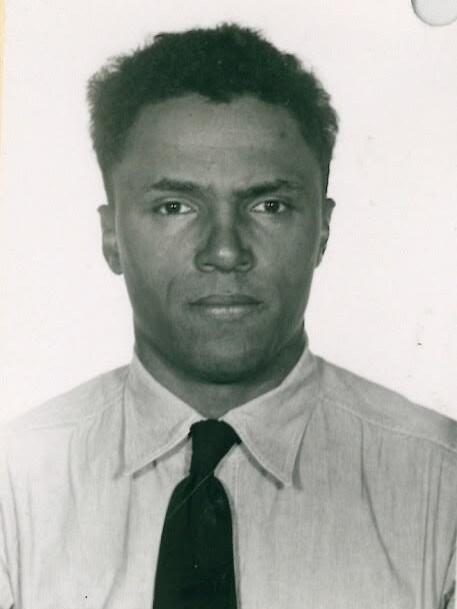 Robert Lipscomb.
National Archives and Records Administration

Lipscomb had a traumatic and destabilizing childhood, filled with petty crimes and crimes of survival. By the time he turned 18, he was sent to prison for grand theft auto. Later, still living under dire straits, he was caught distributing 17 counterfeit $20 bills. In 1951, he was given a 25-year sentence for that fake $340 and sent to Leavenworth Penitentiary in Kansas.
During his time in Leavenworth, Lipscomb learned about the laws around desegregation and organized with other incarcerated individuals to resist the racist—and, they learned, illegal—practices within the prison's system. Outside the walls of the penitentiary, the civil rights movement grew and that same search for justice and equality grew inside the penitentiary, too.
Armed with the knowledge of President Truman's executive order desegregating the US military in 1948 and the 1954 Brown v. Board of Education ruling that desegregated public schools, Lipscomb knew he had a clear argument for why every incarcerated person should be treated equally. He wouldn't quietly suffer the injustices in the prison system, and for his activism, he was sent across state lines to the penitentiary on Alcatraz Island.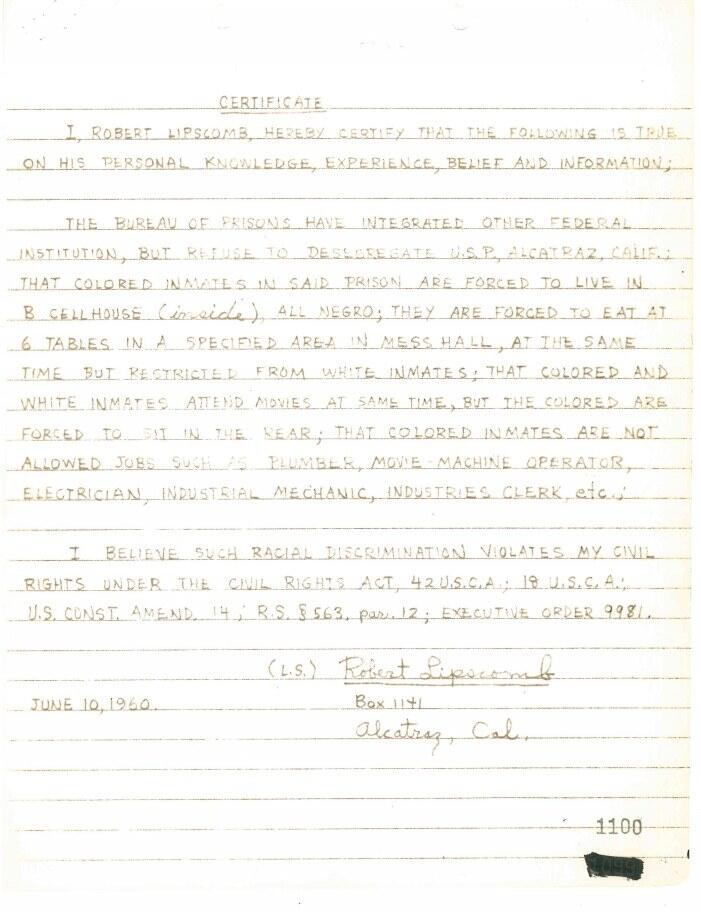 June 1960, Robert Lipscomb letter reporting discrimination to the Bureau of Prisons.
National Archives and Records Administration

On the island, Lipscomb was labeled a "racial agitator," faced disciplinary hearings and was placed in solitary confinement for continuing to organize against racial segregation. He wrote letters to US Attorney General Robert F. Kennedy and to the Bureau of Prisons, sharing examples of discriminatory practices in the distribution of work assignments, in the living arrangements on the island, and in the disparity in sentencing.
"I am not going to try to excuse or minimize the difficulties I have had in adjusting to a 25 year sentence involving about $340.00 to $1,000.00 in counterfeit $20 federal reserve notes. You can well imagine my state of mind, shock and chagrin when I personally met and read about counterfeiters involved in crime on a national and international scale on a magnitude of $1,000,000.00+ whose punishments ranged from probation to 10 years. Such gross disparity between persons for the same crime seemed to me to be racial persecution rather than judicial prosecution."

An excerpt from the July 1961 letter from Robert Lipscomb to Hon. James V. Bennett, Director of the US Bureau of Prisons.
Robert Lipscomb was just one person speaking up against a bevy of more powerful voices, but as long as he had his voice, he kept using it. In fact, he kept going until finally he was removed from the penitentiary and, once again, sent elsewhere.
Soon after he was transferred off the island, the penitentiary on Alcatraz was closed. It was never desegregated during its years of operation. In California, prisons weren't desegregated until after the 2005 US Supreme Court decision that declared it unconstitutional to segregate people inside of a prison.
Lipscomb's story isn't one that can be tied up neatly with a happy ending, but it's a story of Alcatraz that can remind us to listen to those who speak up in the name of justice from wherever they are. On Alcatraz Island in 2020, the penitentiary is a historical monument, a place to reckon with the past and contend with the present and future.
Robert Lipscomb's story and the stories of other incarcerated Black people on Alcatraz can be heard in Kevin Epps's documentary "The Black Rock AKA Black Alcatraz."
November 12, 2020