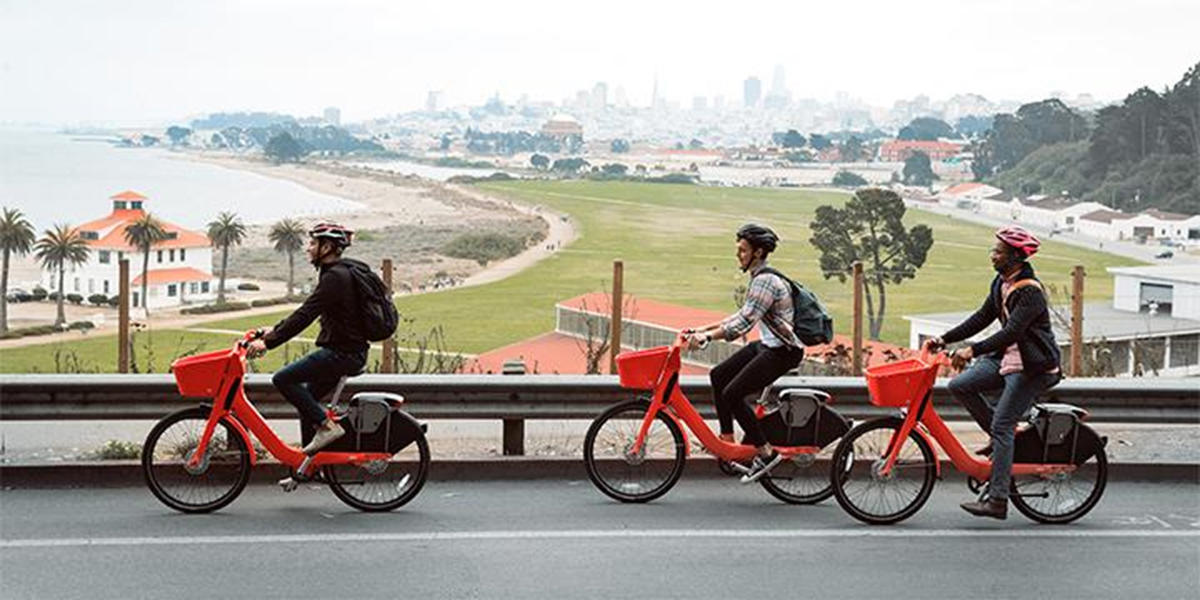 Electric bike share is now available at the Presidio via JUMP Bikes
Editor's note: This article was written in 2018. As of April 2021, the Presidio Trust has updated information on bike sharing in the Presidio of San Francisco. For more information, please see the Presidio Trust website and check out their FAQs about Presidio bike sharing.
You might have heard the buzz: electric bike share is coming to the Presidio!
The Presidio is the first national park in the West to offer electric bike share.
Why electric bikes? The JUMP dockless e-bikes make conquering the Presidio's hills easy and fun. You can discover Golden Gate views and wild open spaces without breaking a sweat. Plus, JUMP bikes are affordable, at just $2 for the first 30 minutes and 7 cents for each additional minute, and they have a discount program for low-income riders. Finally, JUMP bikes are all over the city and most San Francisco neighborhoods are less than 30 minutes away!
Here's what you need to know to get rolling:
-Download the JUMP Bike app from the Apple App Store or Google Play.
-Find a bike near you.
-Unlock and ride!
Make sure to follow the Presidio's rules of the road!
-Ride on roads and bike lanes, not Presidio trails. You'll find 25 miles of options!
-Park bikes ONLY at one of the Presidio's 125 bike racks. You'll find bike racks near the Presidio Visitor Center, the Warming Hut, and other locations throughout the parks. For a full bike map click here.
-Ride with respect, ride safe, and be kind to the national park's nature, historic treasures, and other visitors.
For FAQs and more rules of the road, including where to ride and park, click here. For more info on electric bike share in the Presidio, click here to go to the Presidio Trust's site. 
What about other bike and scooter share options?
-JUMP Bike is the first e-bike operator with a permit in the Presidio, but the Presidio Trust anticipates additional bike and scooter share providers will be available in the future.
-Both traditional and e-bikes are available to rent at the Sports Basement in the Presidio at 610 Old Mason Street. Click here for more info.
September 6, 2018