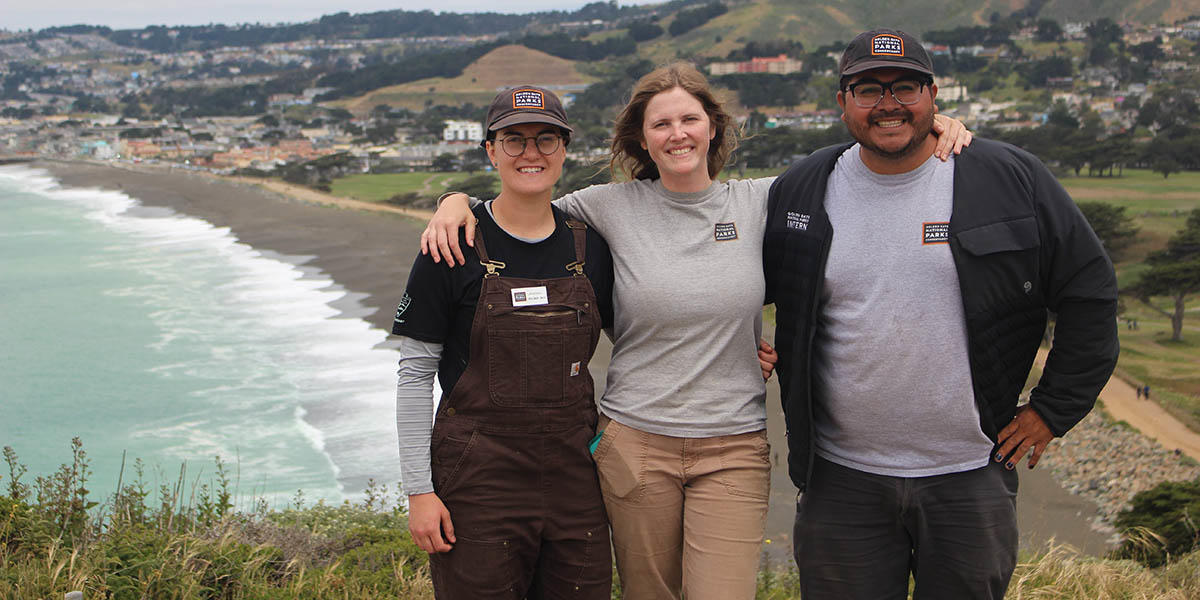 From left, San Mateo Park Stewardship intern Laurasia Holzman Smith, Community Programs Manager Georgia Vasey, and intern Samuel Peña.
Courtesy Georgia Vasey
After working with the Parks Conservancy for the past five years, I'll be starting a new chapter and heading to graduate school to continue my education in natural resources and restoration ecology. Since this will be one of my final chances to communicate with you all, I wanted to leave some takeaways that have shaped my experience as the San Mateo Community Programs Manager.
Teamwork makes the dream work
I've been grateful to mentor and supervise two unique interns each year who bring such a diverse array of skills, knowledge, and passions. What I've learned is invaluable: How to be a better teacher, how to empower each individual's strengths, and what it takes to form a thoughtful and cohesive team. Spending long work hours together, we shared ups and downs and came out of it all with such special bonds for which I'll cherish forever. Each new team always came up with fun motto, such as Ally and Katy's "Teamwork makes the dream work," Steve and Gina's "Go San Ma-team!" and Laurasia and Sam's "Team GLam." They were all influential in shaping each distinctive year, and were the main reason I felt so energized to return each day.
Leave your home better than you found it
After spending a year in Marin as a Park Stewardship intern, and then Nursery Specialist, I had the opportunity to move south to my current position as the San Mateo Community Programs Manager. This move ringed a homecoming bell, as Pacifica, where park sites such as Mori Point and Milagra Ridge reside, was my hometown. Having the opportunity to restore formerly disturbed natural areas into thriving ecosystems for plants, animals, and humans alike has been extra-special for me. These open spaces were once my childhood places to explore and play. I'm proud and inspired to be leaving these park sites knowing I've been able to contribute to their value with lots of hours of planting, weeding, seed collecting, and community building.
Community is the heartbeat
As a former gardener, I knew coming into my role that I would love getting my hands dirty. What I didn't anticipate, was how much more I would love getting my hands dirty with the help of the local community. When I teach volunteers about the cultural and natural history of our park sites—getting them to plant their first plant, or taking them to see the sweeping views—the expressions, curiosity, and passion that each person brings replenishes any doubts I have for people's genuine care for the environment. Stewardship invites the community to give back to nature—it gives people a sense of responsibility and awareness, an avenue to build hope for the future. Together, we can make such a difference.
Partnerships with youth build future leaders
It's one thing to initiate partnerships with schools, but the work really doesn't begin until you can make that partnership something achievable each year and beyond. Keeping things consistent, making innovations when growth is necessary, and maintaining positive relationships are all critical for the success of the different programs. I've had the great opportunity of working in active partnerships with elementary-aged students through college. Seeing a child use binoculars and spot a red-tailed hawk for their first time, having a high school student consider their local environmental justice challenges, and inviting college students to plant and possibly change the trajectory of their major study after such an experience, are all moments I've witnessed and seen the light-bulbs go off for creating future environmental leaders. Shout-out to some of my main programs with Farallone View Elementary School, Oceana High School and City College of San Francisco, who've made my time in San Mateo County more meaningful.
Respect the nature in your backyard
I want to wrap up my takeaways with how much I've learned from working in an urban national park. The San Francisco Bay Area has sprawling homes, large shopping centers, hotels, and busy streets, but we also have an incredible amount of natural open spaces that provide refuge for many plants, animals, and microorganisms. We live in one of the 35 top biodiversity hotspots in the world. Throughout our park, we have several plant communities such as coastal prairies and scrublands, wetlands, redwood forests, and oak woodlands, each with an astounding amount of endemic species. Within the national park sites in San Mateo County alone, we have iconic threatened and endangered species like the Mission blue butterfly, San Francisco garter snake, California red-legged frog, and the Hickman's potentilla.
While many of these species are struggling, we are working hard through our restoration efforts to bring species back to sustainable populations. Although I was local, I never knew how many important species resided in my backyard open spaces. I encourage you all to respect, learn about, and give back to these important species that truly make the nature surrounding us so special.
Thank you for reading my last sentiments here with San Mateo Park Stewardship. I will truly miss everything about this job from the gorgeous park sites that I'm lucky to call my office, to the many important people I've grown to know and admire. I encourage you to come out to my last programs for the month of June, and while this is bye for now, I can assure it's not forever.
June 5, 2019