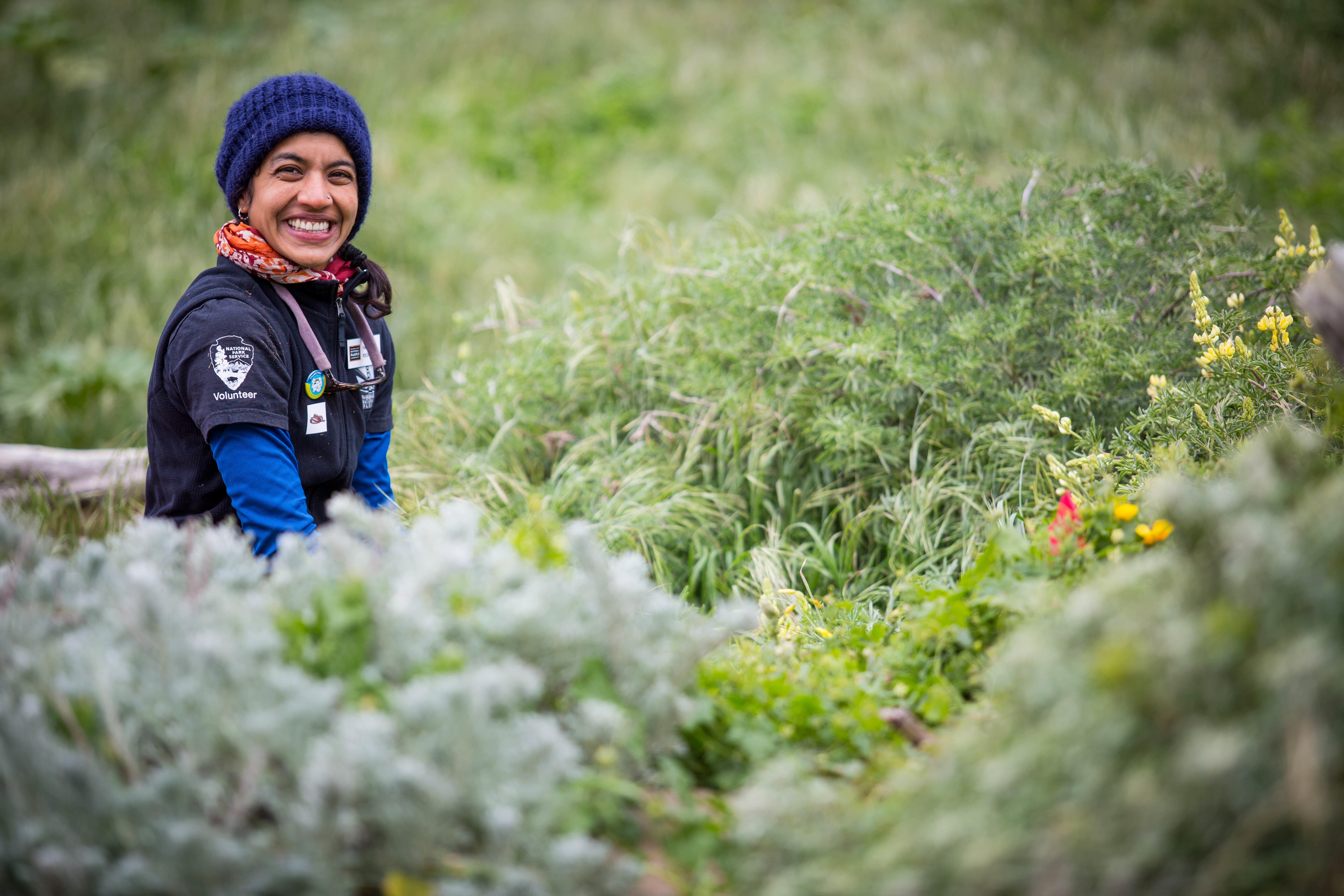 Lands End
Maria Durana/Parks Conservancy
Editor's Note: The following letter was written by Yakuta Poonawalla (pictured above at Lands End), Community Program Manager for San Francisco stewardship programs, and shared at a recent town hall. We wanted to share the note with our wider park community to let you know we miss you, we're thinking of you, and the parks are still thriving, thanks to all your hard work!
Dear volunteer, 
It's been six months since we've gathered in our parks to enjoy nature's offerings and share stories with each other. If you, like me, have never witnessed anything like this before, I hear you. And if you're someone who has seen and experienced similar times before, I hear you too. I want to acknowledge the grief, the pain, the discomfort, the uncertainty we're all living through. I'm sorry for whatever you are feeling at this moment in time, and I hope you know that you are not alone—you have a park community that sends you healing and positive energy in the form of this letter. 
While we all continue to search for routine and rhythm in our homes, and find new connections with nooks and corners in our daily living, our natural world too, in our parks has continued to find her rhythm—moving, dancing, changing, and adapting to the patterns of the weather and seasons. The pandemic arrived during the spring season, a time when we truly witness Earth's gifts in the form of flowers, and fluttering friends. Even though we have not been physically present to enjoy these comings and goings, I hope you know that all the attention and energy you have put into these lands, continues to show and brighten up the lives of many, especially during these trying times. 
I know you miss connecting with the earth. I know you miss planting plants and pulling weeds. I can hear you say, "Oh Yakuta, I miss pulling weeds, I just want to pull weeds." I hear you and I remind you of the quote I've often shared at opening and closing circles of our programs. Monk and teacher Shunryu Suzuki Roshi said: "Be grateful for the weeds you have (in your mind), because eventually they will enrich your life."
I've been taking long, slow walks on many of our trails and I wanted to share some of my observations with you. On our lands, the month of March saw the beginning of spring and a burst of wildflower blooms all across our three counties. Thousands of local, indigenous flowering plants, big and small, planted by you with care and love. Paintbrushes, daisies, checkerblooms, dahlias, tidy tips, irises—oh, the colors they painted and the joy they brought. Hopefully they cheered you up as much as they did the birds and the bees.  
"StoryWalks," which are panels of a book placed along a trail, were installed at Lands End and in the Presidio. This season we're highlighting a heartwarming story book called "The Hike" written by Alison Farrell. In it, three children find themselves exploring their local national forest and finding treasures they've never seen before. A colleague and I partnered with the San Francisco Public Library and did a YouTube Live program to explore this StoryWalk!
Up in the sky, a park biologist spotted peregrine falcons mating on the Alcatraz water tower. Can you believe that? For the first time in recorded history, peregrine falcons have nested on Alcatraz Island! I think they had their eyes set on the island for a long time but were just waiting for you to finish creating a cozy home for them! 
Ooh, and did you hear about the pair of American redstart birds that were building their nest at Mountain Lake this summer? These birds are typically found on the East Coast, so they're far from home, but I think they felt a sense of belonging and comfort here because of all the fabulous habitat restoration work you have done in and around the lake. Local birders say this was the first observation of American redstart breeding in San Francisco County!   
In our waters, park biologists were able to complete survey counts and found a record number of California red-legged frog egg masses across multiple breeding sites! 
Forty-seven blue whales were spotted in a single hour near Southeast Farallon Island—the most we've ever seen and a possible new record! Coho salmon spawners came up short in 2019-2020, but steelheads returned looking strong! I also read a report that showed that the park's plover breeding population increased significantly to 39 adults. Park staff also observed snowy plovers congregating into their "winter" or nonbreeding flocks this year. 
But the magic wasn't contained just to the forests, lands, water and high above in the sky. All around us, pollinators continued to do their thing! Park biologists spotted the first San Bruno elfin caterpillars of the season. This endangered butterfly starts its life as a bright pink caterpillar and is found in the San Mateo parklands. Did you see any bees or butterflies you had never seen before?  
I also wanted to take space in this letter to acknowledge the nationwide racial justice uprisings that we have witnessed during this time. My heart has been heavy, and I'm sure you feel the same way. But there are many rays of hope I see. In the Marin Headlands, the Heels Down Fists Up demonstration in solidarity with the Black Lives Matter Movement gave me hope. I've only seen our Park Police patrolling our park sites on horses before, and seeing photos from this demonstration, especially that it was being led by women, truly inspired me. Organized by Mulatto Meadows and The Humble Horsemanship Project, riders gathered and rode along Rodeo, Alta, and Bobcat Trails after sitting atop their horses, fists raised, for 10 seconds of silence. If you haven't seen the images yet, I encourage you to. And did you get a chance to see photos from a historic day on the Golden Gate Bridge where thousands of people joined a peaceful protest in solidarity with our Black communities? 
My heart that was heavy with all the grief has also been so full of inspiration—seeing our communities show up in so many creative ways to provide support, allyship, and create healing spaces. Latino Conservation Week in July highlighted the importance of connecting with nature through our cultures and our lived experiences; the first ever Black Birders Week celebrated our Black Birding community and brought attention to many birders whose work has been invisible up until now. And on August 9, we celebrated International Day of the World's Indigenous Peoples. Remember last year, when a dozen indigenous canoes—including a handmade, traditional tule boat made it to Alcatraz and back to Aquatic Park in a tribute to the 50th anniversary of the Indians of All Tribes Occupation of the island? I was reminded of our land acknowledgements at programs, and the moments of silence we've shared to honor land stewardship work done by our Ohlone people.  
Oh there's so much more to share, and I wish I wasn't limited by space or time, and I wish we could have our full 3 hours outside in the field, exploring and observing our parks and chatting away, learning from each other, and taking moments to just enjoy the bird songs, or uncovering something really fun below our feet. But I'll end my park musings here. Hopefully they assure you that your park community is still here, and give you a sense of hope and inspiration, and a sense of community and belonging.  
I hope you will continue to take walks in the parks and enjoy nature's offerings. I hope you will allow the parks to provide you with some calm and peace. I'll leave you with a few lines from Robin Wall Kimmerer, from the book "Braiding Sweetgrass: Indigenous Wisdom, Scientific Knowledge and the Teachings of Plants": 
"Even a wounded world is feeding us. Even a wounded world holds us, giving us moments of wonder and joy. I choose joy over despair. Not because I have my head in the sand, but because joy is what the Earth gives me daily and I must return the gift." 
Take care. 
With much gratitude to you,
Your park community.
September 22, 2020