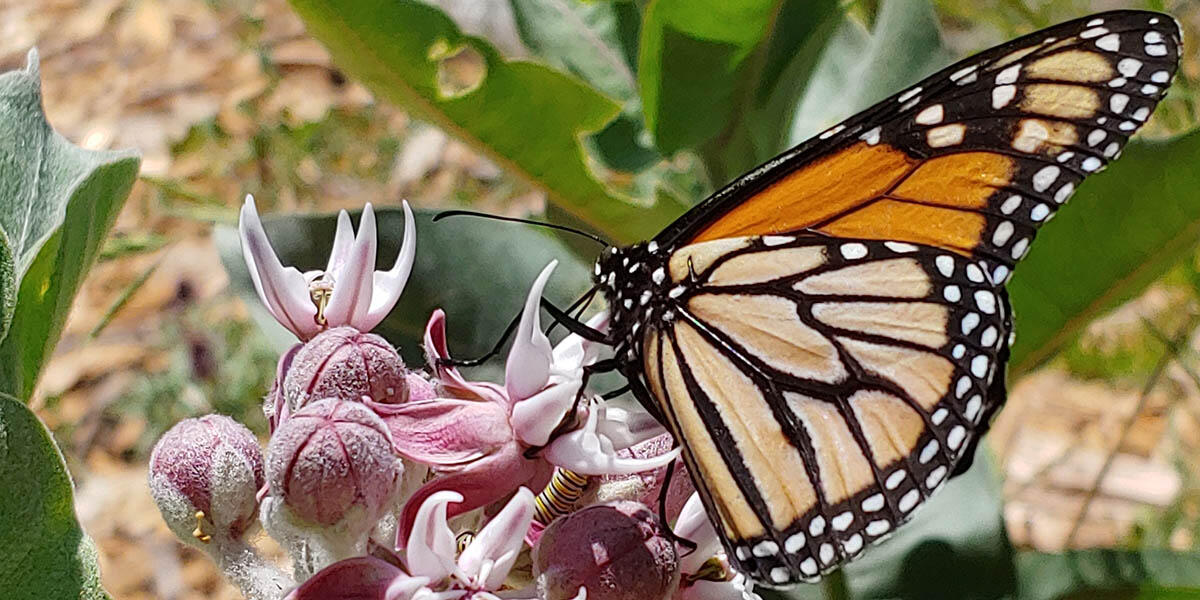 A monarch butterfly is seen landing on a milkweed plant native to California, Asclepias speciosa.
johnisaacwhitaker / iNaturalist
You can almost hear the resounding cry from the East Bay to San Mateo County to Marin: Let's help the monarchs! 
From our own backyards to the undulating landscape around Mt. Tamalpais, Parks Conservancy staff, partners, and our parks community are marshaling resources to study and help monarch butterflies. Fewer than 2,000 monarchs were counted in California overwintering sites last winter—an estimated 99% decline from their historic numbers.
In March, the Parks Conservancy and the One Tam partnership received a $400,000 grant via the California Wildlife Conservation Board's pollinator rescue program to invest in protection of the monarchs. The NPS has applied for additional funding to expand these efforts. One Tam partners will identify habitat for improvement, restore overwintering and breeding habitat, restore wild milkweed populations using locally-collected seed raised in our native plant nurseries, and plant native nectar plants. 
If you want to join the effort, you can add native milkweed and native flowers that bloom in the fall, winter and early spring to your garden. Check with your local nursery on which native milkweed species is best in your area, and don't grow milkweed in coastal zones (within 5 miles of the coast). 
Though it's not part of a scientific study, Parks Conservancy staff have been planting native milkweed, seeing caterpillars and seeing our neighbors at the same time! Helping monarchs has truly felt like a community effort in these times. Sue Gardner, Senior Director of Stewardship and Conservation Science for the Parks Conservancy, has been giving away milkweed plants to her neighbors. They've seen lots of caterpillars, and are having a great time together watching them at each stage—from tiny eggs appearing on the new plants to hungry caterpillars to beautiful butterflies emerging weeks later. Even small, individual efforts like this can make a difference. 
Beyond the backyard, One Tam also has volunteer opportunities like the Marin Milkweed Monitors program, though sessions can be popular. Check onetam.org to sign up and get ideas. Another way to help is to log any monarch sightings on iNaturalist, which helps land managers gather critical data points.  
Together, we can make a difference for these beloved butterflies. 
July 23, 2021