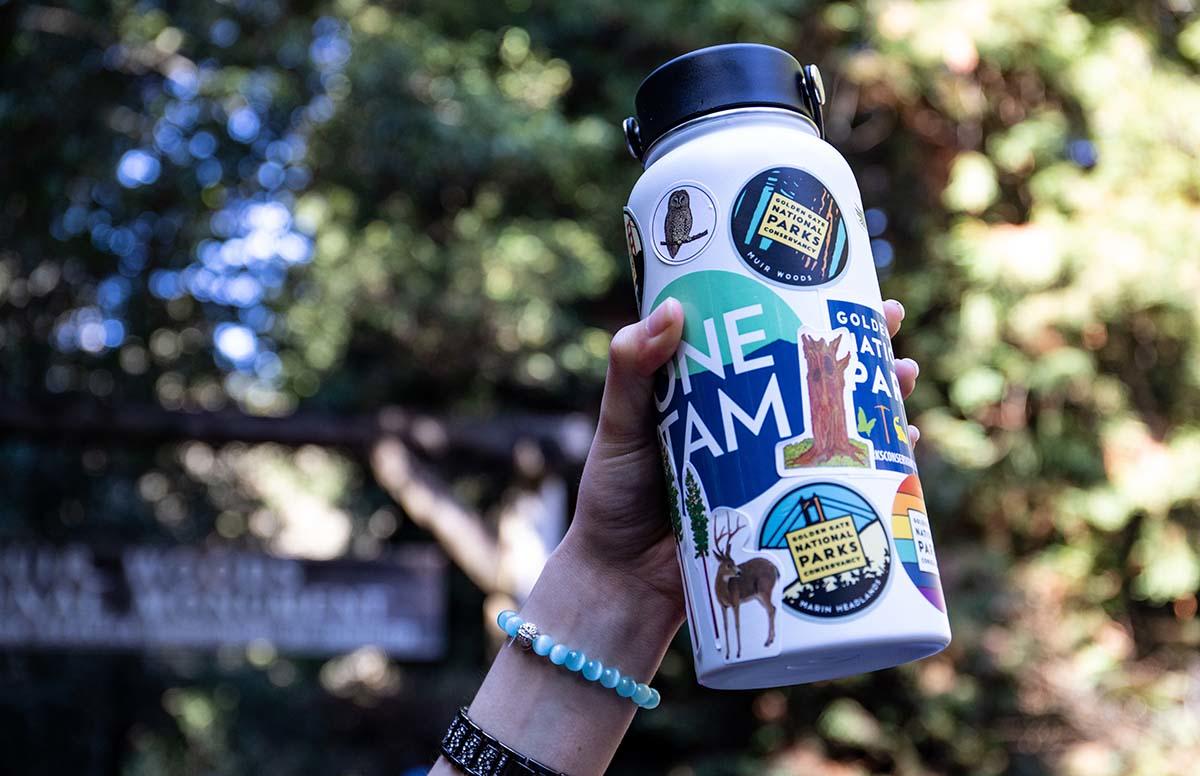 We love it when people share their park pride through a mishmash of meaningful park stickers!
Paul Myers / Parks Conservancy
Update Tuesday April 7, 2020: This contest is now closed and judging has begun. We will notify winners and post results soon. Thanks for your wonderful entries!
Do you have a water bottle that screams out your love for the national parks? 
We've met enough of you to know one of the primary ways you show your park pride is through a mishmash of stickers on your water bottles, laptops, and cars, or your patches on backpacks and jackets. We love seeing it: Muir Woods next to Zion National Park, Pinnacles next to Yellowstone. You may have heard of the Passport to Your National Parks—but you wear your passport on your bumper! 
You've inspired us to find the world's best national park sticker or patch collection. Do you have a water bottle or laptop that's messier than the rest? Do you have stickers on stickers from parks all across the land adorning your car? Do you brake for humpback whales and wildflowers (observing all traffic laws, of course). Can you even see your backpack through all the patches?
Show us your stickers or patches and you could win some rare Golden Gate National Parks stickers that will display your local national park love for all to see!
Send your photos to stickers@parksconservancy.org, tag us on Instagram @ParksConservancy or with #Parks4All, or post them to our Facebook wall with "Here are my park stickers."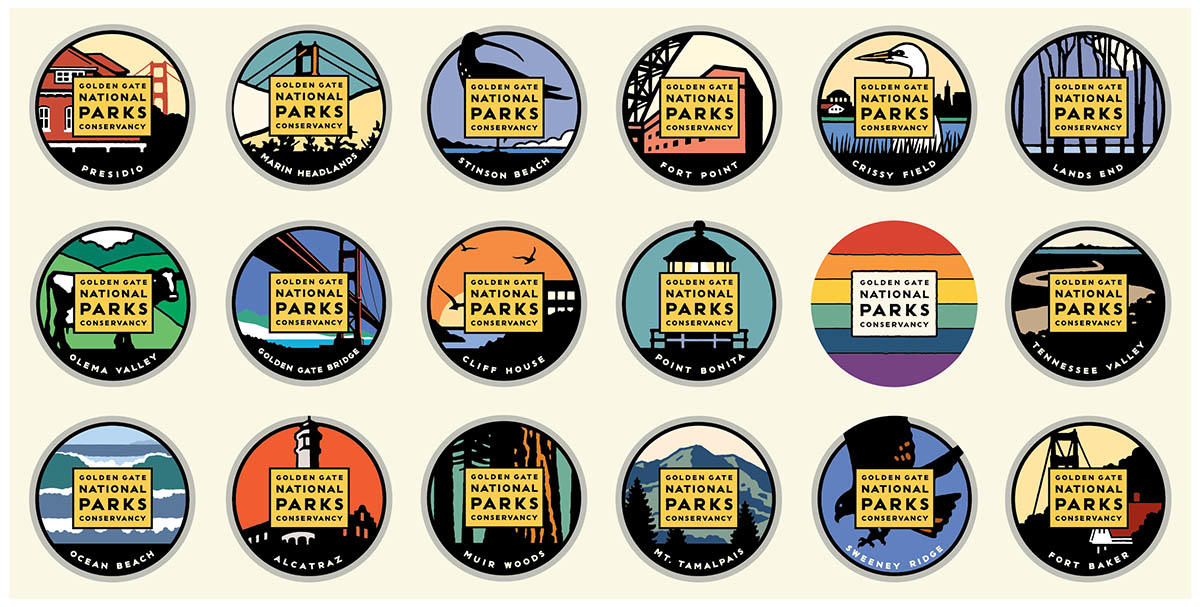 Stickers celebrate park sites in the Golden Gate National Parks with the iconic Michael Schwab designs.
Artwork: © Michael Schwab Studio
The five best submissions will earn a pack of special Golden Gate National Parks stickers, pictured above. These new stickers put a spin on the iconic Michael Schwab park posters depicting favorite park sites like Lands End, the Marin Headlands, the Presidio, and beyond. They'll make a great addition to any water bottle!
Plus, the best overall entry will receive a full-sized, framed Michael Schwab print of their choice!
Think you can win? Entries will be judged by a panel of park experts who will be looking for:
Number of national parks represented in the collection.
Local pride shown.
Vintage of the stickers/patches (older stickers = more points). 
Uniqueness of the vessel (it doesn't have to be a water bottle!). 
Important note: As stewards of the parks, you already know stickers belong on water bottles and NOT on park property. We won't accept any entries that include photos of sticker litter on park benches, sidewalks, or any of our precious park locations.
Happy stickering and thanks for the pride you show for our parks, in all the ways you show it. If you want to send us a photo showing off your park pride in other ways, we'd love to see it. Maybe we'll even send you some stickers!

 
The fine print: No purchase necessary to enter. Open to U.S. residents only. One entry per household. The Parks Conservancy may use photo submissions in promotions for the contest on social media and in other publications. All entries must be received by 5 p.m. PST April 6, 2020. Michael Schwab framed poster winner will select from one of 10 options: Lands End, Alcatraz, Muir Woods, Golden Gate National Parks, Fort Point, The Presidio, Mount Tamalpais, Marin Headlands, Ocean Beach, or Crissy Field.
February 20, 2020