Reflections and new directions for park BioBlitzes
Can empowered community science mobilize us in the face of crisis?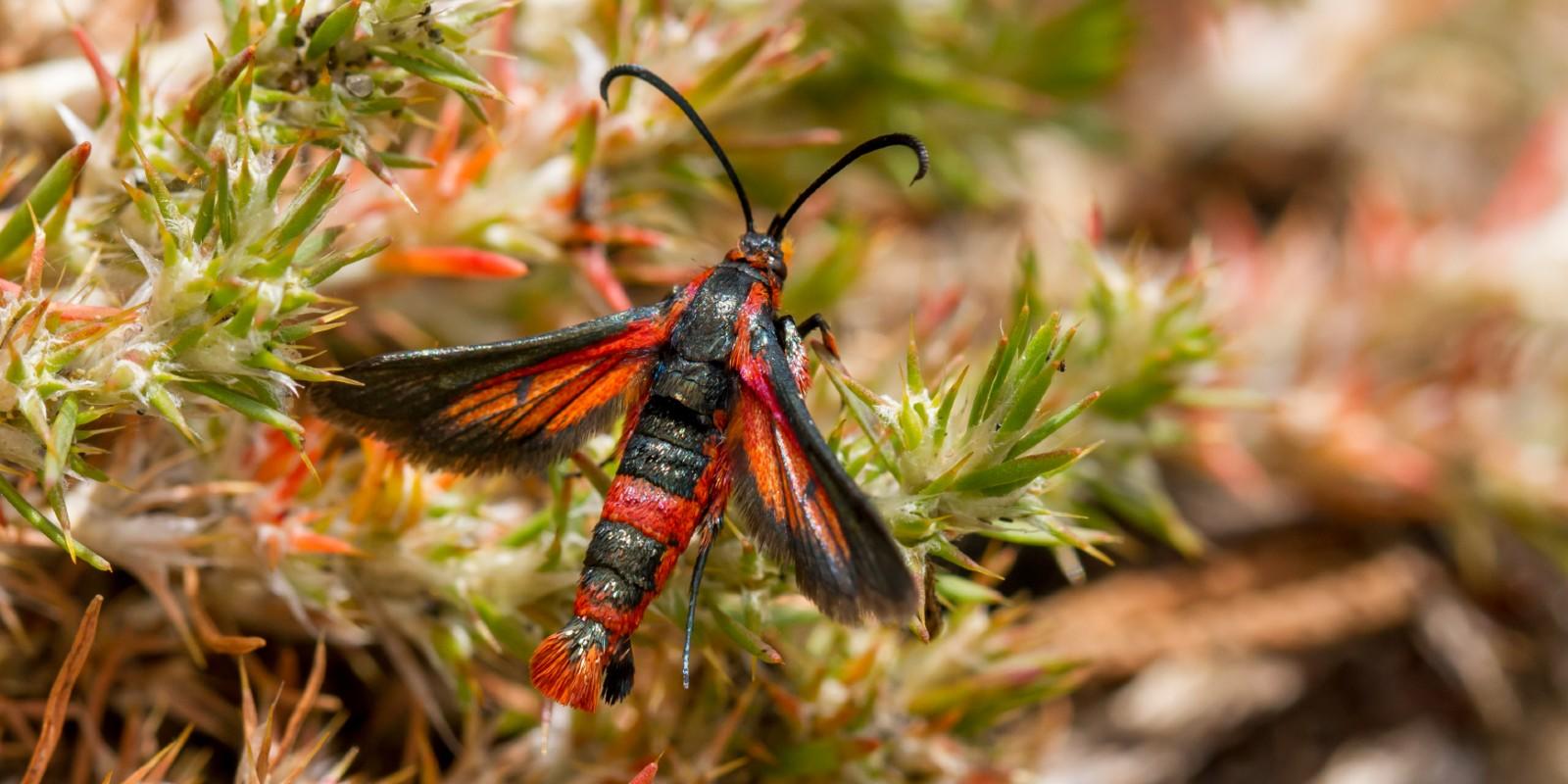 A presumed long-gone moth species, the buckwheat root borer, was recently rediscovered in a restored Presidio sand dune habitat through an iNaturalist observation.
NPS / Will Elder
When an unsuspecting Presidio Trust intern uploaded an observation of a vibrant red moth to online naturalist community iNaturalist in 2017, she had no idea it was the first known observation of the species in the Presidio in over a century. The last record that it was ever here was from 1908.
Unexpected discoveries like this act as blips of positivity on the darkening landscape that is today's environmental news. They also illustrate the power of developing tech tools like iNaturalist, which combine artificial and human intelligence to identify plants and animals. Leveraging this potent combination is part of why the Parks Conservancy and our partners conduct "BioBlitzes": community science efforts where groups of volunteers convene to catalog as many observations of flora and fauna as possible within a given time frame. One aim is to encourage everyone, not just scientists, to participate in collecting meaningful data about local biodiversity and ecology.
After working for almost two years in a job dedicated to engaging public audiences in science at the Golden Gate National Parks, I still hadn't been to a true BioBlitz. So this April, I became one of the 35,126 people from 159 cities around the world who participated in the 2019 City Nature Challenge, armed only with my trusty smartphone and idealistic exuberance.
Our group convened at Crissy Field in the Presidio, an area beloved by many a jogger and dog walker for its scenic paths nestled between the urban bustle of San Francisco and the expansive Golden Gate. On this day, we passed right by the jaw-dropping view and ducked our heads into the underbrush. Guided by a Presidio Trust natural resources technician, we hopped a fence and passed into a limited access wildlife protection area. We came to stand in a sunlit forest glade completely hidden from the path, with a glassy creek surrounded by bay laurel trees and tall native grasses. 
From there, we were encouraged to take as many photos of plants or animals as possible and upload them to iNaturalist. The next step was to look around and see what we could find.
I listened for the songs of birds overhead, trying in vain to capture a few snapshots as they flitted through the canopy at breakneck speed. The plants were much easier to catch, if perhaps less dramatic. But my team included botanically-minded people who were happy to share interesting notes about every little innocuous plant we passed: small yellow flowers that retreated physically when you touched a petal; a stringy orange fungus that covered the coastal shrub plants; a native and rare species that had just recently reappeared in the area.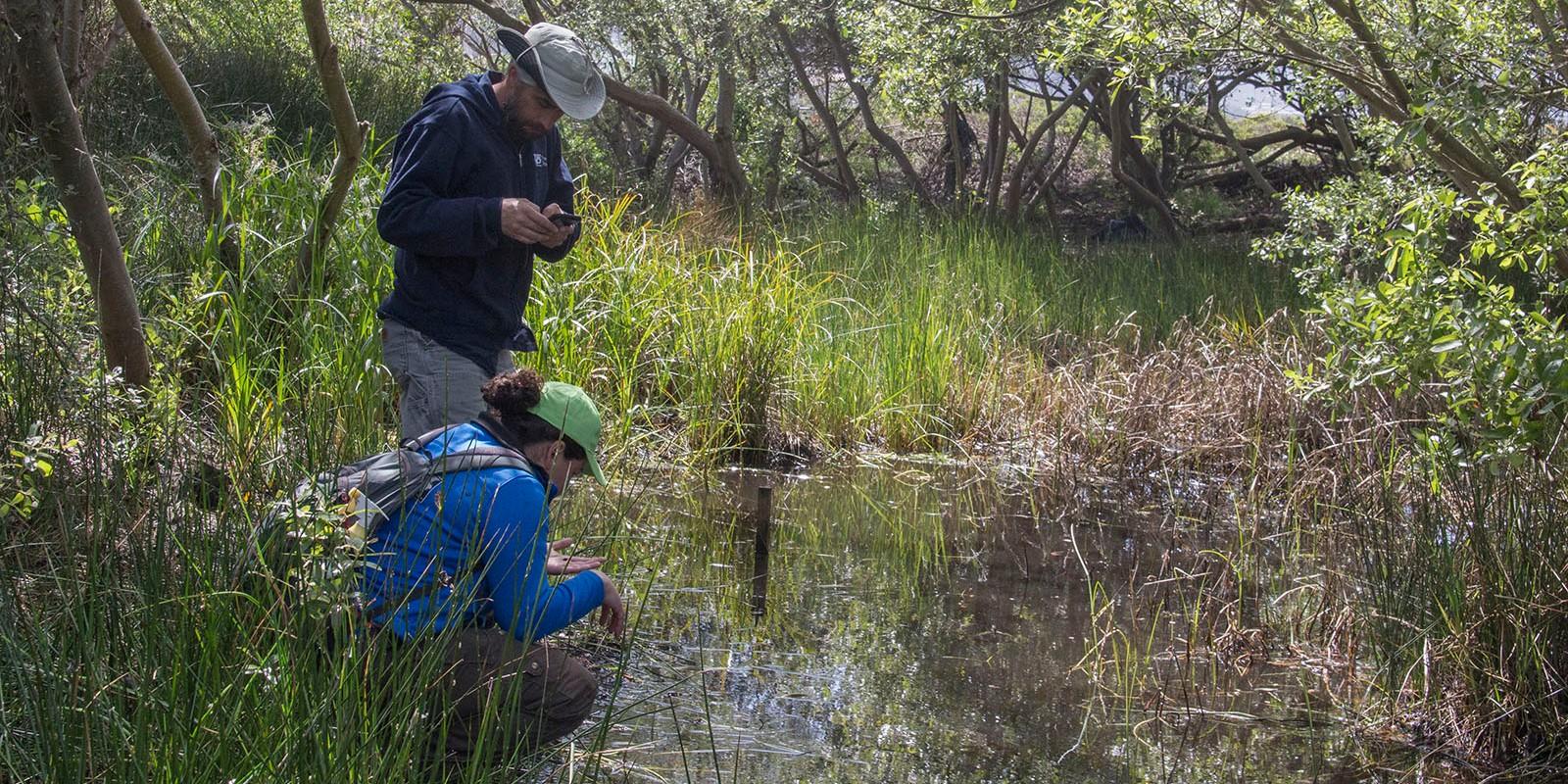 Presidio BioBlitz participants search for flora and fauna and upload their observations to iNaturalist.
Maritte O'Gallagher / Parks Conservancy
In the murky little creek, there was a cornucopia of observations to be made. We crouched on the muddy banks to peer through the reeds at tiny snails, wriggly tadpoles, darting grey fish, and dainty blue-green dragonflies. It hadn't looked like much, but upon closer inspection, this dingy puddle was teeming with life in its many multifaceted forms.
Our adventures at Crissy Field were the first day of the four-day challenge. All together around the world, challenge participants made 963,773 observations, documenting more than 31,000 species. Of those, 1,100 were known to be rare, endangered, or threatened.
It's hard to say what effect these observations could have on the big issues troubling my mind lately: the IPBES report discussing the magnitude of the extinction crisis; the curious lack of insects that people are starting to notice in the UK; and the disturbing number of whales washing up on Bay Area beaches this year. For anyone who's been paying attention to environmental news, now feels like a dire moment. A turning point.
Looking over the summary of the challenge results, I found solace knowing that people as far as Cape Town, South Africa, and La Paz, Bolivia, had spent their precious weekend rooting around in the dirt just like me. The experience of being part of a group of people willing to take an afternoon to zoom in on a particular area—observing, documenting, and celebrating the life that is still here—delivered a hearty spoonful of hope. It was an important reminder that something worth protecting is alive right here in our city's backyard. 
And the larger movement behind that experience glimmers with what feels like forward momentum. Combining technological innovation with science, stewardship, and community organizing puts the ability to collect data in the hands of community members, effectively crowd-sourcing the labor it takes to monitor our local environments. This novel approach circumvents some hurdles of traditional data collection, and could help answer some of today's most critical conservation questions.
The basic awareness of knowing where certain species live, which habitats they use, and how that may be shifting in our changing environment is crucial for cracking the biodiversity code. The next step is to help these species survive where they are, and provide a boost in whatever way possible. Conservation organizations like the Parks Conservancy and the Presidio Trust, government agencies like the National Park Service, and even private companies like iNaturalist are all doing their part to reverse disturbing trends. But they can't cover every corner, and there is immense power in urban communities filled with people who care enough to keep their eyes open.
For me, this afternoon of teamwork served as an affirmation that we, as community members and free-thinking people with tiny computer-cameras in our pockets, can act now and be part of a solution. We can take note when a tiny lizard unexpectedly darts across our path on our way home from work, or a red-tailed hawk sails effortlessly above San Francisco's skyscrapers. For the data, but also for ourselves. We can afford to pause for a moment and feel the thrill that comes with discovering life wherever we are, whether that's a protected wetland or a concrete parking lot. 
In those moments, there's no way of knowing how significant an observation could be. We never know when snapping a photo could be documenting the last time a species is seen, ever. Or when we're seeing a species returning to its former habitat for the first time in decades. We need to be aware of what's at stake, and we need those little bursts of good news just as much.
Check our website for upcoming BioBlitzes in the Golden Gate National Parks, or look for events with our partner, the California Academy of Sciences.
June 24, 2019