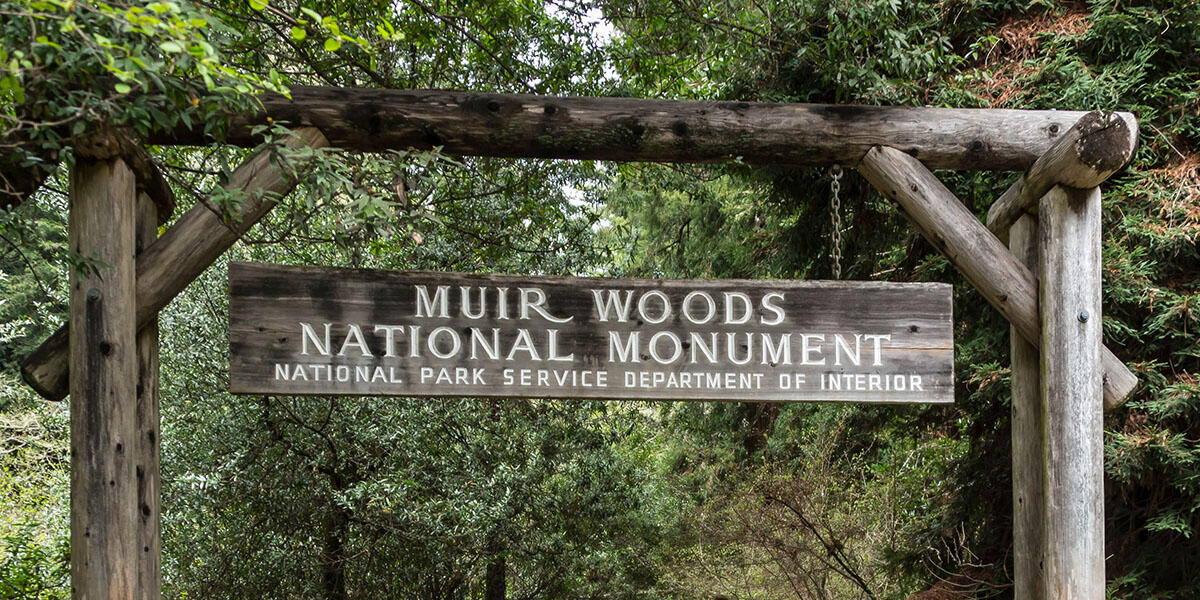 The main entrance to Muir Woods National Monument.
Alison Taggart-Barone / Parks Conservancy
Recently, the 128-year-old Sierra Club made national news with a blog post written by Executive Director Michael Brune announcing the organization will distance itself from John Muir and other founders, many of whom espoused racist ideas and practices. 
Muir himself "made derogatory comments about Black people and Indigenous peoples that drew on deeply harmful racist stereotypes," according to the Sierra Club. Going forward, they will "rebuild the Sierra Club on a basis of racial and social justice" and to try to repair harm caused.
The Golden Gate National Recreation Area (GGNRA) is an International Site of Conscience, and manages Muir Woods National Monument. National Park Service rangers have long confronted the complicated history of this land, sharing the stories of that history with visitors. 
At Muir Woods, park rangers tell the story of William Kent, who donated the land that became Muir Woods and sought to honor Muir with its name, but also supported anti-Asian and anti-immigrant policies.
"Today, the monument shares the totality of the history of Muir Woods, including Kent's own legacy as that of a conservationist who espoused anti-immigrant ideas," said Charlie Strickfaden, Chief of Communications for the GGNRA. "A hallmark of American progress is our ability to discuss and learn from our history. The NPS is committed to continuing to tell these stories throughout our nation, in all of their complexity."
This complexity has been amplified during the racial reckoning currently happening across our country, especially when it comes to the racism of historical figures who have been lionized. 
Search for John Muir or William Kent online, and much of the material you'll find presents their landmark work as conservationists. Only if you dig deeper will you come up with the buried history of their racism and white supremacy.
So why dig it up? Why not allow Muir or Kent to be remembered only for their positive deeds? Many of the comments on the Sierra Club post and other articles have centered around this idea. 
"We share the history of racism in national parklands as tools and reminders for change," said Chris Lehnertz, President & CEO of the Golden Gate National Parks Conservancy. "We are on the strong side of advocating for a more just world."
In 2015, the Parks Conservancy changed the name of the "William Kent Society" to the "Parks Conservancy Leaders Circle," in response to Kent's racist views. It was one small step toward becoming an antiracist organization, more of which are laid out in our recent statement standing with Black Lives Matter.
Environmental and conservation groups across the country are undergoing organizational transformations to further help parklands and public open spaces become more welcoming and inclusive. We commend the Sierra Club and other outdoor organizations for amplifying the voices of people who have been historically ignored. 
July 24, 2020