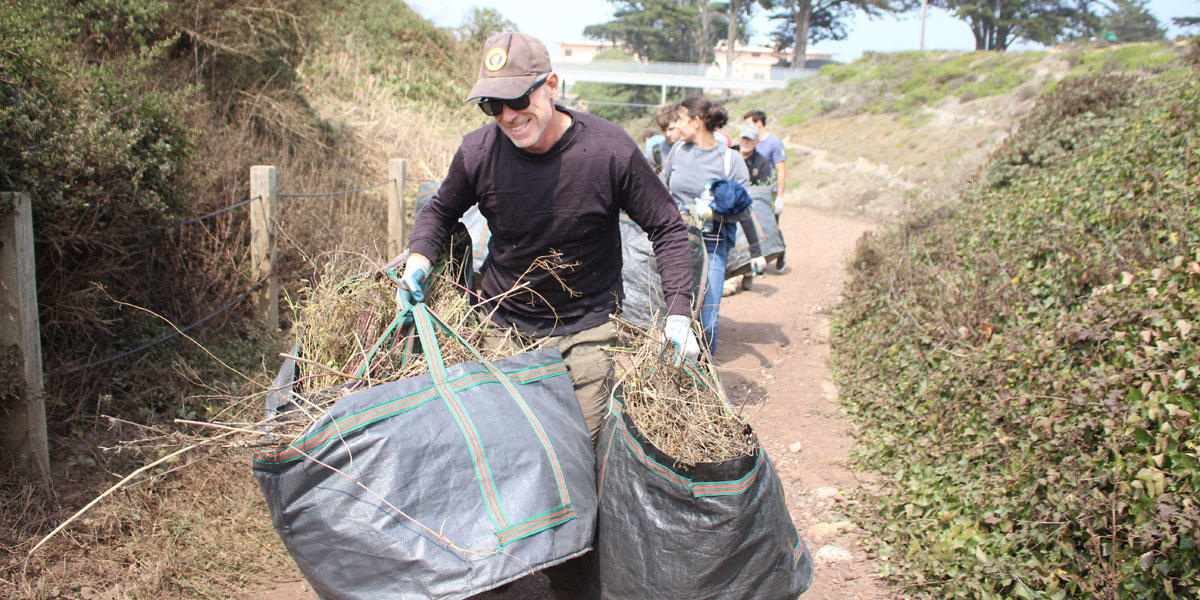 Volunteer of the Season: Bob Devor
Yakuta Poonawalla/Parks Conservancy
By San Francisco Park Stewardship Team 
Throughout the years, we have had some amazing volunteers come out and join us in restoring natural landscapes at our community programs. Without you, we would not be able to give our parks all the time and attention they require to stay as beautiful as they are today! Over the years, we've realized that not only are we inspired by the grand landscapes and the lands we work, but also by the caring individuals that help us take care of these lands. This new feature of the San Francisco Parks Stewardship newsletter will take the time to thank and highlight some of our regular volunteers who have enriched our parks and our lives. For this season, we'd like to bring your attention to Bob Devor, who has been aiding us in restoring National Parks within San Francisco for over a year now. We asked Bob what brought him to the parks and what he's enjoyed most about volunteering:
What got you interested in volunteering with the Golden Gate National Parks Conservancy? 
Upon retiring, I found myself wondering what I could do to help out around some of the beautiful natural areas we have here in San Francisco. The opportunities to work outdoors with other interesting volunteers and some wonderful staff and interns was enough to keep me coming back on a regular basis. 
Favorite spot within the Golden Gate National Recreation Area? And why? (Can be your favorite park to visit or your favorite site to volunteer at): 
The Presidio coastal bluffs, because you have what has to be one of the best views of the Golden Gate Bridge during break time. And because it provides a nice change of weather too; whereas it may be sunny and warm at your home, you may find it no so at the bluffs, which makes things interesting.
Most interesting thing you have found/seen while volunteering? 
I remember one day when working along the coastal bluffs I saw a red-tailed hawk simply hovering above, stationary, riding the wind. Then looking further down the coast there was another hawk doing the same. And looking even further, seeing yet two more doing the same.  It was a lovely sight to see and take in and it simply reminded me of what a beautiful place we have here in San Francisco.
Has volunteering with the GGNPC changed your perception of the lands we steward? If so, how has it changed?
Yes, in the process of helping to restore the land, I've learned some of the history of the place through the staff members and interns of the Parks Conservancy. I've learned some things about the Ohlone people who lived here and their use of the plants I was helping to maintain or restore.  So it helps to remind us that we are here to enjoy these areas but also the need to preserve them for the future too.
Something people do not know about you: 
I have seen the sunrise from the top of Mount Kilimanjaro. 
A photo, poem, drawing, or song that you created in the parks / of the parks, that you would like to share with the rest of our volunteers:
Our parks are a sort of refuge, where we get a chance to recharge our souls.
From the seemingly constant news/politics in the world that can make one feel old.
But through the interactions with fellow volunteers and the staff that we get to know,
I find that it is not just the plants but also one's friendships gets a chance to grow.
Talking to Bob has got us thinking about the meaning of volunteering and giving back to the lands and to the community. We take in some incredible sights and find some amazing creatures and plants regularly, but one of the best parts about our weekly programs is connecting with people from all parts of San Francisco and beyond, like Bob. So come out and join us—we look forward to getting to know you! See you in the parks! 
March 5, 2020