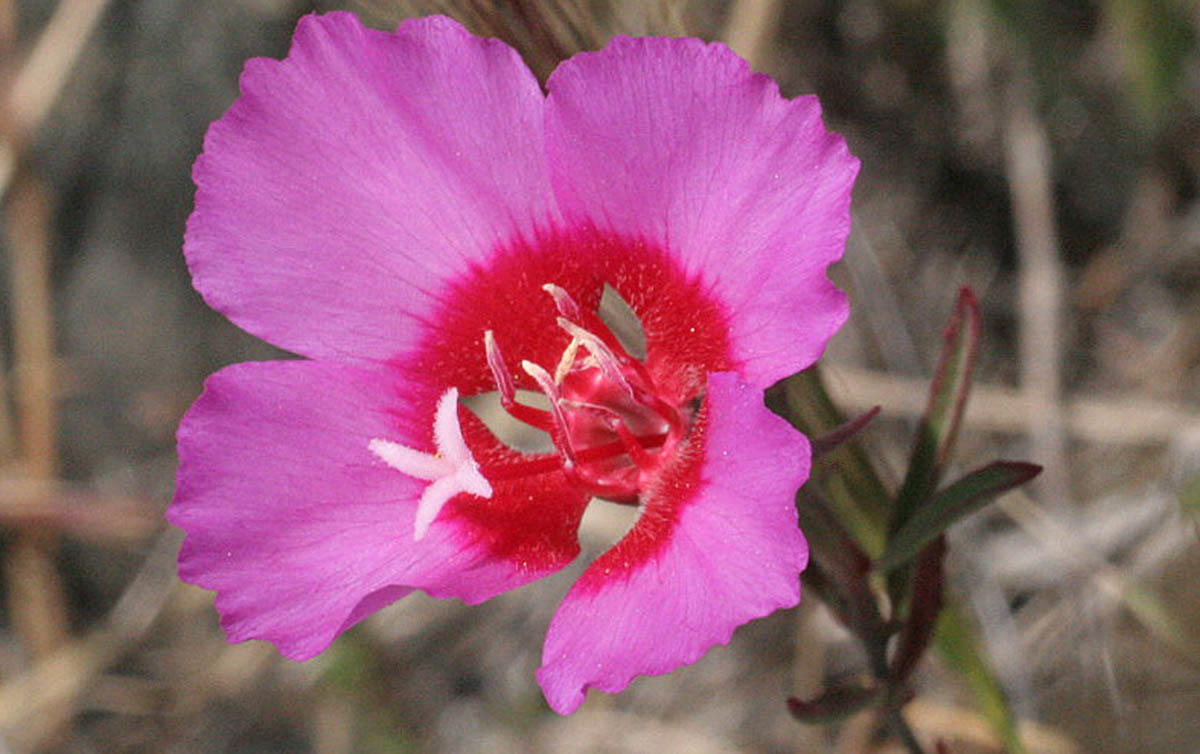 Clarkia rubicunda, also known as Farewell to Spring.
© 2009 Vernon Smith
By Laurasia Holzman Smith
San Mateo Park Stewardship Intern
Every spring, we are greeted by a glorious display of wildflowers throughout our parks. Mori Point demonstrates exceptional beauty and becomes a warm yellow that can be admired from miles away. This warm yellow is made up of Goldfields (Lasthenia californica), Tidytips (Layia platyglossa), Gumplant (Grindelia stricta), and California poppies (Eschscholzia californica). 
As the spring progresses, we start to see a shift in the hue at Mori Point to a cool purple-pink as a beloved annual flowering plant, Clarkia rubicunda, begins to emerge. While this is an exciting change that many look forward to, it is nature's way of telling us that the season of spring is coming to a close. 
Clarkia, also known as Farewell to Spring, is a member of the evening primrose family, Onagraceae. The species found at Mori Point, rubicunda, is found only in California. The seeds of Clarkia were used by native people for food. After being parched and ground, they could be eaten dried, cooked into a form resembling oatmeal, or blended with water to make a beverage. 
Many compare Clarkia to California poppies because of their general shape, and despite the color difference, they are quite similar. Both play an important role for pollinators, such as bees and butterflies. 
June and July are the best months to see this flower for yourself, as it typically lasts through the first half of summer. Head over to Mori Point soon to experience the last of this season's wildflowers and bid adieu to spring. 
When we participate in restoration practices, we are working to improve the health of a habitat and hope to bring an area into its most natural state. When the environment begins to closely resemble its original state, we can turn to it for clues that are hard to miss. We can learn so much when we take the time to observe how the conditions in natural spaces are changing. The insight it provides us with is invaluable; whether the land shows us through its flowers, grasses, soil, wildlife, or more, it is important to spend time appreciating the knowledge it holds and the beautiful ways it shares it with us.
June 5, 2019