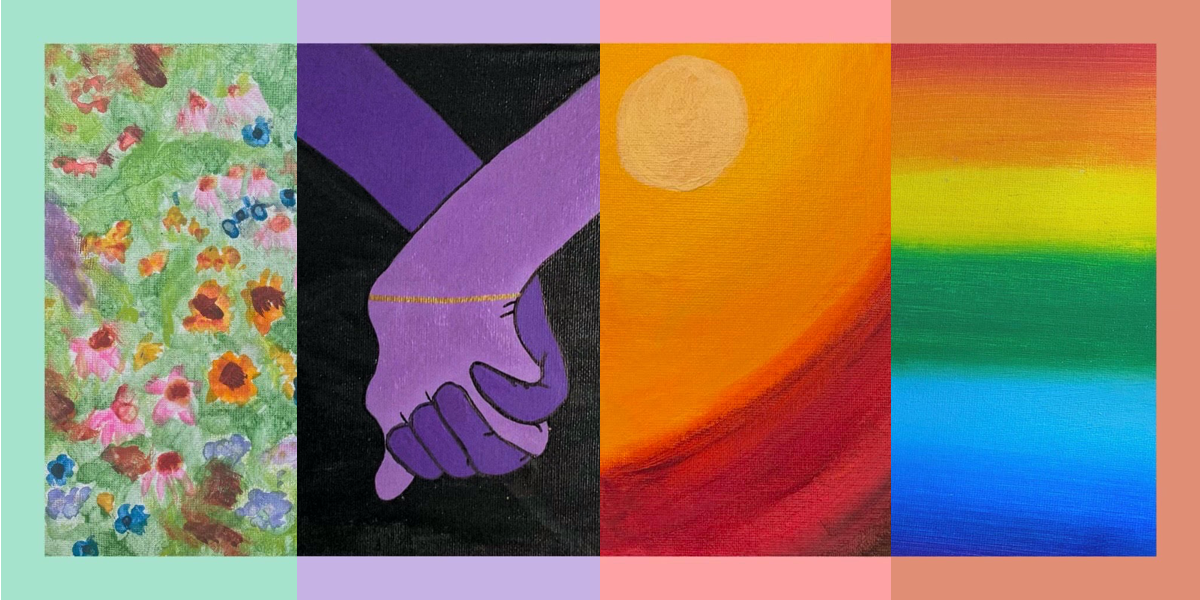 Paintings from I-YEL Group Art Project
I-YEL Interns and Staff
Editor's note: This article is part of our 2021 Annual Report to the Community, where you'll find all we've accomplished together in the past year, along with interactive postcards from some favorite park sites and "postcard videos." Check it out >>
Linked hands, abstract wildflowers and a shining sun were some of the images that filled the canvases from a youth program art activity held during the height of the pandemic. Despite challenging circumstances that required them to go virtual, the Crissy Field Center's Inspiring Young Emerging Leaders (I-YEL) high school program and other Parks Conservancy youth programs tapped into wellness activities that would help the participants sustain their energy for leadership into the future. These colorful paintings communicated a strong sense of resilience. Youth worked hard to build that resilience within themselves and within the program over the last year. 
When the pandemic began, youth program leaders jumped into action to check on their participants and bring their programs online. These programs included I-YEL, Rising Environmental Youth Leaders (REYL), Migratory Story and Linking Individuals to their Natural Community (LINC). Leaders and participants supported each other with ideas for communal and individual self-care, including neighborhood clean-ups, meditation, journaling, examining family history and doing art. 
"We tried to do things so that we could have them examine who they represent and where they come from," shared Program Manager Guilder Ramirez, who was a former program participant. "Understanding that history and understanding what nourishes you, whether it's your family, culture, history, or food, helps you build resilience." 
By continuing to practice self-care, I-YELers were able to extend this care and leadership to their communities. For Día de los Muertos, the group made books for elementary-age students that honored civil rights leaders like John Lewis. I-YEL also worked with the Outdoor Educators Institute on an initiative to examine what makes the parks more inclusive to a diverse community of youth.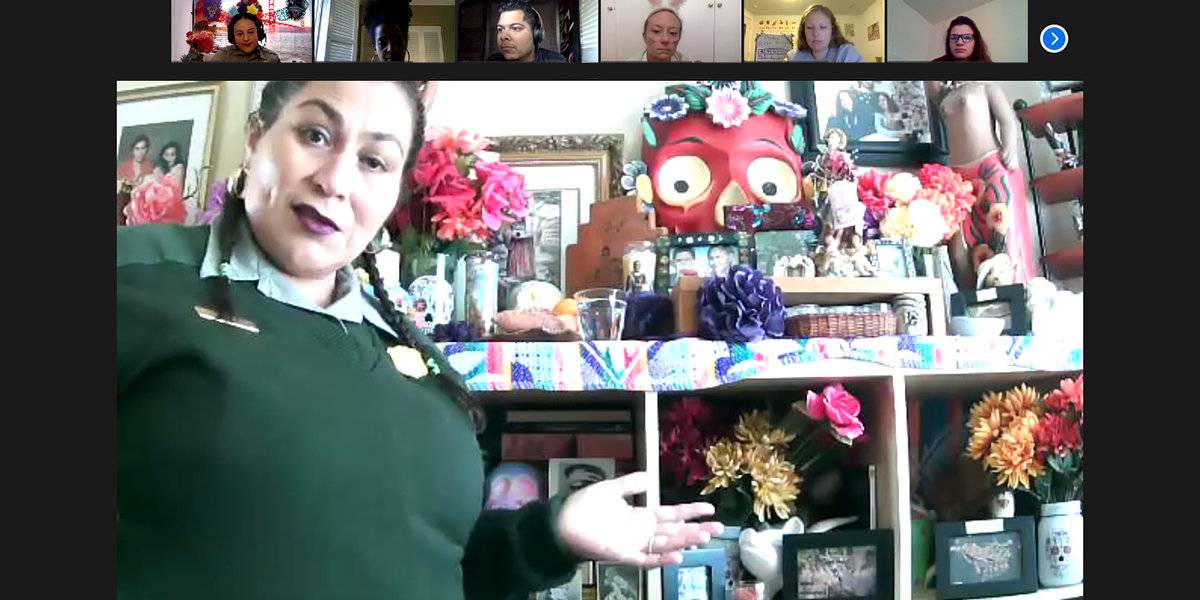 I-YEL on Dia de los Muertos with Ranger Fatima Colindres
Guilder Ramirez

"Something that I really value from the I-YEL group is that it's a very safe space," shared I-YEL intern Sabeen. "And the leaders, the instructors, have made it a safe space. And I really hope that it continues to be like that for future I-YELers." 
I-YEL has also been active in preparing for leadership opportunities on the horizon. In the spring they will assist a nonprofit that works with community elders to create aromatherapy workshops. They're also scheduled to work in the Parks Conservancy's native plant nurseries on plants that are destined for Presidio Tunnel Tops. In addition, interns are beginning to train to be youth ambassadors at Presidio Tunnel Tops when it opens. 
"We practiced how to plan trips, starting with things that we want to do personally like traveling abroad, or even just something as simple as planning a day or two in your own neighborhood," shared I-YEL intern, Faith. "We're learning how to facilitate, how to plan agendas and time itineraries." 
Across the Golden Gate Bridge, leaders from One Tam launched a program in Marin County called One Tam Rising Environmental Youth Leaders (REYL). Using the mountain as a diverse and expansive classroom, young stewards restore high-priority native habitat, learn about the importance of public lands, and develop valuable leadership skills. 
"I was inspired to launch this program because of the huge wealth disparity in Marin County— this program focuses on serving the most underserved youth in the county," shared Program Manager Grecia Pacheco. "We've had great success this year, and young people need more programs like this. Especially after this year-long and ongoing pandemic. We offer youth opportunities in science, environmental education and more equitable access to the outdoors." 
Following stringent health protocols, REYL participants have participated in a community clean-up day, where they collected trash from their local parks and communities, analyzed the type of garbage they found and discussed ways to spread awareness about reducing litter pollution in their communities. They also met at McNears Beach to assist Marin County Parks in weeding the site and planting native, drought-tolerant plants. On a naturalist walk, they observed the low-tide ecosystem and did watercolors by the Bay to unwind at the end of the day. 
The group is looking forward to celebrating the end of program with a kayaking trip at McNears Beach. Program leaders hope to expand the program to more students in future years. This year's program has already played a part in several of the participants choosing degrees in the environmental field in their college applications. 
Back at the Crissy Field Center, the Conservancy's education team concluded another impactful cycle of their Migratory Story program. Through Migratory Story, students examine animal migration patterns, the obstacles they face, and the adaptations that support them. Next, they investigate reasons for human migration, with a focus on the Bay Area.  
"Coming from a family of Pilipino immigrants, I understand how it feels to be made invisible in history and science classes in grade school," shared Lealani Manuta, Education and Youth Media Specialist. "It's an invaluable experience to intentionally create brave spaces where my students can share their family journeys and to see the joy in their eyes when their peers or educators come from similar backgrounds."  
Since students were calling in from home, instructors guided them in looking at their own neighborhoods to make observations about human and animal migration histories. This adaptation encouraged students to connect deeper with the historic sites and greenspaces around them for meaningful place-based learning. 
"When I get to share about my own family's migration story of escaping Vietnam during the Vietnam War by boat to seek safety and a life of opportunities for me, it resonates with students," shared Amy Tam, Program Manager. "I can build rapport, being able to understand and find parallels in all of our migration stories. We all deserve universal needs, be it animals or humans. Teaching Migratory Story creates a space of trust and understanding that is necessary for us to learn and grow together." 
Always thinking about ways to extend learning opportunities to more students, the Migratory Story team spent time this year developing a free curriculum that will soon be available online, so teachers anywhere can bring this program to their students. 
In another effort to continue programming during shelter in place, leaders acted quickly to bring the summer program LINC (Linking Individuals to their Natural Community) online. They organized solo neighborhood cleanups, an online environmental career panel, and watershed presentations.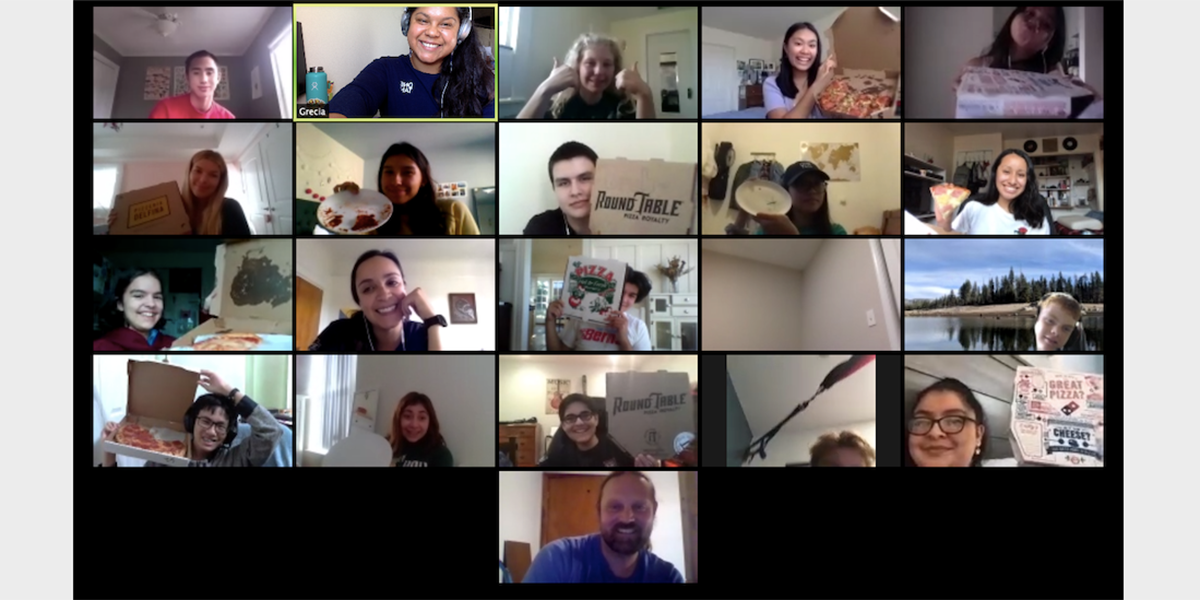 The LINC team took joy and fun as their own avenue to wellness with funny group photos, Zoom dance breaks and even a virtual pizza party. Another way that the group prioritized individual and collective self-care was with agreements that they created together at the start of the program. 
"Because we value inclusion, we agree to support each other to accomplish personal goals," one agreement read.  
Another shared, "because we value mindfulness, we agree to accept others and make each other smile." 
In 2021, the Crissy Field Center is celebrating its 20th anniversary. In that time, the Center has reached an estimated 750,000 participants. Current leaders reached out to alumni to see where they are now—participants have become teachers, activists, and healthcare workers, to name a few. Many alumni credit the Center for giving them an appreciation for community building, which shines through in their lives and the work they do.  
At the core of our youth programs is a passionate and selfless staff who actively create an environment for participants to bring their full selves to the programs. When participants look to our youth programs, they see a safe space. When program leaders look to the youth, they see a bright future. 
Read more from our 2021 Annual Report to the Community >>
May 11, 2021