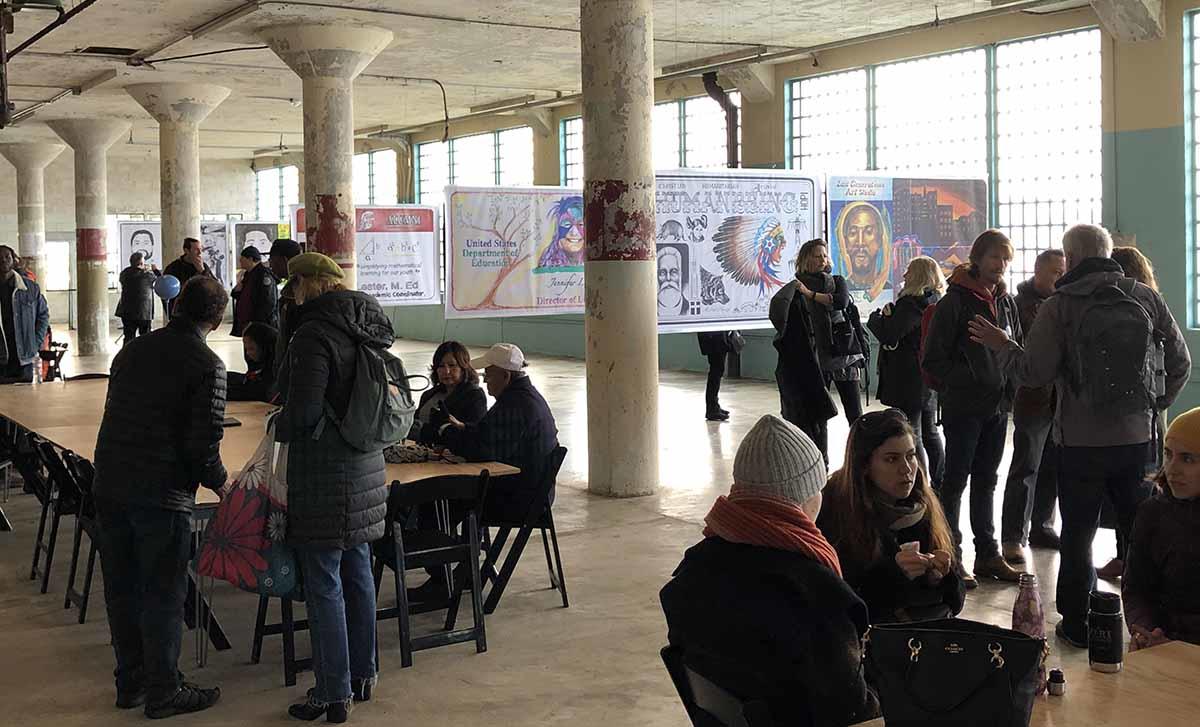 Participants at the Future IDs at Alcatraz 'Day of Public Programs' on Feb. 16, 2019, at the New Industries Building on Alcatraz Island.
Peter Hockaday / Parks Conservancy
Join us for a full day of programs and community activities for the Future IDs at Alcatraz Release Party on July 20, 2019. Attend all or a portion of the events. Buy your tickets now at AlcatrazCruises.com. 
Join us on Saturday, July 20 for the Future IDs at Alcatraz Release Party for the current art exhibit on Alcatraz island. This exhibition features artworks created by and with individuals who have conviction histories as they conceive and develop a vision for a future self—a future identity in contrast to a prison issued ID.
From 10 a.m. to 5 p.m. visitors can join a variety of programs and community activities.
Many of the programs will feature firsthand accounts by people who have felt the impact of incarceration directly and are using their experiences to improve their own lives and the lives of others. The programs will also consider the far-reaching impact of incarceration on families and communities.
The Future IDs at Alcatraz Release Party will weave together the personal narratives of the exhibition's artists with the many stories of human resilience demonstrated on Alcatraz over time in the face of the most challenging obstacles. Building on their success with artistic programs while inside prison, many are now leading those same programs on the outside. The day will conclude with a workshop/performance led by alumni from The Actors' Gang Prison Project.
Participants and speakers include Future IDs artists (and/or their family member representatives), individuals returning to everyday life after incarceration, social  service providers, advocates for social justice, California Department of Corrections and Rehabilitation leadership, elected officials, community members, artists, and scholars.
Because it's a summer weekend, ferry tickets to Alcatraz are already SELLING OUT so plan ahead and purchase your tickets well in advance. Click here to buy your tickets now.
"So much at Alcatraz is about memory or nostalgia for the past. We want to springboard from this nostalgic history into the present and the future." — Future IDs lead artist, Gregory Sale
San Francisco,
CA
94133
,
Event Type
FREE with an Alcatraz Ticket
Past Event Dates
Sat, 07/20/2019 10:00AM

-

Sun, 07/21/2019 4:55PM