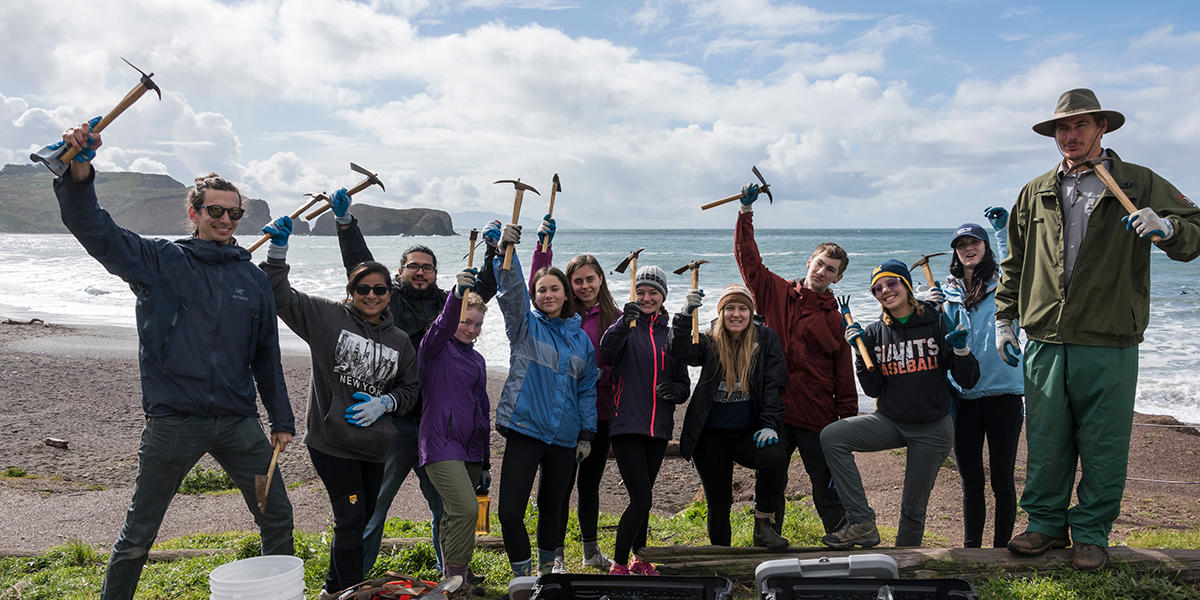 Volunteers celebrate at Rodeo Beach
Chuck Barnes/National Park Service
This year, Martin Luther King Jr. Day of Service is on Jan. 17, 2022, but we'll be celebrating the Civil Rights leader's life and legacy all weekend with volunteer projects starting on Saturday, January 15th.
Observed each year on the third Monday in January as "a day on, not a day off," MLK Day is the only federal holiday designated as a national day of service to encourage all to volunteer to improve their communities. Check out ways to help out in your national park and register below:
Saturday, January 15th - Baker Beach Habitat Restoration
Time: 10am - Noon
Join us in restoring dune habitat by removing invasive ice plant at Baker Beach in the Presidio of San Francisco. Additional projects will include removing man-made debris from the shoreline to help protect wildlife and visitors alike!
Register
 
Saturday, January 15th - Bee Lab
Time: 9am - Noon
In collaboration with Dr. Gretchen LeBuhn and her lab at San Francisco State University, One Tam is continuing our efforts to monitor and understand more about Mt. Tamalpais' wild bees and other pollinators. Community science volunteers play a critical role in this study by pinning, sorting, and labeling specimens collected from the field. Join us to connect with the One Tam community of staff and volunteers, learn more about Mt. Tam's wild pollinators, and gain skills in scientific collections management and insect identification!
Register
 
Sunday, January 16th - Habitat Restoration in the Marin Headlands
Time: 9:30am - 2:30pm
Join us at Battery Wallace & Camp Bicentennial in the Marin Headlands to help us halt invasive plants from taking over this lovely point! Enjoy spectacular views of the Golden Gate as we tackle ice plant patches and more.
Register
Looking to learn more? Check out the list of resources below. 
AGE, SKILLS, WHAT TO BRING:
Volunteers ages 8 and up are welcome; participants under 15 require adult supervision 
Bring your completed Volunteer Agreement Form (PDF). Volunteers under the age of 18 must have the parent/guardian approval section signed.
We'll be working rain or shine. Wear clothes that can get dirty. Long pants and closed-toe shoes are required. Bring layers for changing weather and rain gear if necessary.
Bring a filled water bottle, personal snacks, and sunscreen.
No experience necessary. Training and tools will be provided. Fulfills community service requirements.
COVID-specific Guidelines:
Please complete this CDC health self-screening prior to joining a volunteer program.
Stay home and DO NOT attend if you:

Have any illness symptoms
Have tested positive for COVID-19
Suspect you have had contact with a COVID-19 positive case

We require 6 feet of physical distancing at volunteer programs.
Face coverings are strongly encouraged at all times, and required when you are within 6 feet of people outside of your household.
Event Type
For More Information
Past Event Dates
Mon, 01/17/2022

9:00AM

-

12:00PM