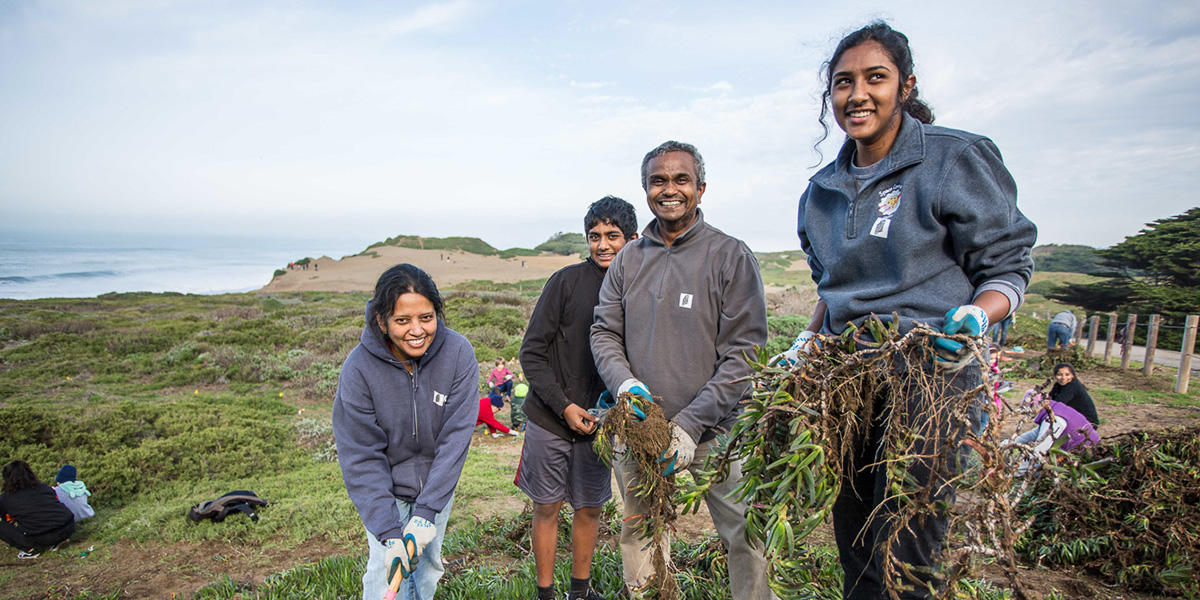 Volunteers remove ice plant to restore habitat
Maria Durana
"Cultural festivals, traditions and holidays offer an opportunity to get together, share stories and food, and celebrate each other. I grew up in India, where we celebrated many festivals, and one of my favorite memories is from Eid mornings, when my mother would prepare a big pot of 'sheer kurma', a sweet, vermicelli milk pudding with lots of nuts and dates. Our house would get filled with its aroma, and I couldn't wait for it to be ready. I was always assigned the most important task – of carrying trays filled with bowls of sheer kurma and distributing them to our neighbors. As I would go from floor to floor, carefully balancing each bowl, I'd feel the spirit of my festival. Exchanging greetings and wishes, visiting friends and family, and sharing good food and cheer.
I invite you to celebrate Eid in a place I now call home; Lands End. We will spend the morning in a beautiful indigenous plant habitat, nurturing our park site, sharing stories, and enjoying a bowl of sheer kurma together. We want to give a huge shout out to our friends from GreenMuslims who will be joining us and sharing all the amazing work they are doing to bring the Muslim community closer to nature through spiritually-inspired environmental education, action, and reflection. "
- Yakuta Poonawalla, Community Programs Manager, Park Stewardship Program, San Francisco
Everyone is welcome to join and learn about this Islamic celebration! 
AGE, SKILLS, WHAT TO BRING:
Age requirement varies by project. Read our Youth Policy Guidelines (PDF)for youth under the age of 15.

Bring your completed Volunteer Agreement Form (PDF). Volunteers under the age of 18 must have the parent/guardian approval section signed.

Wear clothes that can get dirty. Long pants and closed-toe shoes are required. Bring layers for changing weather and rain gear if necessary.

Bring a personal water bottle and sunscreen.

No experience necessary. Training and tools will be provided. Fulfills community service requirements.
The Golden Gate National Parks Volunteer Program is a cooperative parkwide effort of the Golden Gate National Parks Conservancy, the National Park Service, and the Presidio Trust.
Past Event Dates
Sat, 05/30/2020 10:00AM

-

Sun, 05/31/2020 12:55PM