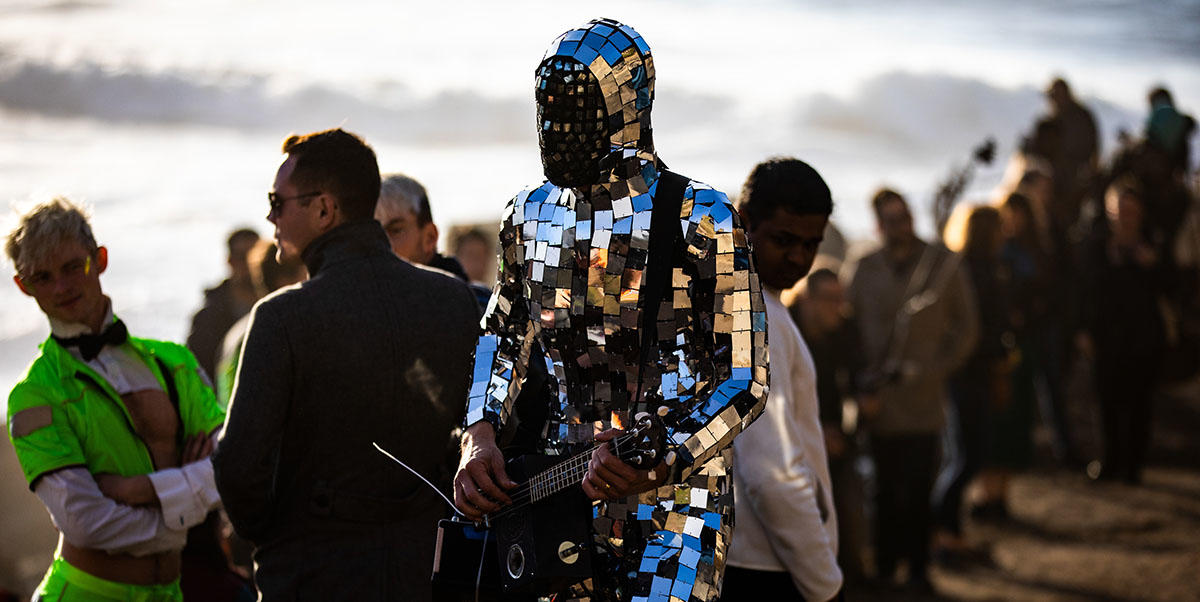 Travis Andrews of The Living Earth Show performs "Tremble Staves" at Sutro Baths
Paul Myers / Parks Conservancy
Tremble Staves at Sutro Baths
October 19, 2019, 4:30 PM - 5:30 PM
Free
An inaugural performance of Tremble Staves will take place Saturday, October 19th from 4:00pm-5:00pm in the Sutro Baths at Lands End in the Golden Gate National Recreation Area. This performance is presented by The Living Earth Show and co-produced with the Golden Gates National Parks Conservancy and the Golden Gate National Recreation Area through the Art in the Parks program.
Raven Chacon, a Navajo composer, wrote Tremble Staves to highlight California's water scarcity through the lens of Navajo creation stories, in which water figures prominently. This site specific work was created to be an outdoor performance, on the cliffs above the Pacific Ocean in the Sutro Baths, a late 19th century outdoor pool complex whose concrete ruins are now a part of the Golden Gate National Recreation Area. Surrounded by ocean waves and standing pools in a place of beauty and serenity, Tremble Staves invites audience members to reflect on their own relationship with water.
Living Earth Show guitarist Travis Andrews and percussionist Andy Meyerson will perform with Raven, their instruments partially submerged in the water of the Sutro Bath pools. Utilizing the standing water in the Sutro Baths as a dynamic percussion instrument, the performance becomes integrated with the site, the sounds of the waves, birds, and breeze.
"On the surface, Tremble Staves is about water; the scarcity of it, especially in the desert where I am from, and of course its sacredness, we are water. The piece considers different moving and stationary bodies of water (tributaries, channels, sounds) as examples of these interactions; in how knowledge may be transferred, negotiated, shared, dispersed and even diluted," explains Raven. "We wanted to bring this piece to the public, a site of water, of meditation. Of course anytime there is an opportunity to look at the ocean or the sky, one can attempt to peer toward infinity. We can be loud, and be seen from afar."
Tickets: A limited number of tickets are free to the public. Ticket holders are invited to view the performance from designated areas in the baths and at nearby locations such as the Lands End parking lot and vista points. Check in soon to reserve your ticket!
Interested in volunteering for this event? Visit the Tremble Staves Art Guide Volunteer page.
San Francisco,
CA
94121
,
Event Type
Past Event Dates
Sat, 10/19/2019

4:30PM

-

5:30PM