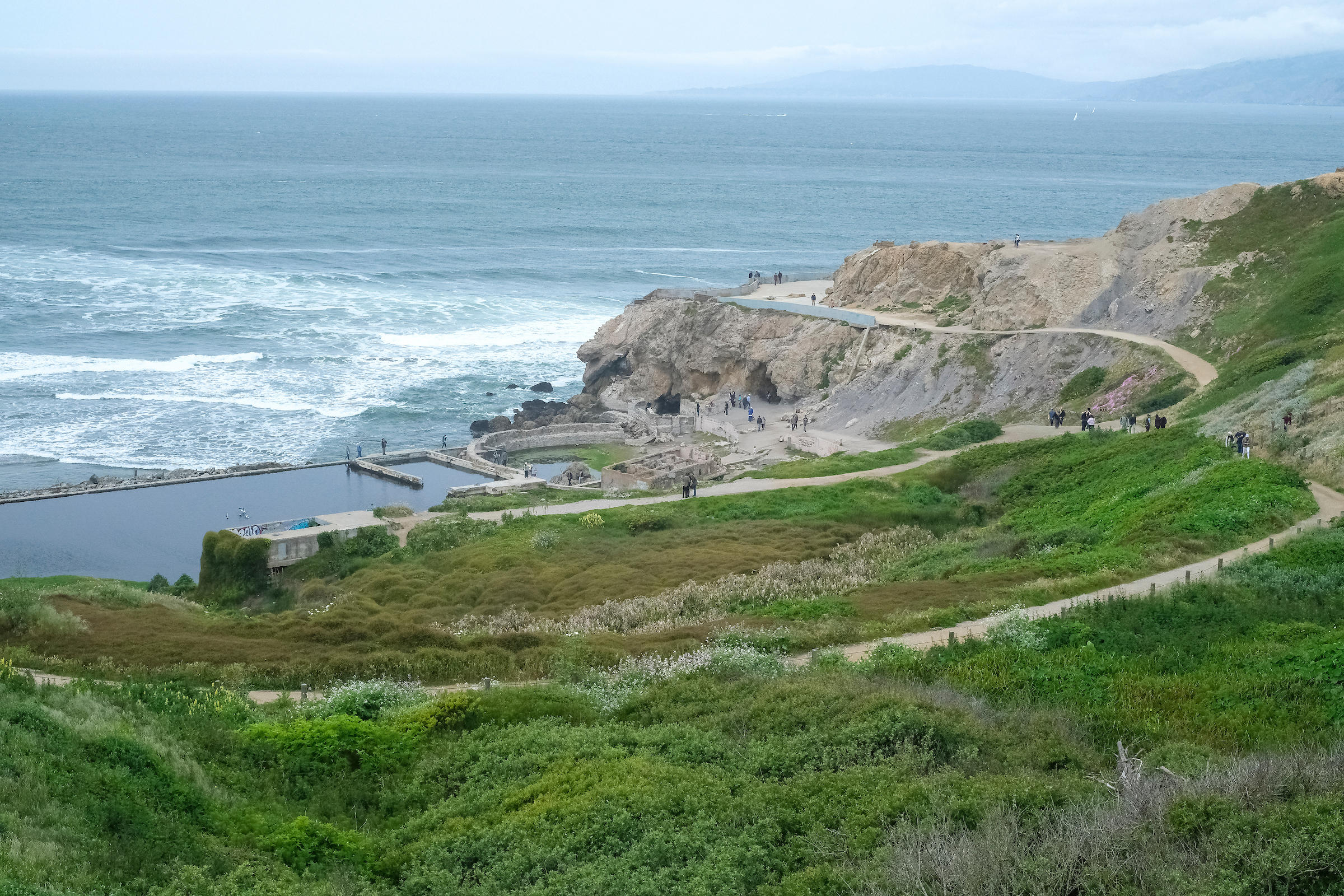 Lands End/Sutro Baths photo
Photo by Justin Scott NPS
Tremble Staves Art Guide Volunteers
Dates: October 19
Location: Sutro Baths, Lands End
Hours : 2:00 pm - 6:00 pm (4 hours)
Overview
The Golden Gate National Parks Conservancy and The Living Earth Show are looking for enthusiastic individuals who have a passion for art, water conservation, and sharing indigenous stories to support the upcoming musical performance of Tremble Staves at Sutro Baths.
About Tremble Staves
Join us for the inaugural performance of Tremble Staves, Saturday, October 19th from 5:00pm-6:00pm in the Sutro Baths at Lands End in the Golden Gate National Recreation Area. This performance is presented by The Living Earth Show and co-produced with the Golden Gates National Parks Conservancy and the Golden Gate National Recreation Area through the Art in the Parks program.
Raven Chacon, a Navajo composer, wrote Tremble Staves to highlight California's water scarcity through the lens of Navajo creation stories, in which water figures prominently. This site specific work was created to be an outdoor performance, on the cliffs above the Pacific Ocean in the Sutro Baths, a late 19th century outdoor pool complex whose concrete ruins are now a part of the Golden Gate National Recreation Area. Surrounded by ocean waves and standing pools in a place of beauty and serenity, Tremble Staves invites audience members to reflect on their own relationship with water.
Living Earth Show guitarist Travis Andrews and percussionist Andy Meyerson will perform with Raven, their instruments partially submerged in the water of the Sutro Bath pools. Utilizing the standing water in the Sutro Baths as a dynamic percussion instrument, the performance becomes integrated with the site, the sounds of the waves, birds, and breeze.
About the Tremble Staves Art Guide Volunteer Position
Tremble Staves Art Guide Volunteers will support day-of performance needs, such as audience management and visitor flow, protecting the natural and cultural resources of the site, and answering visitors' questions. 
Appropriate clothing and comfortable, safe footwear is necessary for the working environment. This position requires physical activities such as standing and walking for extended periods.
Commitment
All volunteers must attend a mandatory 30 minute training at the start of the shift.

Volunteers will be asked to commit to one shift (4 hours, including training). 
Key Duties and Responsibilities
Volunteer Art Guides will work within a team of program partners to provide skilled support to the Tremble Staves performance. Volunteers will be integral members of the working group and will:
Greet and engage visitors in their park, assist ticketed guests in finding their seat

Possess a working knowledge of site history and National Park Service basics

Monitor historic and natural resources for safety, helping to ensure that visitors and audience members:

Stay on designated park trails and audience zones

Do not climb on historic resources

Do not disturb the natural resources

Monitor and adjust visitor flow to assure the highest level of visitor comfort and safety

Willingness to wear volunteer attire

Provide general visitor assistance, as requested
Knowledge, Skills and Abilities
Interest in and/or experience with art/music performance, indigenous stories, and conservation a plus

Demonstrated strong verbal communication skills

Enthusiastic team member who pitches in and works well with people of diverse backgrounds

Ability to work comfortably engaging and communicating with large numbers of people in a public setting
Physical Requirements and Work Environment
Work is performed in outdoor park settings and in exposed historic sites 

Work is performed standing or walking
Why Apply
Opportunity to expand your knowledge of your national parklands in the Bay Area through active roles and public interaction

Opportunity to meet and interact with a variety of park and arts institution professionals
To learn more about this volunteer opportunity and how to get involved, email us at art@parksconservancy.org.
Please no phone calls about this volunteer program.
Application Dates
September 20, 2019

-

October 18, 2019
Job Type