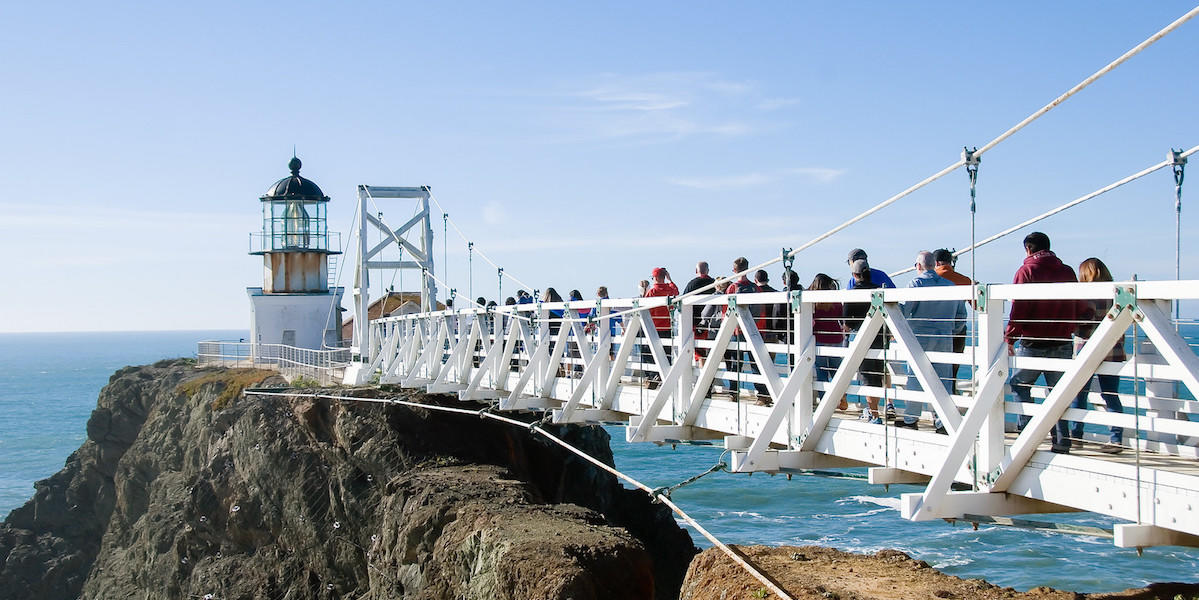 Sunny day at Point Bonita Lighthouse
Al Greening/National Park Service
Follow in the footsteps of a lighthouse keeper! Join docents for a guided sunset program, and learn about the geology, ecology, and history of Point Bonita. Reserve your space at www.recreation.gov.
A few things to keep in mind:
Bring water and layers, as it can be cold.
No pets or bikes allowed on the trail.
Ask us about ADA accomodations.
No sunset guaranteed! There is a reason, after all, that San Francisco is called 'Fog City.'
High winds means we will close the suspension bridge.
RF8C+65 Tamalpais-Homestead Valley, California
Sausalito,
CA
94965
For More Information
Past Event Dates
Sat, 09/03/2022

7:00PM

-

8:30PM
Sat, 08/27/2022

7:00PM

-

8:30PM
Sat, 08/20/2022

7:00PM

-

8:30PM
Sat, 08/13/2022

7:00PM

-

8:30PM
Sat, 08/06/2022

7:00PM

-

8:30PM
Sat, 07/30/2022

7:00PM

-

8:30PM
Sat, 07/23/2022

7:00PM

-

8:30PM
Sat, 07/16/2022

7:00PM

-

8:30PM
Sat, 07/09/2022

7:00PM

-

8:30PM
Sat, 07/02/2022

7:00PM

-

8:30PM