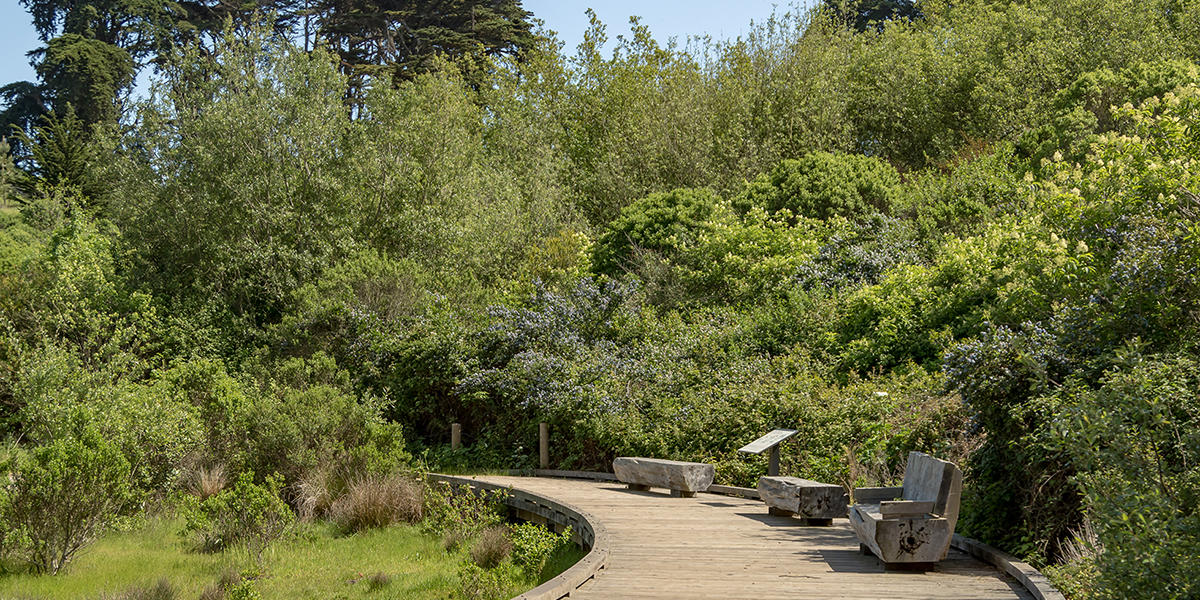 Trail at El Polin Springs
Kirke Wrench/National Park Service
The natural world communicates with us through our senses and allows us space to reflect, and heal. Let's explore this symbiotic relationship through an interactive and meditative walk within our national park. This part-silent, part-talking series will involve various stops to engage in simple meditations, nature journaling, poetry, and story sharing to connect and reconnect with nature. 
 Participants will be guided with intentional prompts to experience nature in the city and their relationship with it. Simple sense exercises will sharpen experiences, and open new doors to foster a feeling of being alive.
Short meditations will allow a space to slow down both mentally and physically, immerse in nature sounds, let go, and heal through the natural and collective human energy. 
Group and partner discussions will give an opportunity to share our understanding of healing from within, and our role in healing the natural world. 
Meeting location: We will meet at the Presidio Café and golf course parking lot here. We will start our walk here and make our way slowly to the El Polin Spring area. This is an easy-moderate walk with a slight uphill towards the end of the walk. 
What to carry: 
Wear comfortable, long pants, and sturdy shoes or boots 
Dress in layers for various weather conditions
Bring a hat and wear sunscreen
What to bring:
A  water bottle 
A pen and notebook if you enjoy journaling (we will also provide these)
If you have any questions about this walk please write to: Yakuta Poonawalla at ypoonawalla@parksconservancy.org, or call (917)689-8515
Please note: Park Academy classes are meant as a special perk for volunteers, members, and employees. If you do not work for the Golden Gate National Parks, are not a member, or have not volunteered with us in the past year, a donation is encouraged. Volunteer or become a member today!
8600 MacArthur Ave, San Francisco, CA 94129
San Francisco,
CA
94129
Event Type
Past Event Dates
Tue, 05/26/2020 1:00PM

-

Wed, 05/27/2020 3:55PM