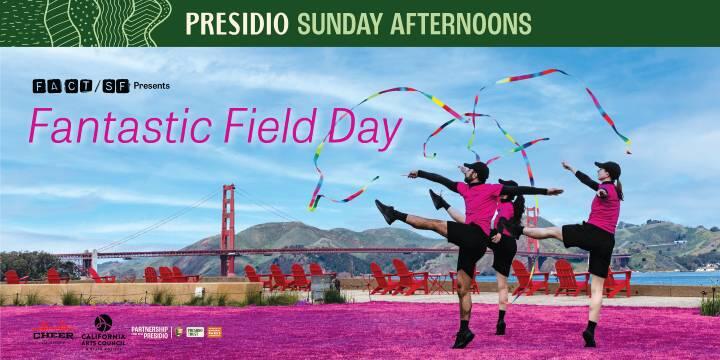 FACT/SF and CHEER SF presents Fantastic Field Day
Join the Partnership for the Presidio on June 11 at 12pm for Fantastic Field Day – an all-ages, intentionally inclusive, accessible, and radically Queer sports event that challenges how we look at conventional forms of athleticism. Activities include dance performances and stunts from FACT/SF and CHEER SF, as well as workshops from coaches from a variety of sports, with the aim of showing that anyone, inclusive of orientation, ability, and experience, can be athletic!
Hosted by FACT/SF and Partnership for the Presidio. Part of Presidio's Second Sundays Series.
12-2 pm fluid forms: A site-specific dance performance from FACT/SF about sports, inclusion, and the adjacent possible
2 pm Welcome to Fantastic Field Day
2:15-3 pm CHEER SF performance + group cheer
3-4:30 pm Fantastic Field Day Mini-Workshops
Please Note: Fantastic Field Day is an intentionally Queer event. That means this event provides a space of inclusivity, kindness, empathy, patience, exploration, and joy. All are welcome here, and the LGBTQ+ community is centered. RSVPs are not required for this event, but they're appreciated as they help us gauge capacity.