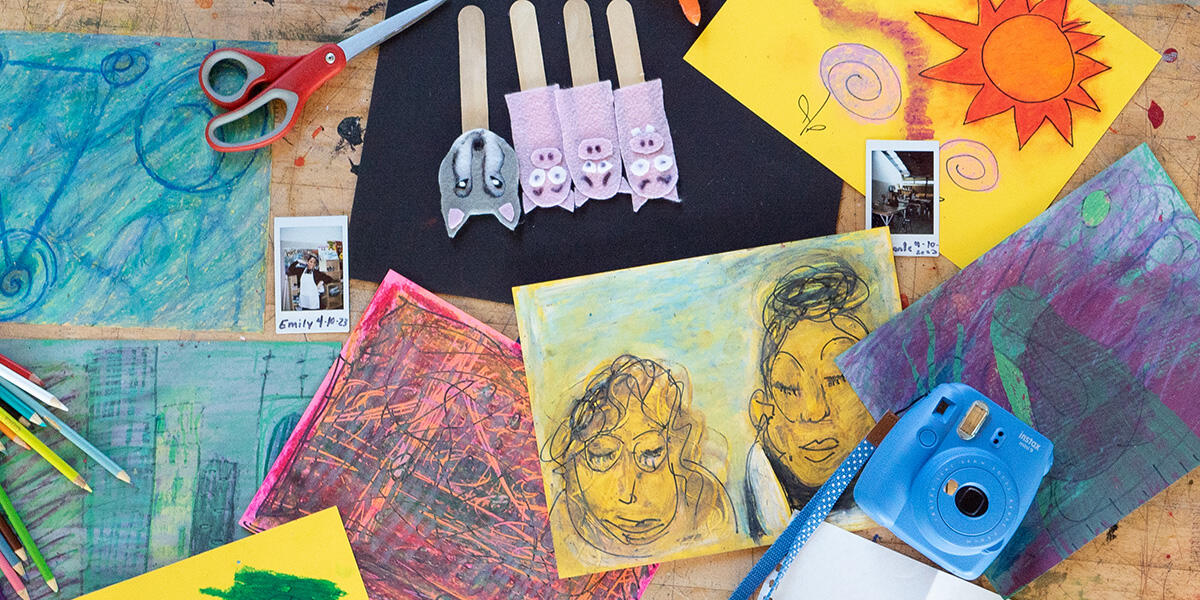 Art Projects from De Colores Arts "Presidio Tunnel Tops Park Art Series"
Alexandra Grant / Parks Conservancy
De Colores Arts (DCA) switched to virtual programming during the pandemic and was looking to bring back their in-person acting, painting, poetry, and other art classes for participants with disabilities. We connected with them to learn more about the 7-week-long "Presidio Tunnel Tops Park Art Series" hosted at the Crissy Field Center Art Lab in collaboration with the agencies of the Partnership for the Presidio: the Parks Conservancy, Presidio Trust, and National Park Service. 
How did this partnership come to be?   
"We were lucky enough to partner with the Presidio Trust and Parks Conservancy through facilitating our 'Improv for Interaction' class. They loved what we were doing and wanted more! We are so excited to officially be partnering to bring community awareness, training, and joy to Presidio Tunnel Tops with our students and staff," said Geno Creese, Head of Offerings. 
How does a typical day with De Colores Arts at the Crissy Field Center usually go? 
"A typical day might start with a check-in and physical or artistic warm-up to get everyone grounded together in the space. Then we'd transition to the day's activities which might be improv, music, scene work, or painting depending on the class," said Emily Newsome, program facilitator. 
Can you describe the approach you take to facilitating?  
 "DCA utilizes a person-centered, multi-disciplinary approach that celebrates each individuals' strengths and talents while prioritizing their access needs. We employ engaging, research-backed techniques from fine arts, education and creative arts therapies," said Faith Von Minden, program facilitator. 
How does the program encourage expression for the students? 
"Expressive art is playful and the best tool for friendship and collaborative growth. Group art is non-conditional. It's free, and puts all on a common playing field. It's joyful and joy is contagious," said Kelly Nelson, program facilitator.   
How do you hope this program and partnership will grow?  
"Developing community partnerships in spaces where we can provide creative opportunities for participants within the natural environment of their community is an integral part of the DCA program. We hope, through continued collaboration with the Parks Conservancy, to offer the Bay Area's neurodivergent adult community consistent and expanded opportunities to access enriching experiences in the beautiful spaces the Presidio area has to offer," said Shana Murray, Executive Director. 
May 16, 2023