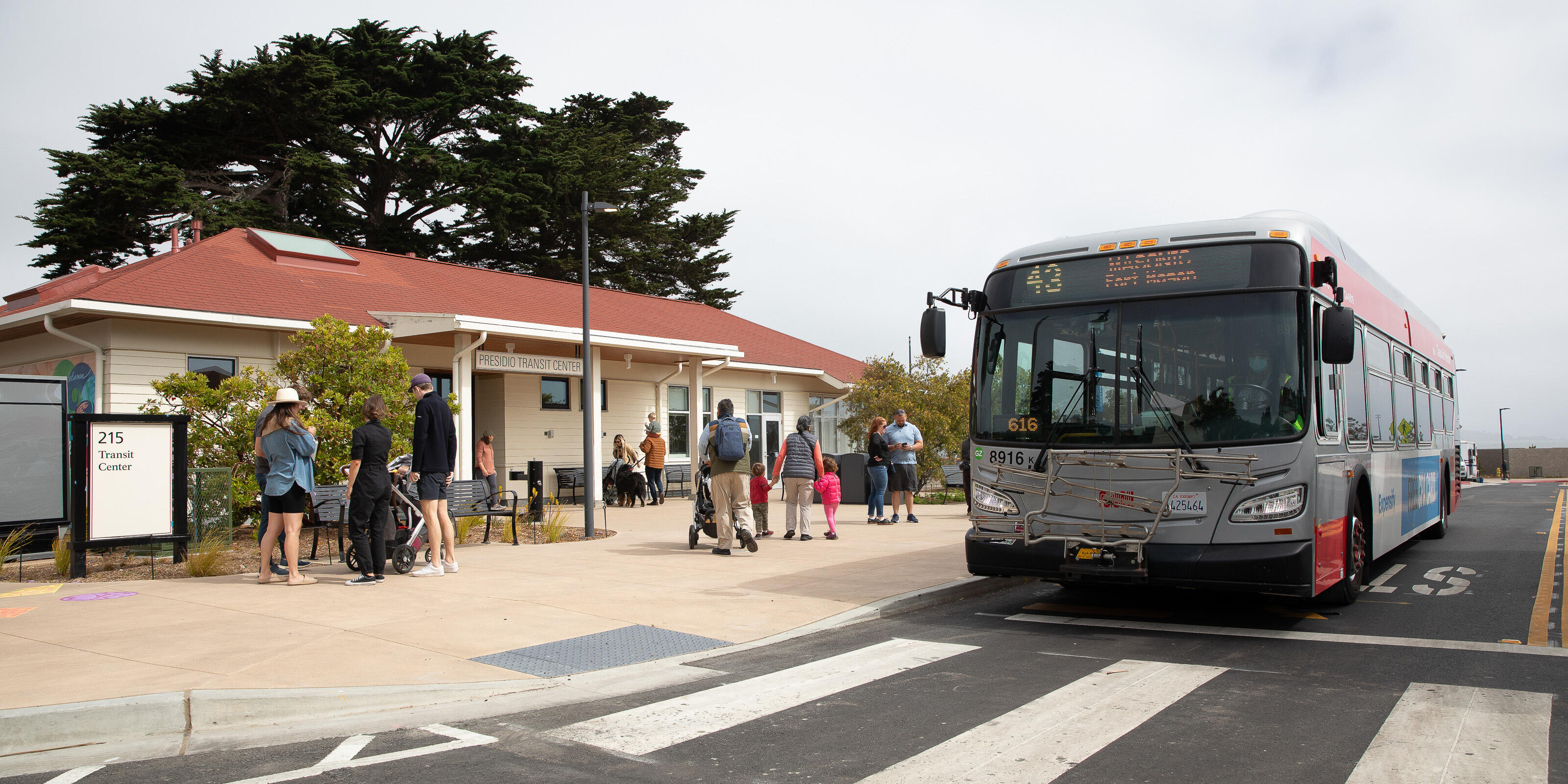 Myleen Hollero, Partnership for the Presidio
With the opening of Presidio Tunnel Tops, it's never been easier to get to your national parks! Here are some quick tips on how to get to Presidio Tunnel Tops...
…via public transportation:
Presidio Tunnel Tops is located next to the Presidio Visitor Center (210 Lincoln Boulevard, San Francisco, CA 94129) and Presidio Transit Center, making getting here a cinch. From the East Bay, you can take BART to Embarcadero Station and climb aboard the free Presidio Go shuttle, which picks up at Drumm and California streets. The shuttle is free to use outside of commute hours on weekdays and runs seven days per week. Check out the full Presidio Go shuttle schedule>>>
From Marin County or the East Bay, take a ferry and walk from the Ferry Building to Presidio Go. From Marin, Golden Gate Transit buses will drop you off at the Golden Gate Bridge Toll Plaza, which is a long but scenic walk to Presidio Tunnel Tops, while the 101, 130, and 150 drop off at Van Ness and Union, where you can catch the Presidio Go into the Presidio. If you're taking AC Transit, you can board Presidio Go at the Transbay Terminal.
If your starting point is elsewhere in San Francisco, the Presidio Go picks up at Van Ness/Union Street or you can hop on the Muni 43 bus, which will take you directly to the Presidio Transit Center. The Muni 30, which goes through Chinatown, provides service to Crissy Field and is another option for city travelers. Bonus to taking the 30: You can start your park day at Crissy Marsh and make the connection to Presidio Tunnel Tops.
…via bike:
For cyclists, Muni and Presidio Go both offer bike racks to load up your wheels. At Presidio Tunnel Tops, you'll find bike racks and lockers. Bay Wheels Bike Share electric bikes are also available to rent in the park, which you can do through the Lyft app. There is a rack of Bay Wheels bikes at the Presidio Transit Center.
…via car:
Travelers arriving by car can use the paid parking across from the Presidio Visitor Center at 210 Lincoln Boulevard. Parking at Presidio Tunnel Tops fills up quickly on the weekends, so it's best to come early if you want to snag a spot. ADA parking is available near each of the site entrances. Remember to check the regulations wherever you choose to park—Presidio lots are monitored seven days a week.
Whether you prefer to arrive by bus, bike, car, or other, there's a way in for you at Presidio Tunnel Tops and we can't wait to see you there!