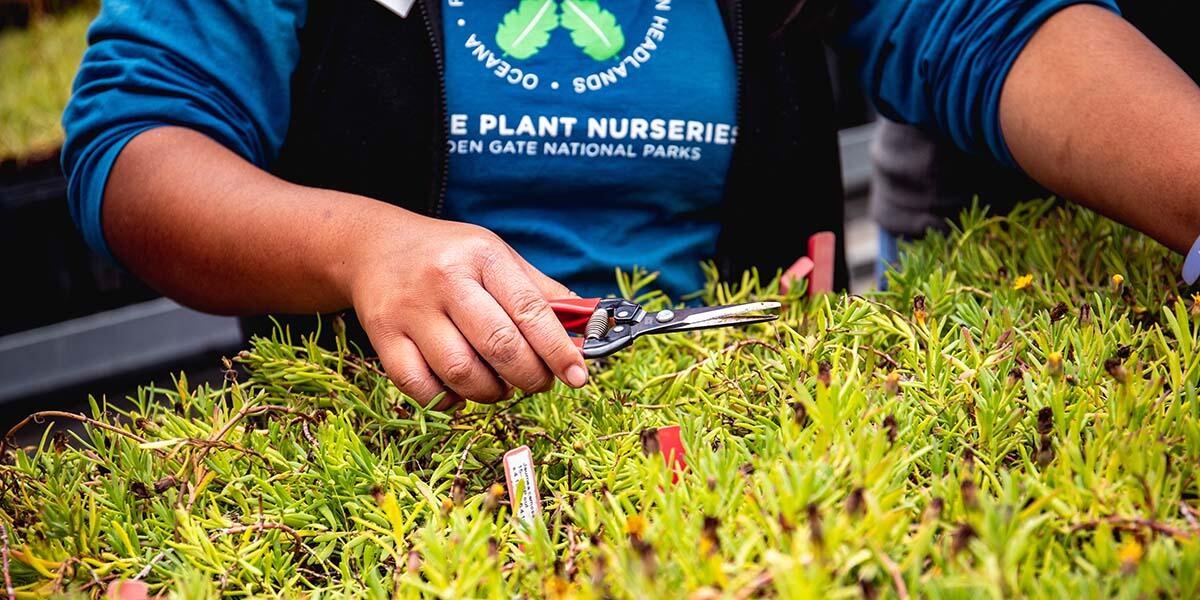 Pruning plants at the Presidio Native Plant Nursery.
Paul Myers / Parks Conservancy
In 2019, the Parks Conservancy's Nurseries and Stewardship teams, in coordination with our partners at the Presidio Trust, hosted a workshop on the language of restoration. They noted how making specific changes in the way we talk and think about people, places, and things can create a more inclusive and affirmative environment.
This year, inspired by San Bruno Mountain Watch, the nurseries have renamed members of the genus "Clarkia" to the genus "Yorkia" in honor of York, an important member of the Lewis & Clark expedition whose contributions were previously unacknowledged due to his status as an enslaved Black man. 
As a form of common identification, names help standardize the way we talk and think about people, places and things. Decolonization, as we're using it here, is one part of a larger system that seeks to build equity through everyday interactions. When we change our language, we engage in a process of deep thinking that makes our world more considerate and more complete. Words matter, it's simple and true.
Building a more expansive and intentional language is an ongoing process. These five steps can help you get started.
1. Start talking
Like our staff did during their workshop, consider the origins of words you use to refer to things, animals, plants, and other figures in your life. Take the time to consider what you call things and why. 
2. Get information 
Many public universities and libraries offer free online resources that chart the history of the first people in a particular area. The preservation and public sharing of histories, like decolonization, is an active and ongoing project. Research the history of where you are and how the area was used and inhabited by indigenous people, many of whom are still living in the area. 
3. Listen
Connect directly to indigenous groups by reading books, attending events, and hiring native educators. Let their knowledge of themselves inform the way you refer to people, places and things. The Muwekma Tribal Band and Ramaytush Ohlone have active websites where you can learn more about some of the past and present indigenous histories of the Bay Area.
4. Share with others
Write down your questions and the answers you find. Make it a practice to share what you know and how you learned it, while properly acknowledging and supporting those from which you have learned. 
5. Stay engaged
There's always more to learn and do. Continue to check in, ask questions, listen to community leaders, and read expert opinions. By treating decolonization as an ongoing practice in awareness and action, you will be better equipped to help support, restore and protect this knowledge. A little bit of knowledge can go a long way!
October 22, 2020