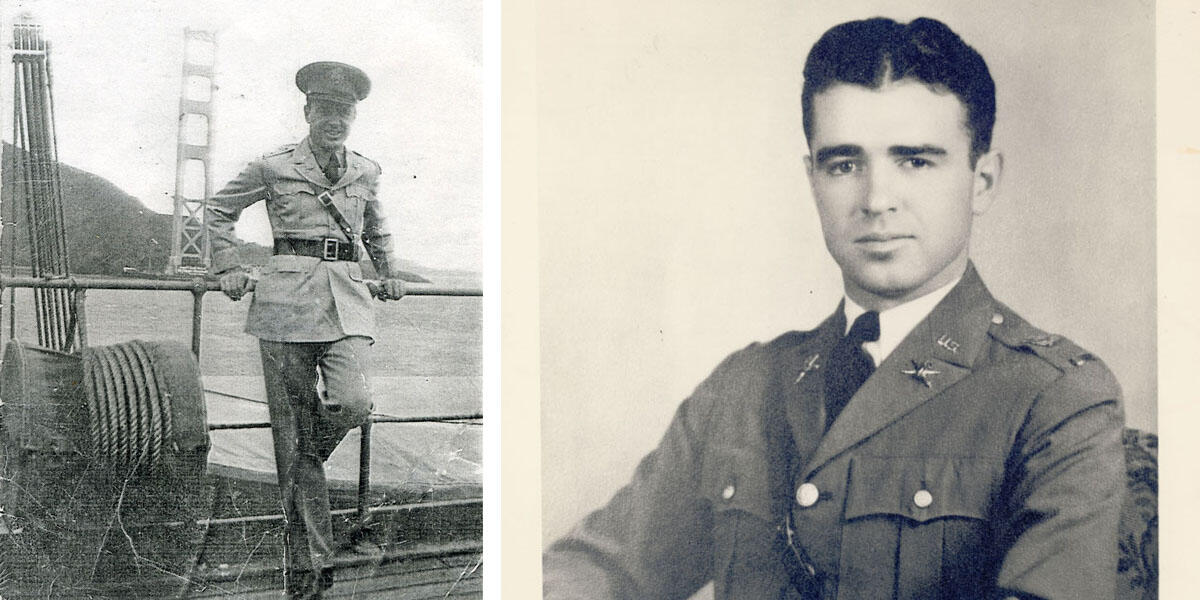 Two images of Lt. Col. Lewis Spencer Kirkpatrick, including one taken in 1935 in front of the unfinished Golden Gate Bridge.
Courtesy Kirkpatrick Family Archive
It's a long way from Oklahoma City to Marin County, but connections with our parklands can be deep and wide. 
Born in 1901, Lewis Spencer Kirkpatrick was raised in Oklahoma City and was accepted to the United States Military Academy at West Point in 1920, graduating in 1924.  
In 1935, between US Army assignments at Fort Kamehameha in Honolulu and Fort Preble in Maine, Commander Kirkpatrick stopped in San Francisco with his wife Bess. She took a photo of him at the Golden Gate, with an unfinished bridge and the Marin Headlands in the background. 
Promoted in 1941, Lt. Col. Kirkpatrick commanded Fort Drum in Manila Bay, the Philippines. In 1942, he was ordered to surrender Fort Drum but he and his men destroyed vital equipment before the Japanese Army invaded. He died from pneumonia as a prisoner of war in a Japanese labor camp on Corregidor in April 1943.  
For his service, a road at Fort Cronkhite was named in his honor. In 2017, the Kirkpatrick Family Fund made the first of annual contributions to the Parks Conservancy to help maintain the landscape around Kirkpatrick Road.    
"Thank you for preserving the memory of my grand-dad's brother in such a beautiful way," writes Christian Keesee. "We seldom fund organizations outside of the state of Oklahoma, but the work you do is so important and enjoyed by thousands of people each year, and we are honored to participate."   
We are grateful to the family and foundation for their support of the work of the Parks Conservancy and the parks' rich history, which includes this Oklahoma City connection. 
Find out more about legacy gifts to the parks. 
September 21, 2021