Dorothy Gardner's ticket from the opening day for pedestrians to walk across the Golden Gate Bridge in 1937.
Courtesy Dorothy Gardner
We want to wish a happy birthday to our newest Parks Conservancy member, Dorothy "Dotty" Gardner! Dotty turned 106 on July 19, and to celebrate, her family purchased a Parks Conservancy membership for her.  
Dotty has a special association with the parks and our great park connector, the Golden Gate Bridge. She was one of the first people to walk across the bridge the day it opened on May 27, 1937. She walked across with her father, Percy L. Badt, and remembers the city feeling excited about the addition of the bridge and being connected to the rugged beauty of Marin County.  
An estimated 200,000 people crossed the bridge that first day, paying 25 cents to walk across. It kicked off a week of celebrations, including nightly events at Crissy Field, parades, and fireworks. In 2012, the Parks Conservancy and our partners helped pay tribute to that opening week with events and a large fireworks show on the 75th anniversary of the opening.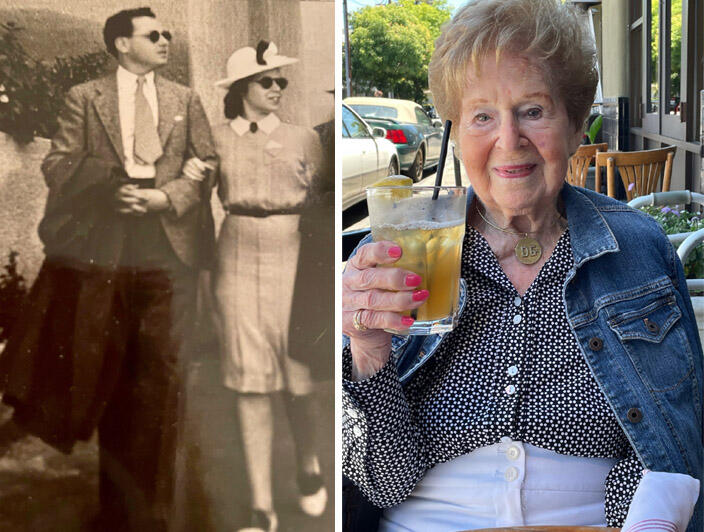 Parks Conservancy member Dorothy Gardner is seen in 1937, left, with husband Harry Gardner, and in 2021, right. Dorothy recently turned 106!
Courtesy Dorothy Gardner

Dotty remembers one big area of contention in 1937―nobody could understand why the bridge was orange! Surely it should have been painted gold. The controversy didn't last long and the fantastic "international orange" structure soon became an icon around the globe.  
Dorothy Gardner, who has spent the last 70 years living in San Francisco, kept her "Golden Gate Bridge Fiesta" ticket and her cherished memories of that day. And now she's giving back to the parks as our newest member. Thanks to Dotty and all our members—join Dotty and become a member today!
July 23, 2021