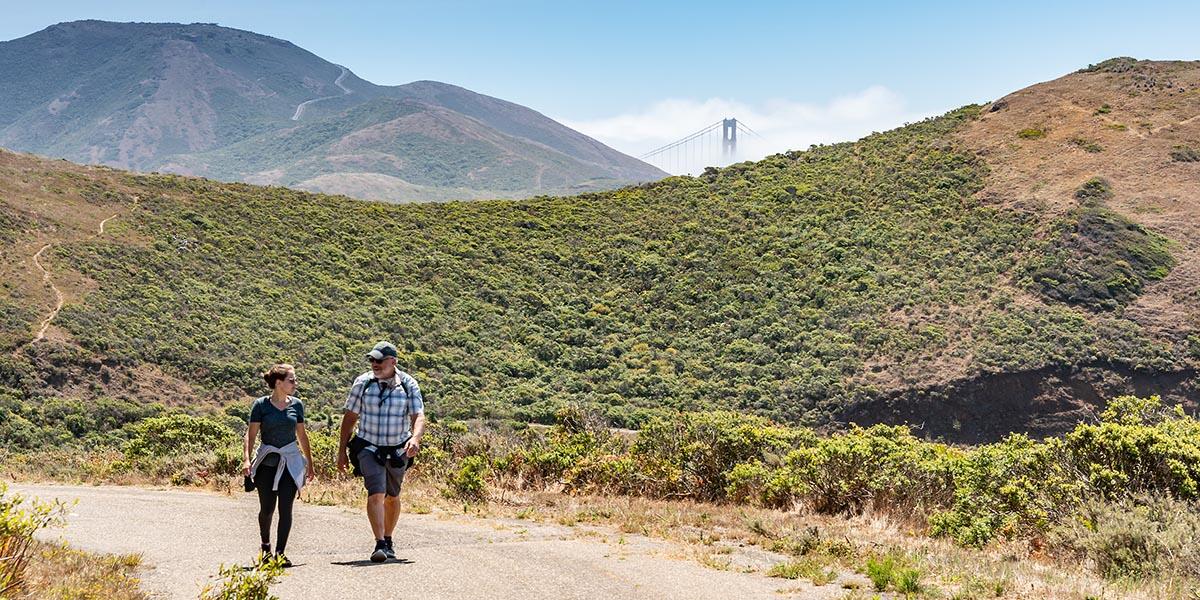 Hikers in the Marin Headlands, with a view of the Golden Gate Bridge in the background.
Alison Taggart-Barone / Parks Conservancy
Editor's note: This article is part of our 2021 Annual Report to the Community, where you'll find all we've accomplished together in the past year, along with interactive postcards from some favorite park sites and "postcard videos." Check it out >>
Parks Conservancy members like you have deep passion and deep connections with the national park sites in the Bay Area's backyard, and we love hearing about your joy for parks. Whether you've been playing in that "backyard" for years, or you're just discovering new experiences in the past year, the level of love is the same.
For our Annual Report to the Community, we reached out to members and others in our parks community to see if they would share their reasons for loving parks. Here are some of their responses:
"Parks provide a space for having more conversation with my family and friends, and a place of reflection."
—FAITH R. DE LEON, Participant in I-YEL youth program at Crissy Field Center
The troubles of the world just seem to melt away when watching nature all around us. No place on Earth is comparable to the Golden Gate National Parks.
—CARLOS LOPEZ, Member and Golden Gate Keeper
"Once on a clear, crisp early winter evening I stopped with friends at the Headlands overlook of the bridge with the city beyond, bright in that magic light. It was a special shared moment."
—TERRY STEPHENS, Parks Conservancy member
"In addition to connecting people with nature, I think that parks are a vital community hub that connects people with other people from all backgrounds and walks of life—people who might not otherwise cross paths."
—JASON DUBANIEWICZ, Parks Conservancy member
"I probably would not live here if these places were not accessible to me. They nurture my soul and inspire my GRATITUDE. Thank you for preserving this awesome natural beauty."
—DEIRDRE FENNESSY, Parks Conservancy member
"I hope parks will be considered essential and intrinsic to our communities and accessible to all. I would love for them to be viewed as central to how we live rather than separate places we visit."
—LAINIE MOTAMEDI, Parks Conservancy member & volunteer
Read more from our 2021 Annual Report to the Community >>
May 11, 2021