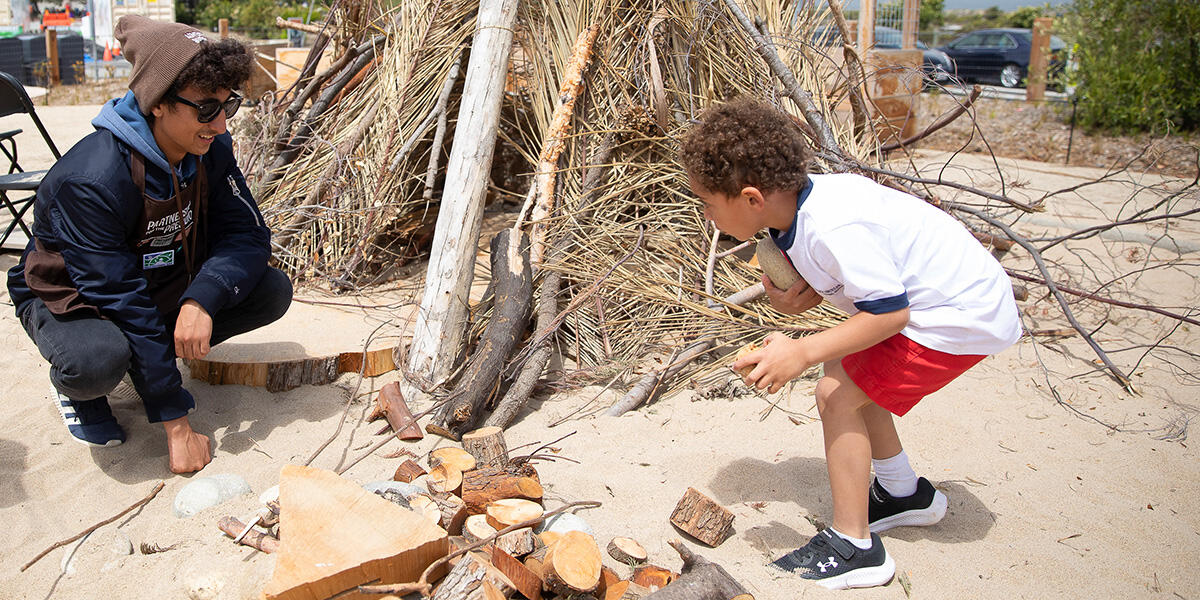 An Adventure Guide engages with a young person at the Outpost at Presidio Tunnel Tops.
Myleen Hollero / Partnership for the Presidio
Throughout 2022 you heard a lot about our Adventure Guides, the workforce development program at Presidio Tunnel Tops where young people help visitors connect to the parks. Workforce development initiatives like this one are a particular focus for the Parks Conservancy, and the Adventure Guides were Parks Conservancy employees supported by the Partnership for the Presidio: The Parks Conservancy, Presidio Trust, and National Park Service.
Most of the Adventure Guides started in Crissy Field Center youth programs, and for many, this is their first real job. Here, in their own words, is what they learned from the first season of Adventure Guides at Presidio Tunnel Tops: 
Anthony Villanueva-Torres, 22 
I've never been in a program like this. I wish I had something like this in high school. It was kind of hard for me to find a safe place to be myself. As a group we all agreed upon, we should be genuine with each other and with ourselves. The Adventure Guide program, it gave me something I didn't know I needed until I got here. A sense of genuine community. 
There was this young girl, who at first was really quiet, so essentially my approach would be to let them come to the space where I'm stationed at, this was in the art station at the Field Station. Just inviting folks who walk by to ask them "Hey, this is our art space, feel free to come sit down and draw whatever you see" and engage into what that area has to offer. But this girl just decided to sit next to me. She didn't talk much and she was just drawing. I was playing with some of our dry clay, and she was really interested, and then she found the courage to start talking to me, like "oh, I like what you're making, um, is that an owl?" Because there was an owl up above me so I was sculpting an owl. And I told her "yeah, I'm making an owl" and she started going off talking about her siblings. She completely opened up to me, she was so happy, and she started drawing an owl, and she named it after me. She said "Anthony the owl" and she wrote my name and everything. 
The training that we did, aside from talking with the public, dealing with youth, we took a lot of time to hike out and really get to know the Presidio. I've lived in the Bayview my whole life so I would rarely ever come out here, I didn't really even know the Presidio existed. I just knew, Golden Gate Park (gestures), there's the bridge, and a bunch of trees over here. The training really helped me connect to the park a lot. (My favorite spot is) Inspiration Point. The walk up, it was not a fun walk up, but once you get to the top of the hill, so rewarding.  
Here, I'm excited to interact with folks, I can't wait to have another genuine conversation with someone like that little girl I mentioned. It could range from just a simple hello, how are you doing and genuine smiles versus full-blown hanging out. It doesn't really make it feel like work, this doesn't feel like a requirement but something you really enjoy doing. I didn't really like talking with the public before I got this job, and it's been getting a lot easier as the days go by. 
Ben Lam, 20 
This is what I like to say: So at a normal retail job, people are coming to you expecting something but in this kind of job you're going to people giving something, right? They don't expect anything and you're just making their whole experience better by giving them something they didn't expect. So from my viewpoint it's a very awesome experience, just giving people the magic of the Tunnel Tops and the Outpost and the Field Station.  
The coyote in particular, it's the first thing people see, they come up and they're like "whoa, is this real?" And you're like, "it is real!" And then some of the kids are like "is it alive?" And you're like "it's NOT alive, it WAS alive," and you tell them the whole story about how this coyote was the alpha female and she used to rule over the whole Presidio. Alpha female means she was the only one to live permanently in the Presidio and you tell them the story about how she was banished and how she became a taxidermy. Yeah, it just really intrigues people because you can't get that just by looking at the coyote.  
One thing that really touched me is kids who have trouble communicating, or maybe they have trouble expressing their needs, have this place here where they really can enjoy themselves, to climb and play. It's OK to be yourself here. Throughout my time there have been groups of kids who have special needs and you can see it in their eyes when they light up, they're like "oh, that was so much fun today" or like "oh, I can I can do this. I can touch the coyote, I can pick up the skulls, I can draw." It's just making the connection with them, it doesn't even have to be like a verbal connection, you see it in them, they're happy. 
I like the park a lot. The first thing I like is that it connects the lawns by the parade grounds to the marsh, because that was something that was really hard to get in between. Second of all is just the aesthetic they went for, with the flowing paths and the openness, it feels very natural, it feels very welcoming. Third of all, it's more than just a park because when people think about this park they're like "oh, it's just another city park." But no, it's a national park, it's kind of in this weird gray zone where people don't usually think of a national park as hosting events on Sundays, or having a youth center here. It's different, so it challenges people's thoughts, like a national park can do that too. 
Brianna Canizales, 22 
It's been very interesting to say the least, every day is changing, especially with the transition of summertime to now school in session, we've seen a huge change in foot traffic, the interactions in the park, what's popular, what's not popular. But I think our role is very consistent, being welcoming, inviting, providing answers, asking people questions, and just making a space that people can feel like "oh this is my park."  
Even within the first month of opening there were a lot of moms and kids or nannies with their little children and I bump into them, meeting them for the first time. And then a couple weeks later you see them again and they're like "oh, I remember you, we talked, what's your name?" And then it evolves from there, second time we meet it's first-name basis, third time it's like "oh hey you!" calling them by name, and the kids remember you. We pass out little goodies for the kids like stickers and pins, so bonding through those small moments helps create that familiarity and building a friendship amongst visitors and employees essentially.  
I think in some weird, interesting way the universe knew we needed each other. We were grouped together as strangers and now we're close friends, we're like a small family here. We're very supportive of each other in the workplace, outside of the workplace and we just have a really fun time together.  
I'm trying to slowly plant the seed into peoples' minds that I meet, especially in the park, we get a lot of parents who are like "how can my kid sign up? What's the age cap?" And it's like oh, it's middle school to high school is our programs, but you can apply at 16. So it's interesting, just wherever you can, recommending this space for people, and I really try to do that a lot. 
Frankly Jeronimo, 20 
Before I started I was just curious to see what it would be like, but 4, 5 months later, it's been good! It's not really what I expected it to be, but it's better than what I expected it to be initially. It's very engaging, I constantly interact with the public, which is something I enjoy doing, I like working with the public, I like working with people, I like working at the Conservancy. 
I-YEL is a great program, it's for high school students and I think the purpose of it is for youth development, social skills, leadership skills and communication skills and so on. I never really learned those skills until I got there, and then once I gained those skills, I was able to apply them here. So it's kind of like a follow-up and I'm sure in the future, if the Adventure Guides continue, I'm sure I-YELers will become future Adventure Guides, and same thing with UTB middle school program. From UTB to I-YEL to Adventure Guides, it's creating a whole new system, just constantly helping people grow. It definitely taught me to step out of my comfort zone more and take more initiation.   
I just want to offer words of encouragement to other people: Just put yourself out there, try new things, even if it doesn't seem appealing to you at first. Sometimes the most unexpected things you do can take you places that you never imagined being. I did the I-YEL program, initially I wasn't really going to do it and I told myself I was only going to do it for a year, then I came back the following year and the following year after that, and now I have a great relationship with the park and the people who work here and I'm an Adventure Guide. And I think my experience here has definitely prepared me for big things, and I'm just very excited what the future holds for me. 
This Giving Tuesday, will you help support Adventure Guides? As a special bonus, your gift will be TRIPLED: $15 becomes $45 to help fund buttons, stickers, and more for Adventure Guides to hand out, while $50 becomes $150 to provide chalk and other art supplies. Donate today and THANK YOU for supporting Adventure Guides and the Parks Conservancy this Giving Tuesday!
November 7, 2022