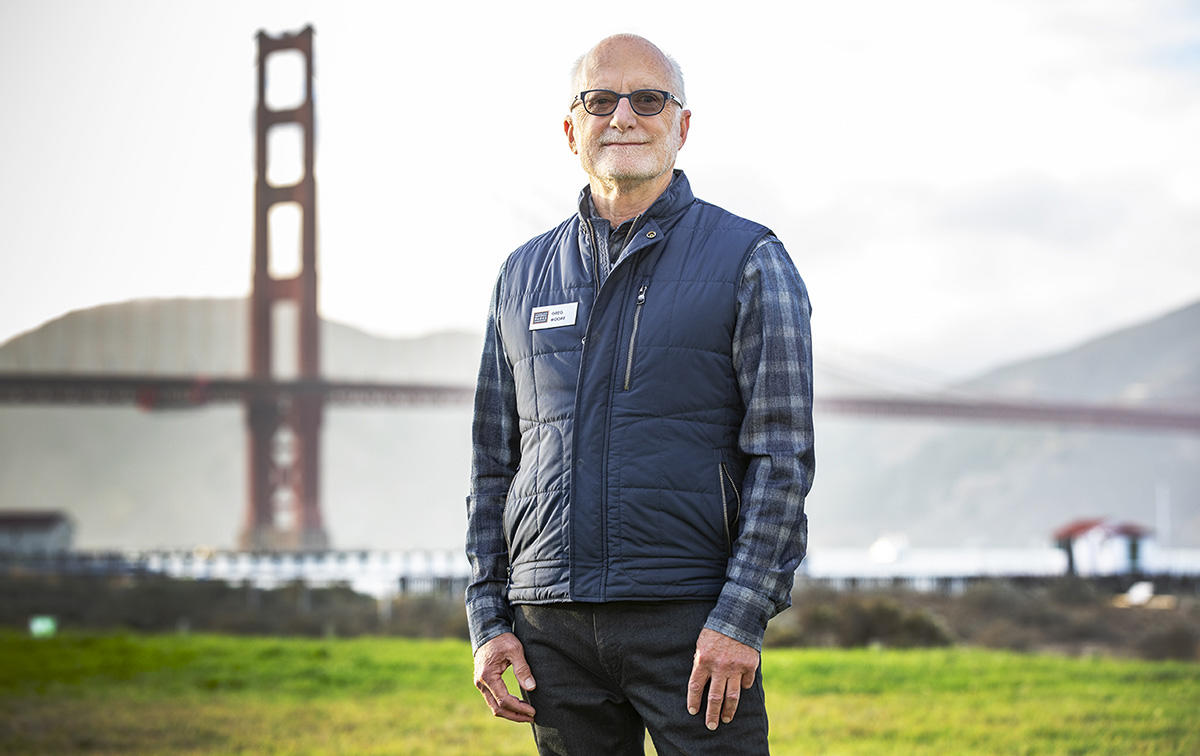 Golden Gate National Parks Conservancy President & CEO Greg Moore.
Paul Myers / Parks Conservancy
Looking out a window at Fort Mason, with the sun shining on the Golden Gate Bridge in the distance, Greg Moore reflected on his life and career as President & CEO of the Golden Gate National Parks Conservancy.
He could see children gathered, people biking, and others enjoying the view from park benches. One of the best parts of the work, Moore concluded, was making a tangible, visible impact on people's lives.
What an impact it's been.
In 33 years with Moore at the helm, the Conservancy and its partners have helped transform and restore Crissy Field, Lands End, and Fort Baker, ushered in the Presidio as its own national park, and built thousands of miles of trails. Moore will soon step down from his role as President & CEO and transition to a new role as Special Parks Advisor, helping establish the next great San Francisco park, the Presidio Tunnel Tops.
"Very simply, can you imagine what our Golden Gate National Parks would look like without the Conservancy that Greg has built?" said Colin Lind, chair of the Conservancy's Board of Trustees.
With your help, the Conservancy has provided more than $500 million in support of the parks, serving an ever-growing number of young people. The Conservancy, National Park Service, and Presidio Trust have engaged thousands of volunteers from Pacifica to Marin County, and made the parks an international example to follow.
But for Moore, just as important are the smaller moments.
"A person working with young kids can see the joy on their faces of discovery and growth," Moore said. "It's an amazing feedback system, which is what inspires and motivates us."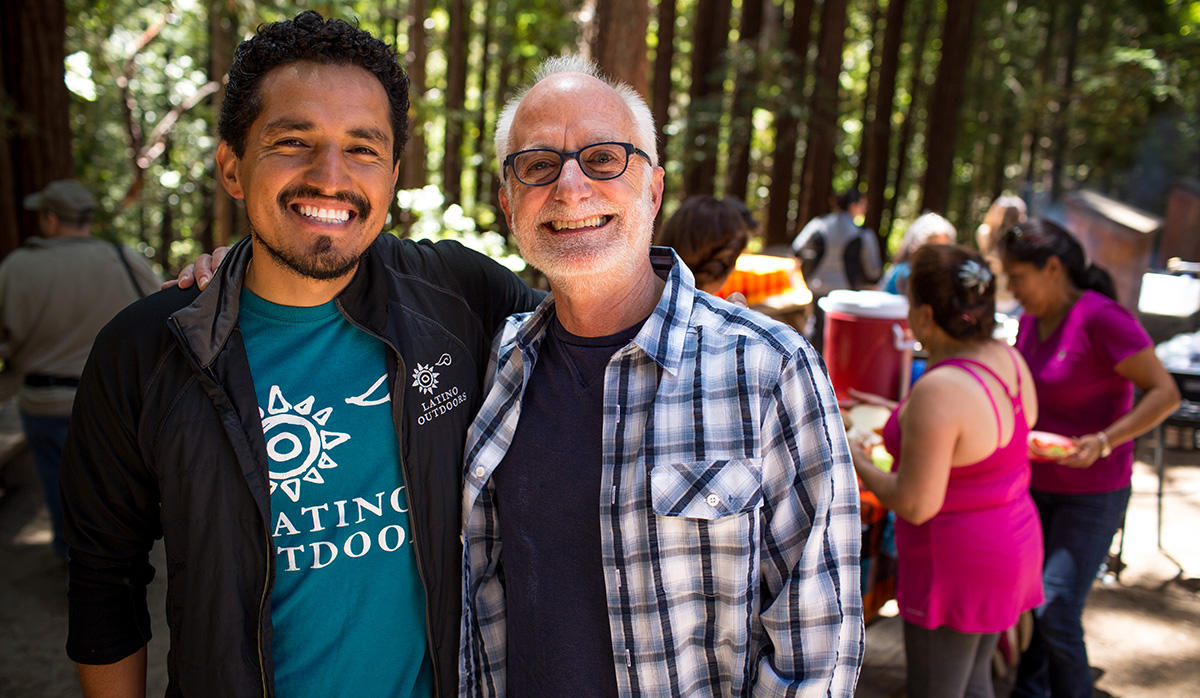 Greg with José González, founder and former director of Latino Outdoors.
Paul Myers / Parks Conservancy

So when it came time to think about the future, Moore turned to the youth who have helped establish local parks as civic spaces. The Conservancy has created the Greg Moore Parks For All Fund to help engage even more youth who have come from traditionally underrepresented communities with the parks. At the Trails Forever dinner in September, with a $500,000 match, the fund raised more than $1.2 million from people eager to support the vision of parks for every Bay Area kid.
"I'm always in awe of the legacy he leaves behind," said Conservancy trustee Odette Alcazaren-Keeley, principal and co-founder of CKO+Media. "Not only the legacy of the work, but a legacy of leadership and respect, of how important inclusion is in our parks and in our society."
Moore describes the parks as "gifts" for young people, whether they're seeing the ocean for the first time or climbing Hawk Hill for the 10th time.
They're really gifts for us all, thanks to the years of hard work and stewardship put in by Moore, the Conservancy's partners, the dedicated team of people he's cultivated in the organization, and the committed group of supporters in the community like you.
His truly is a legacy of parks for all, forever.
 
Conservancy's growth under Greg:
| | | |
| --- | --- | --- |
|   |  Then |  Now (annually) |
|  Employees |  4 (1981) |  350+ |
|  Youth served |  700 (1992) |  18,019 |
|  Annual aid to the parks |  $9,000 (1982) |  $45 million |
|  Volunteers |  437 (1993) |  27,103 |
|  Volunteer hours |  8,000 |  459,423 |
|  Public agency partners |  1 (NPS) |  6 |
|  Annual visitors |  1.4 million (1973) |  19 million |

If you'd like to help support youth in the parks and further Greg's legacy, you can make a gift here.

 
November 23, 2018