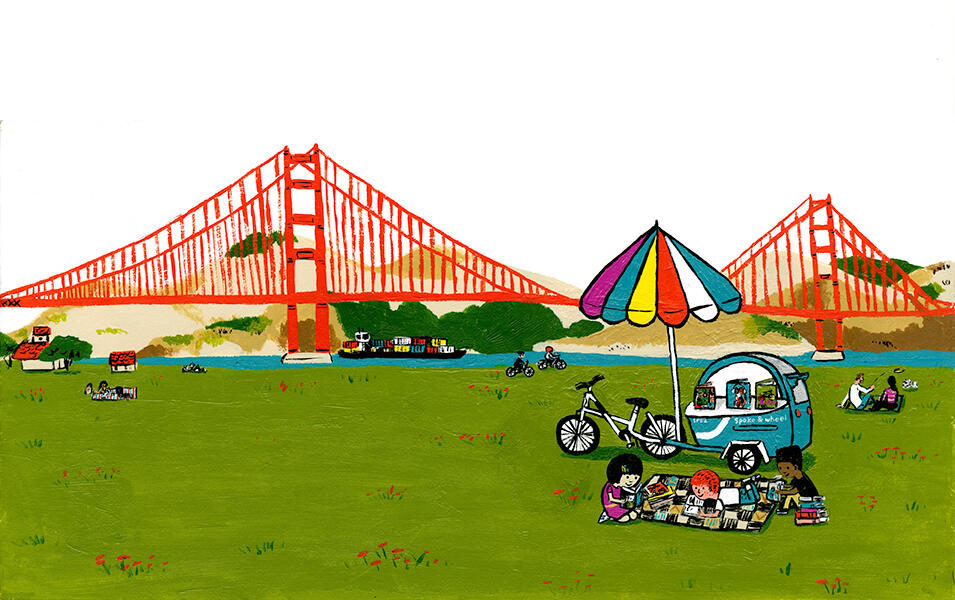 2019 Summer Stride artwork
Created by Zachariah Ohora
Following the success of the past three years of Summer Stride partnership with the San Francisco Public Library, the 2019 summer reading program for kids (and adults!) will center on the national parks once again! Through this partnership of the San Francisco Public Library, Golden Gate National Parks Conservancy, Presidio Trust, and National Park Service, you can find your reading adventure in your national park!
Library Trailheads
Visit the trailheads at 10 libraries throughout the city (including one at SF MOMA!) to discover activities and events in the parks. Find the best reads for all ages about parks, the outdoors, and adventure...and discover the best way to get to the parks by bus.
StoryWalks©
For the third year in a row, StoryWalks© are back in the Golden Gate National Parks! StoryWalks© were created by Anne Ferguson from Vermont in partnership with the Kellogg-Hubbard Library. Pages from a children's book are placed on signs and posted along a trail like bread crumbs. Visitors can self-guide, walking the trail and reading the story at the same time!
Embark on your reading adventure in the Presidio by finding the pages among the trees, and discovering new things about the park along the way. Look for Bikes For Sale by Carter Higgins at the Presidio Visitor Center, Where's Rodney? by Carmen Bogan at the Preisdio Officers' Club, and I Wrote You a Note by Lizi Boyd at Mountain Lake. The StoryWalks© will be up through the summer, click here to find out more information about how to find them.
Community Ranger Talks
Twice a month, National Park Service rangers will visit a branch of the San Francisco Public Library system and bring the joy and wonder of the parks to neighborhoods across the city.
Free Community Shuttle
The Community Shuttle program is offering 6 free rides from branch libraries to nearby national park sites, two Saturdays a month through August. The shuttle stops at a library location and takes a group to a park site, where participants can explore the park, meet park rangers, engage in activities, learn about San Francisco history, or just enjoy the views! At the end of the trip, the shuttle takes everyone back to the library.