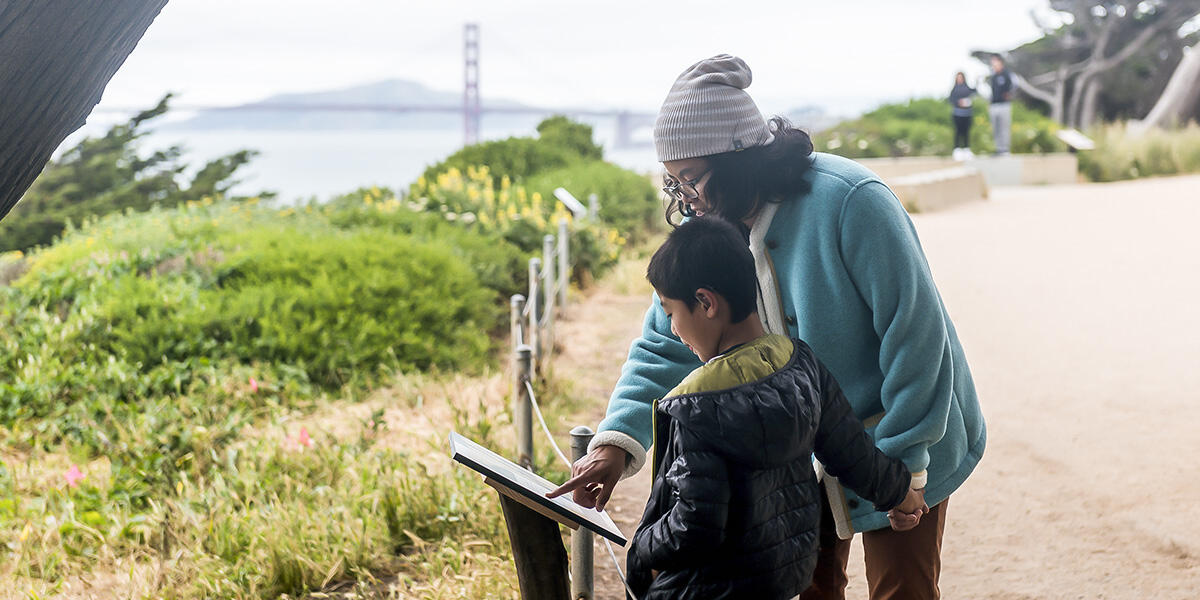 A family checks out a StoryWalk at Lands End in San Francisco.
Paul Myers / Parks Conservancy
A StoryWalk is a creative way for children and their families to enjoy the park on a family-friendly, accessible trail while reading an adventure at the same time. Pages of a children's book are put on signs and placed along the trail. Walk along the trail and read the story, step-by-step and page-by-page! StoryWalks are often presented in conjunction with the San Francisco Public Library for Summer Stride.
storywalks 2022
Take a reading adventure! Find this year's StoryWalks in three different locations.
The Hike by Alison Farrell
Join three friends on a hiking adventure while learning about nature in your national park. Find it in the Presidio, along the Presidio Promenade. Start at the Presidio Visitor Center and follow the signs to the first panel, located at the intersection of Lincoln Blvd. and Patten Rd.
You can also find The Hike at Tennesse Valley in Marin County, where we've teamed up with Marin City Library and Sausalito Library. Start at the newly-redone Tennesse Valley parking lot and trailhead.
Watch or listen to author and illustrator, Alison Farrell, read The Hike aloud!
I Wrote You a Note by Lizi Boyd
Follow a note's unexpected journey and encounter a cast of charming characters along the way. Find this StoryWalk in the Presidio, starting at the Mountain Lake Park Playground.
PAST storywalks
Since the summer of 2017, we have installed several StoryWalks in our parks. These StoryWalks have been made possible by our partnerships with the San Francisco Public Library, National Park Service, Presidio Trust, Chronicle Books, and Yosemite Conservancy.
The Hike
Written and illustrated by Alison Farrell
Lands End and Presidio Main Post, 2020-2022
I Wrote You a Note 
Written and illustrated by Lizi Boyd
Mountain Lake Park, 2017-2022
Have You Ever Seen a Flower?
Written and illustrated by Shawn Harris
Crissy Field Promenade, 2021-2022
Bikes for Sale
Written by Carter Higgins, illustrated by Zachariah OHora
Presidio Main Post, 2019
Her Right Foot
Written by Dave Eggers, illustrated by Shawn Harris
Crissy Field, 2018
Where's Rodney?
Written by Carmen Bogan, illustrated by Floyd Cooper
Marin Headlands, 2017-2018
Presidio, Ecology Trail, 2019
The Fox Wish 
Written by Kimiko Aman, illustrated by Komako Sakai
Lands End, 2017