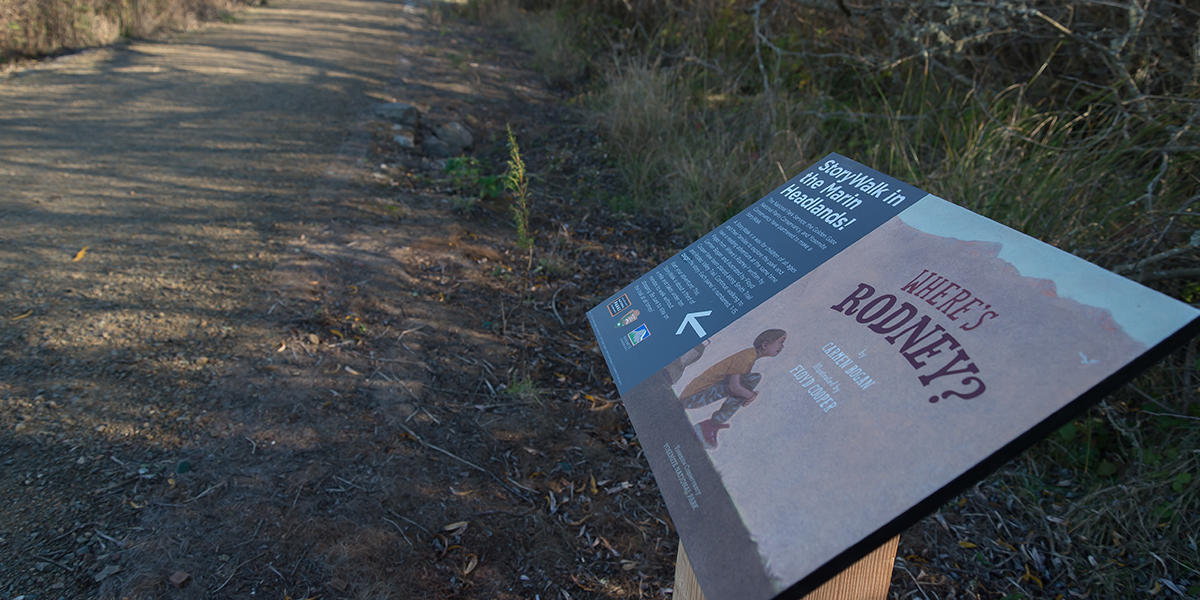 For the pint-sized hip and happening: Read a story, page-by-page, as you stroll along the scenic Crissy Field Promenade
Alison Taggart-Barone/Parks Conservancy
A StoryWalk is a creative way for children and their families to enjoy the park on a family-friendly, accessible trail while reading an adventure at the same time. Pages of a children's book are put on signs and placed along the trail. Walk along the trail and read the story, step-by-step and page-by-page!
Current StoryWalks
Check back soon for StoryWalks arriving in 2019!
PAST storywalks
Since the summer of 2017, we have installed four StoryWalks in our parks presented in partnership by the Golden Gate National Parks Conservancy, National Park Service, Presidio Trust, San Francisco Public Library, Chronicle Books, and Yosemite Conservancy.
Her Right Foot at Crissy Field
Duration: May - September 2018 
Story: Her Right Foot by Dave Eggers, illustrated by Shawn Harris
Publisher: Chronicle Books
About Her Right Foot
In this fascinating and fun take on nonfiction, Dave Eggers and Shawn Harris investigate a seemingly small trait of America's most emblematic statue. What they find is about more than history, more than art. What they find in the Statue of Liberty's right foot is the powerful message of acceptance that is essential to an entire country's creation.
Where's Rodney? in the Marin Headlands
Duration: December 6, 2017–April 5, 2018
Story: Where's Rodney? by Carmen Bogan, illustrated by Floyd Cooper
Location: Marin Headlands, Gerbode Valley (Smith Trail and Rodeo Valley Trail)
About Where's Rodney?
Rodney is that kid who just can't sit still. He's inside, but he wants to be outside. Outside is where Rodney always wants to be. Between school and home, there is a park. He knows all about that park. It's that triangle-shaped place with the yellow grass and two benches where grown-ups sit around all day. Besides, his momma said to stay away from that park. When Rodney finally gets a chance to go to a realpark, with plenty of room to run and climb and shout, and to just be himself, he will never be the same.
The Fox Wish in Lands End
Duration: June–August 2017
Book: The Fox Wish written by Kimiko Aman and illustrated by Komako Sakai
Publisher: Chronicle Books
About The Fox Wish
This charming story follows two children who go looking for their jump rope and discover that a group of foxes have claimed it as an answer to their wish. With beautiful, classic illustrations and lyrical text, here is a subtle, sensitive piece of magic that proves to sisters, brothers, and foxes alike that the trusted familiar often lives right next to the truly extraordinary—if only you have the eyes to see it.
I Wrote You a Note at Mountain Lake in the Presidio
Duration: June–August 2017/2018
Book: I Wrote You a Note written and illustrated by Lizi Boyd
Publisher: Chronicle Books
About I Wrote You a Note
In this deceptively simple storybook from award-winning author-illustrator Lizi Boyd, readers will delight in following a note's unexpected journey and encountering a cast of charming characters along the way. The spare text is filled with the kind of repetition and rhythm that make for a captivating read-aloud, while the humor and childlike cadence will engage readers who are beginning to decipher books on their own. The brilliantly colored paintings share the gentleness of the text but also bring a joyous exuberance to this celebration of nature, curiosity, imagination, and friendship.