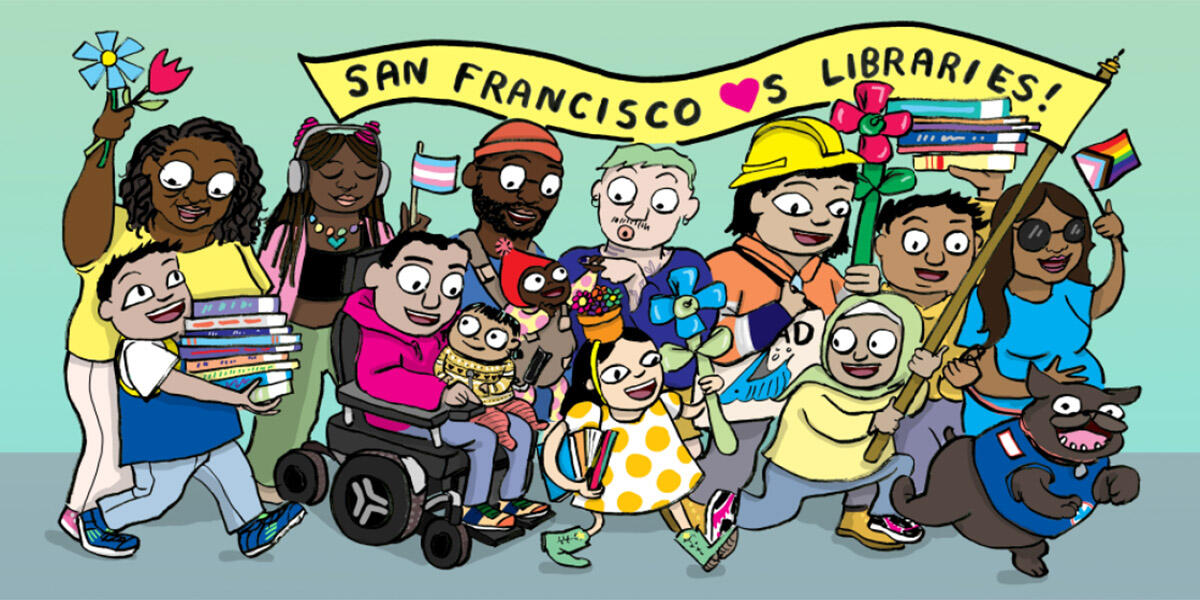 Summer Stride 2023 artwork by K-Fai Steele.
K-Fai Steele / San Francisco Public Library
Are you ready to explore the natural world around you? It's summer in the city and that means it's time for Summer Stride, a partnership of the San Francisco Public Library, Golden Gate National Parks Conservancy, Presidio Trust, and National Park Service that helps you have reading adventures in the national parks in the Bay Area's backyard.
Enjoy the magic of the outdoors on StoryWalks in the parks and discover the sights, sounds and history of our local national parks through special events. See all Summer Stride events on the San Francisco Public Library website.
StoryWalks
Find one of our StoryWalks in the parks, and you'll be able to hike and read on a trail at the same time. Pages of a children's book are put on signs and placed along the trail. Walk along the trail and read the story, step-by-step and page-by-page! Click here for more information on this year's StoryWalks. 
Shuttle trips from libraries to the parks
Create a memory with your family and friends with a unique shuttle trip from public library branches to places like Alcatraz Island and the Presidio. Check the San Francisco Public Library event listings for more information on how to sign up for these special experiences.
Be sure to follow our social channels below to get the latest from our parks:
Nature Boost Fridays
Started in 2020, Nature Boost Fridays are a fun way to connect to the parks virtually. You can meet national park rangers and experts, learn more about local plants and animals, and much more. Check out some of our past Nature Boost Friday events below, and check San Francisco Public Library's YouTube channel for upcoming events.
Virtual fun for all
See what's happening around the Golden Gate National Recreation Area with live webcams in San Francisco, Marin County and the South Bay.
Explore the Virtual Golden Gate and enjoy the sights and sounds of the GGNRA.
Click here to download the interactive NPS Golden Gate app.
Visit the Presidio at Home and dive into the Parks Conservancy's Portal to the Parks.
Take a Google Street View virtual tour of the Golden Gate National Parks.