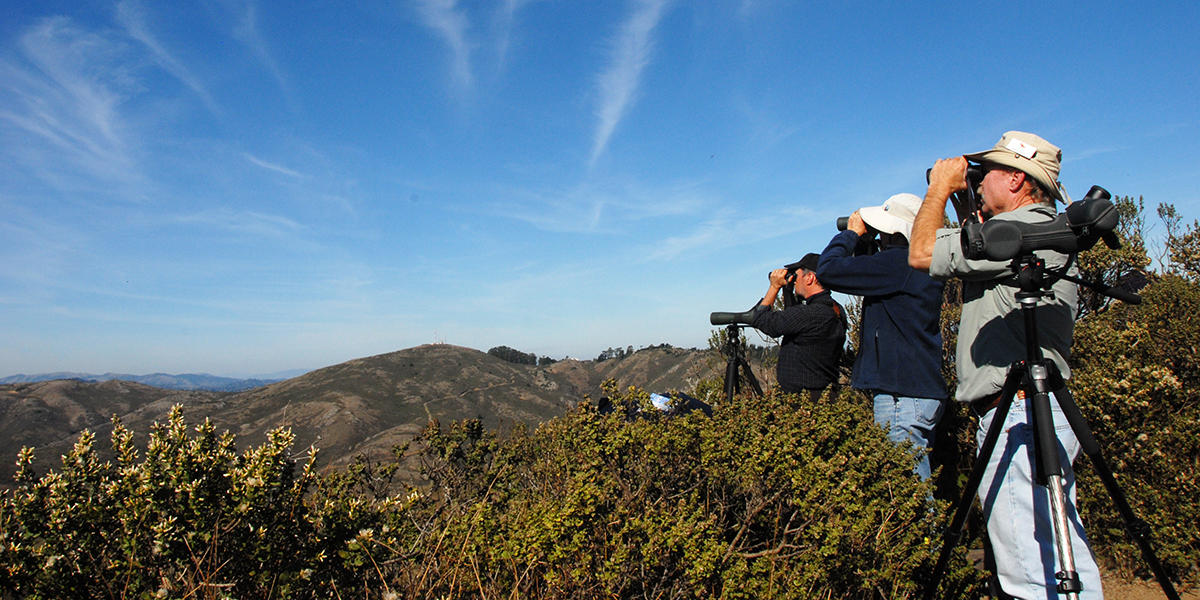 Hawk Hill birdwatching
Jessica Weinberg-McClosky/Parks Conservancy
The 30th season for the Golden Gate Raptor Observatory—a Parks Conservancy program in cooperation with the National Park Service—was quieter than most, but with some shining highlights. The bread-and-butter raptors—Cooper's, Sharp-shinned, and Red-tailed Hawks—flew at something less than their average numbers, and our sensitive hawk-counters and banders felt the lapse. However these three species set the stage, they hardly control the audience. We GGRO'ers are out there to tally numbers to be sure, but we also love our celebrity-status raptors. And the celebrities didn't disappoint in 2014.
Celebrities are the species that don't nest in California, so when they show up, it's like some great relative who you hope will show up, but will she for sure? Here's an example: Merlins are little dark-backed, northern falcons that whip into California on migration. They winter in our SF baylands where they hunt sandpiper flocks and in the 'burbs where they settle for sparrows. We love them because of their indifference; they care not a whit for us. We are just another slow-moving, slow-witted, Cro-Magnon ground-sloth to be dodged and skirted en route to a tasty bird or dragonfly. In flight, Merlins are ripping-fast and thus difficult to identify. In the hand, they bite whatever is close by with a head-twist. Our alert banders trapped 33 Merlins this year, leaving twice as many fingers with four times as many holes. That's right: get out the Band-Aids.
Although most species numbers were below average, the hawk-counters enjoyed our highest Peregrine count since 1986, with 279 sightings. This was just over 1% of the year's 25,213 total raptor sightings. By comparison, we counted an average of 28,600 sightings per year for the last decade. Banding numbers, at 1,252 raptors trapped, were down from their 22-year average (1,500 trapped/year) but the season included some respectable numbers of uncommon birds, like 18 Northern Harriers and 33 Red-shouldered Hawks.
One Cooper's Hawk already had a band on its leg when we trapped it October 27. A few days and a few phone calls later, Banding Director Chris Briggs learned that our long-time Seattle colleague Bud Anderson had trapped and banded that very same hawk in August of 2011 at Sea-Tac Airport near Seattle! Bud has the arduous task of helping hawks move away from the airport so they don't run into an unwary plane.
Our radio-telemetry team followed just one Redtail, and he turned out to be a local yokel with a fondness for fine wines. He took the radio-trackers on a short journey into southern Sonoma County, where he settled in between Petaluma and Rohnert Park for the winter. Is that migration? Not exactly—many of these winter Redtails just need to find a good mouse outbreak to get through February, and they do fine in the Bay Area.
The jet setter of our GSM Tracking season was named ironically for the very sedentary lupine, the dignified wildflower that provides homes for our local endangered butterfly, the mission blue. Lupine, also a young Red-tailed Hawk, took off September 9 and made a straight shot for southern California, bending slightly eastward to intercept Indio near the Salton Sea. She covered 540 miles in her first week!
We assumed she would be in Mexico in another half-day, but here's the twist. Over the next week, she switched directions, crossing northeast to the Mojave Desert, and then she barreled up Hwy 395 to Pyramid Lake, north of Reno. Two weeks later she was in southeastern Oregon, not far from Klamath Falls, where she stayed put for the next two months. Migration? Searching for mice? What-have-you? Who can say? We just call her Loopin' Lupine now, and we marvel at her unpredictability.
Along with the wild-flying hawks, we hosted more than 500 people to our docent talks this year—some school groups, many environmental education groups, and many more families. It's a great gift that this migration site is positioned so close to millions of people in the Bay Area and, whether you are a birder or merely a lover of open spaces, it's inspiring to see kids get big-eyed and goofy when they see a new hawk up close.
I happened to be on Hawk Hill one day in mid-October when teacher Daniel Murnane of the YMCA Point Bonita staff was getting his group of 20 fifth-graders settled a few hundred feet away. Just then, our GGRO spotters picked up a young Bald Eagle that was still 30-seconds out, but wing-flapping straight for us. I somehow resisted the temptation to be quiet. "Daniel! Bald! Right on the horizon!"
Daniel had his kids standing, with their binoculars at the ready in half a heartbeat, and wouldn't you know it? That eagle bent southwestward, and flapped right over them, maybe 30 feet up. The eagle gave them the best view. I'm guessing a few lives were changed in that moment.
Thanks to each of the 297 great GGRO volunteers, and dozens of park staff, colleagues, and friends that made 2014—our 30th season—fantastic. We hope to see you out on the Hill in 2015. Migration starts August 17!
February 1, 2015