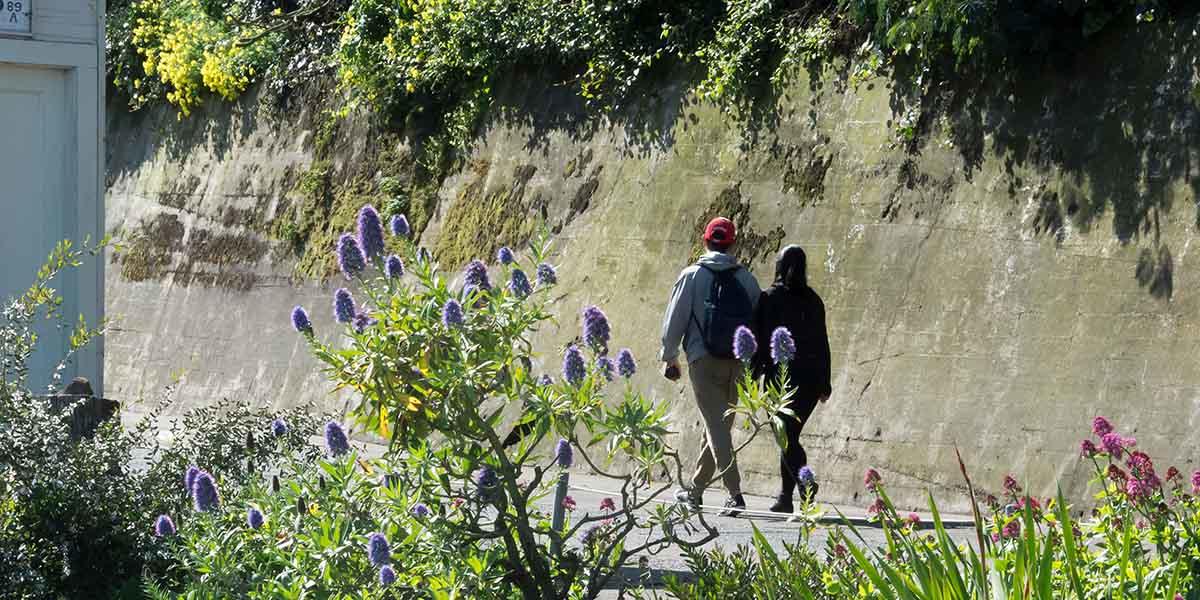 Visitors walk up to the Alcatraz Cellhouse past the Alcatraz Historic Gardens.
Alison Taggart-Barone / Parks Conservancy
This February, Bay Area residents can put a twist on date night. Instead of a trip to the movies, why not enjoy a staycation adventure and tour our most famous historic movie location, Alcatraz Island! Movies that include Alcatraz include "The Rock" (1996), "Escape from Alcatraz" (1979) and "Birdman of Alcatraz" (1963).
Our partner Alcatraz Cruises is offering "Buy One/Get One" ​Alcatraz Day Tours for a limited time ​to residents of the nine Bay Area counties. Plan your great escape and learn some historic facts too. Local residents can purchase two tickets for the price of one on select days. 
Tickets include a round-trip ferry ride to Alcatraz Island, the Golden Gate National Parks Conservancy's award-winning Alcatraz Cellhouse Audio Tour, and ranger-led tours, weather permitting. 
Or check out a special art exhibition, Red Power on Alcatraz: Perspectives 50 Years Later. It marks the 50th Anniversary of the Occupation of Alcatraz by the Indians of All Tribes, a key event in the history of Alcatraz Island, the Native American civil rights movement and our nation.
For more information, visit  http://bit.ly/EventuresAlcatrazBOGO. To book this special offer, Bay Area residents can call 415-981-7625 or purchase tickets at the ticket booth located at Pier 33 on Alcatraz Landing. ​
January 23, 2020