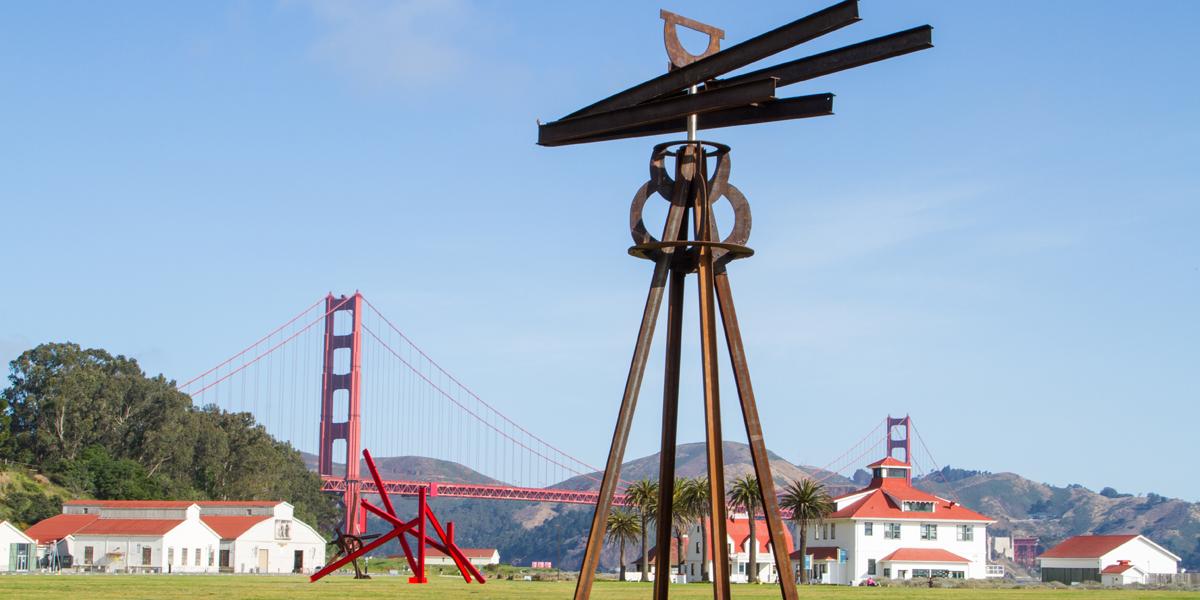 Mark di Suvero at Crissy Field surveys five decades of the artist's work
Kirke Wrench/National Park Service
On May 22, an exhibition of eight large-scale steel sculptures by renowned artist Mark di Suvero—known for his bold, exuberant works that have shaped the language of modern sculpture—will open at Crissy Field in the Golden Gate National Parks. Mark di Suvero at Crissy Field is presented by the San Francisco Museum of Modern Art (SFMOMA) in partnership with the National Park Service and the Golden Gate National Parks Conservancy.  

Crissy Field, with its unparalleled views of the Golden Gate Bridge, holds special significance for di Suvero. When he was seven, di Suvero—born in Shanghai in 1933 to Italian émigré parents and raised in the Bay Area—passed below the International Orange icon to San Francisco. This left a profound impression on the young boy who would become one of the most influential artists of our time.
Crissy Field
Kirke Wrench/National Park Service
This installation of di Suvero's works is both a homecoming for the artist and an opportunity for us all to celebrate his impressive sculptures, spanning up to 50 feet high and 40 feet wide, at this beloved national park site.

The free, yearlong outdoor exhibition will be the largest display of di Suvero's sculptures ever shown on the West Coast and launches SFMOMA's next phase of off-site programming while the museum completes a major expansion project. Mark di Suvero at Crissy Field also represents the crowning "community tribute" to the Golden Gate Bridge, closing the celebrations of the 75th Anniversary year.

Crissy Field, with its origins as a historic military airfield and the iconic Golden Gate Bridge as a background, is the ideal setting for di Suvero's art. His works—just like the spectacular national parks—simply cannot be understood from any single vantage point. With each shift in position the works' intersecting lines appear to reframe their spatial environment, revealing new facets of even the most familiar terrain.

The installation of the eight sculptures in Mark di Suvero at Crissy Field will take place from Wednesday, April 24 until Friday, May 17, 2013. The sculptures are large and being installed in a public space—a process that requires heavy lifting and careful, meticulous installation activity. Crissy Field visitors are encouraged to view the exhibition installation in progress—but from a safe distance. An introductory panel will accompany each sculpture and a multimedia tour featuring interviews with the artist and curator will be available for download via mobile site, cell phone, and as a podcast. As an added benefit, Parks Conservancy members will be able to visit SFMOMA for free May 17–19, 2013—just bring your Parks Conservancy membership card.

Through their passionate interactions with the Crissy Field landscape, di Suvero's sculptures will demonstrate art's power to change the way we see our world. We are excited to connect new communities to our national parks through art that will help visitors see park resources in new and different ways.

Free and open to the public, Mark di Suvero at Crissy Field runs through May 26, 2014. SFMOMA will also host a series of public programs related to the exhibition in September 2013. For the most up-to-date information about this exhibition, visit the SFMOMA website.
Update: Thank you to everyone who sent us a comment. Read more about how we planned the exhibition in this response letter (PDF).
May 31, 2013