Whether you're an SF resident or an out-of-towner, you'll want to complete your waterfront tour by taking in (and showing off) Golden Gate Bridge vistas and photos. So why not nosh on delicious, organic, and sustainable food as you walk, bike, run, or hike your way down Crissy Field to the Bridge?
Here is a roundup of the best places to stop for a quick—or leisurely—bite to eat on the 3.3-mile stretch from Fort Mason to the Golden Gate Bridge Welcome Center.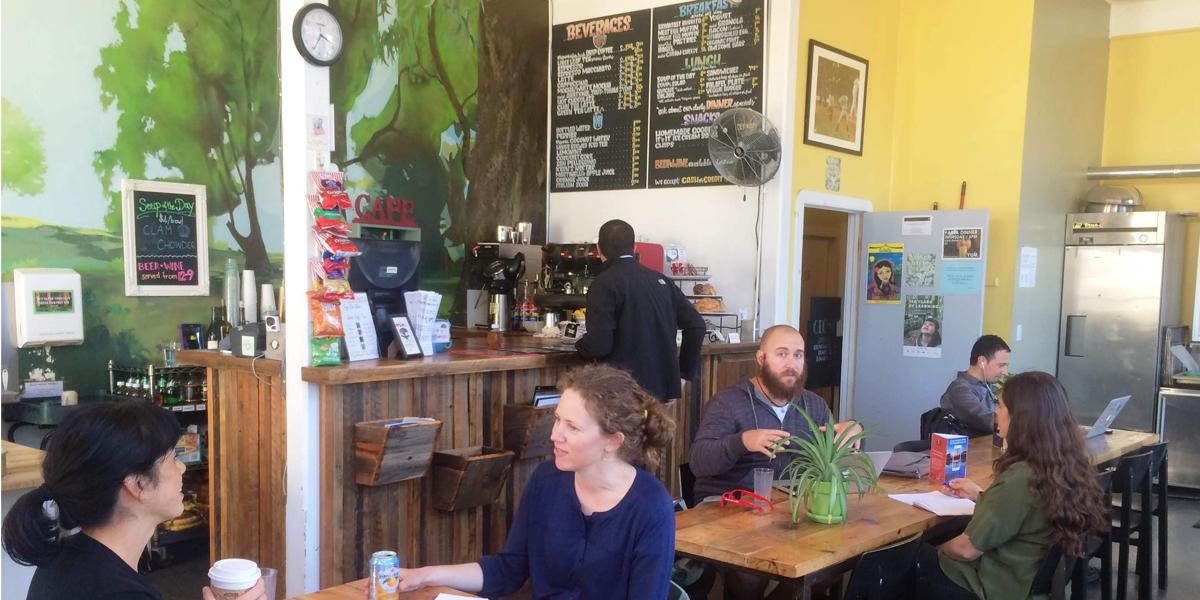 Café Franco at Hostelling International, Fisherman's Wharf
Sensational views of Alcatraz and San Francisco Bay, super-friendly café staff, comfy couches, free Internet, and food all day long (with wine and beer in the evenings). Plus, this hostel is nestled in the historic military base of Fort Mason right behind the National Park Service headquarters.
Soups and salads (or mix and match? yes, please!), sandwiches, and hot tea and coffee are all relatively affordable, given the upscale Marina neighborhood of San Francisco. Grab your food and find a quiet spot in the community garden up front, or walk over to Black Point Battery behind the café and just bask in the million-dollar views.
Hours: 7 am–9 pm
Location: Fort Mason, Building 240, San Francisco, CA 94123
http://www.sfhostels.org/fishermans-wharf/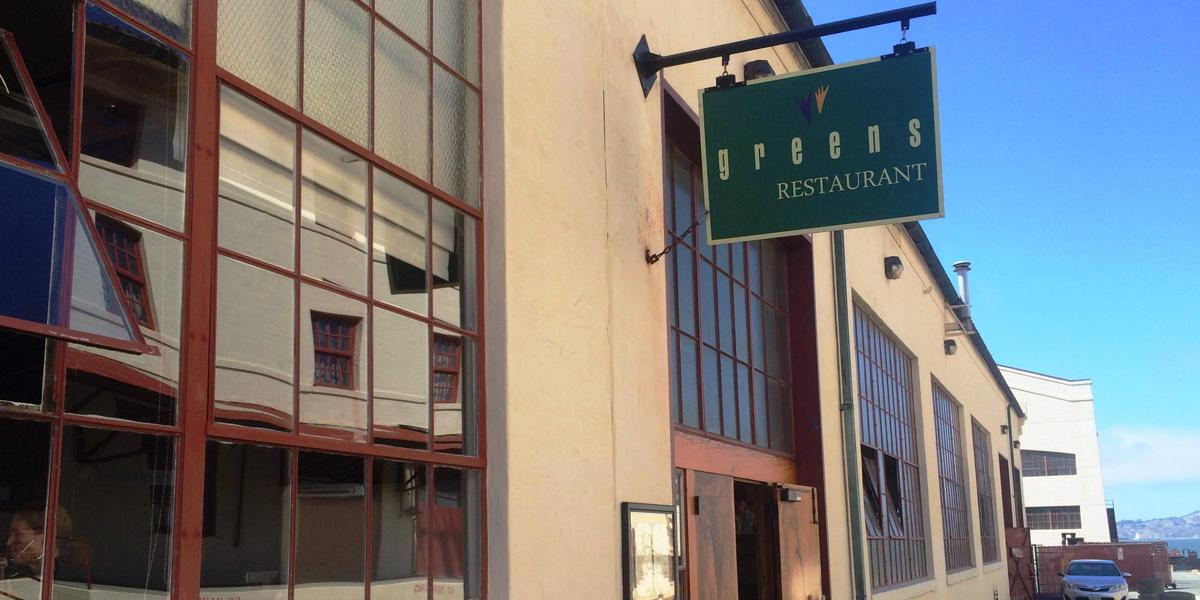 Greens Restaurant
This vegan/vegetarian restaurant has become one of the most celebrated places to eat—and marvel at the views of the Bay and Bridge—in San Francisco. Led by nationally acclaimed chef and author Annie Somerville, this institution is a must-stop if you're trying to impress your veggie friends and family members with a colorful yet nourishing menu.
There is also a Greens grab-and-go counter if you want to continue your saunter and find a picnic table at Crissy Field for a quick bite later. And in the mornings, you can pick up great coffee and scones (sweet and savory), and enjoy the big dining area for a quiet moment of reflection or catch up with friends before the lunch crowd comes in.
Hours: Lunch 11:45 am–2:30 pm (Tues–Fri)
Dinner: 5:30–9 pm (Daily)
Brunch: 11 am–2:30 pm (Sat), 10:30 am–2 pm (Sun)
Greens to Go: Hours vary
Location: Fort Mason, Building A, San Francisco, CA 94123
http://greensrestaurant.com
Warming Hut
Paul Myers/Parks Conservancy
Warming Hut
This beloved stop for runners, walkers, and bikers from the Marina or Crissy Field to the Golden Gate Bridge has the iconic views that can't be beat, but also offers scrumptious food and a lovely gift shop to pick up mementos to help you remember your trip.
The menu includes locally sourced and organic food with hot and cold beverages, breakfast pastries, and more. Grab the popular Crissy Club sandwich, served on a ciabatta roll, or pick up organic PB&J sandwiches for the kids, and snag a picnic table outside if the seating inside is taken.
Remember to keep your camera or phone handy for some of the best photos you will take of the iconic bridge. The ensuing Instagram and Facebook likes will warm your heart…as will the knowledge that all your café purchases support youth programs in the parks.
Hours: 9 am to 5 pm, 7 days a week
Location: 983 Marine Drive, San Francisco, CA 94129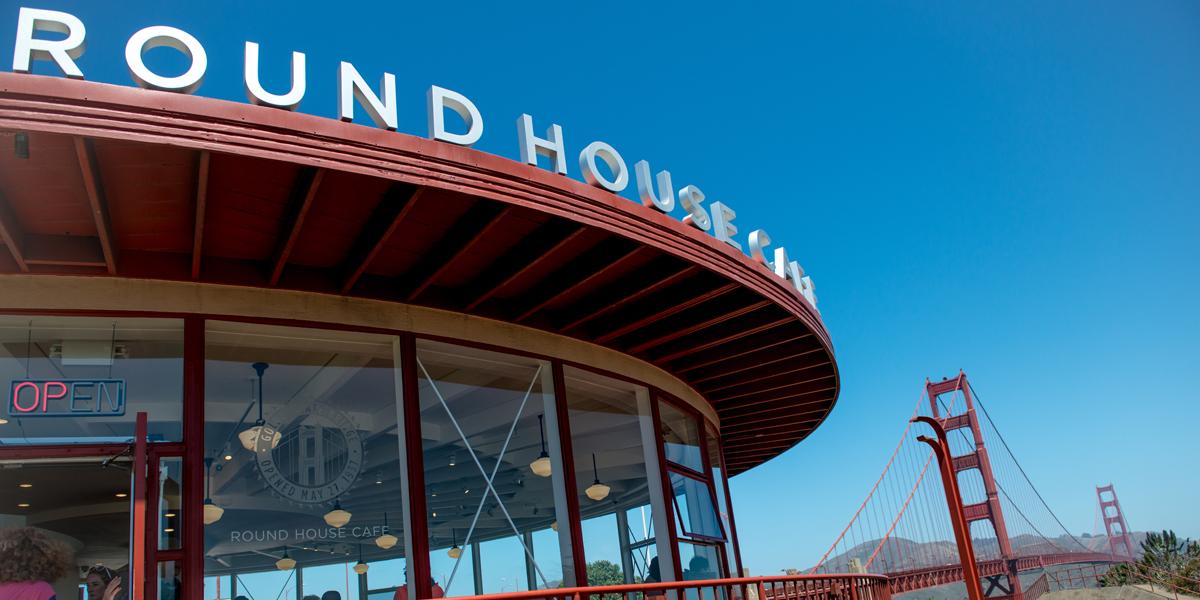 Roundhouse Café
Paul Myers/Parks Conservancy
Roundhouse Café
This historic art-deco building at the southeast foot of the Golden Gate Bridge has reopened as a café, closer to its original use as a diner in 1938 (one year after the Bridge itself opened!).
This charming café offers an all-American menu with a modern twist, including clam chowder, hot dogs, apple pie, daily special sandwiches and salads, and fresh cookies and brownies—all local, sustainable, and high-quality (we are in foodie-paradise San Francisco, after all!).
Also look for daily specials, such as wraps, focaccias, and frittatas. Or you can really escape the (in)famous fog with the signature "Fog Cutter"—two shots of espresso, steamed milk, Ghirardelli chocolate syrup, homemade whipped cream, and chocolate pearls. Yes, really.
From this unique circular structure, enjoy 270-degree panoramic views of the landmark bridge, Alcatraz, San Francisco skyline, the Bay, and the Marin Headlands. Whether you're on a first date or a 50th date, playing tourist guide to visitors, or on a run with your friends, grab a hot beverage and snack, sit down, and soak in the views. Because as we all know, those views just never get old.
Hours: 11 am to 5:30 pm, 7 days a week
Location: Golden Gate Bridge Plaza, San Francisco, CA 94129
Bridge Café
Kirke Wrench/Parks Conservancy
Bridge Café
Located at the Golden Gate Bridge Plaza, along with the Roundhouse Café and Welcome Center, this tiny café serves hot coffee and chocolate, freshly made sandwiches and salads, and a variety of pastries and snacks. Mainly offering pre-packaged "grab and go" items for tourists and locals in a hurry, this little art-deco gem, which is also bike friendly, offers views of the Golden Gate Bridge and a short—but necessary—break stop.
Hours: 9 am to 6 pm, 7 days a week
Location: Golden Gate Bridge Plaza, San Francisco, CA 94129
Photos by: Mason Cummings, Alison Taggart-Barone, Michael Hsu, Paul Myers, and Kirke Wrench
September 1, 2016