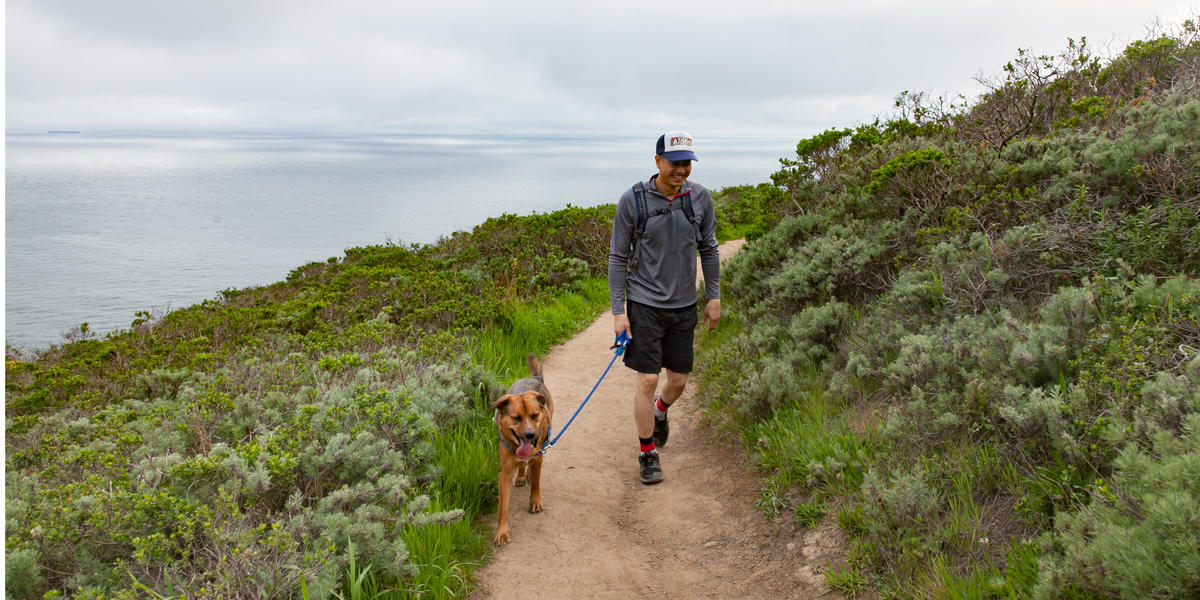 Hiking with a canine companion at Muir Beach
Vivien Kim Thorp/Parks Conservancy
The mission of the Parks Conservancy is to preserve the Golden Gate National Parks, enhance the park visitor experience, and build a community dedicated to conserving the parks for the future. The Healthy Parks, Healthy People (HPHP) initiative, a program of the Institute at the Golden Gate, improves access to parks and positions them as health resources for the whole family—especially those in the highest health need communities. This movement is engaging and creating a whole new community of lifelong park users who help ensure the conservation of the Golden Gate National Parks, while improving their own health all at the same time.
In the last year alone, over 35 park sites throughout the Bay Area have offered Healthy Parks, Healthy People programming on the first Saturday of every month—engaging hundreds of new park users. Parks and health agencies are working together to guarantee that park facilities and programs encourage physical activity, foster social connections, and extend a warm welcome to new visitors.
Park and healthcare providers hope that this regional initiative can be a catalyst for broad policy change that advances the adoption of measureable recreational models to support the delivery of healthcare to improve the physical and mental health of our population. In the next year we hope to reach an even wider audience and begin to create lifelong park users who will improve the health of our communities and our planet.
The next time you find yourself overwhelmed by work or stressed out from the daily to-do's, make the time to go for a walk in your park. We guarantee you'll feel better once you do.
The HPHP: Bay Area collaborative is continuing to welcome new and returning park users each month and we hope to see you out there soon. For more information on the collaborative and to find an HPHP program near you, visit www.hphpbayarea.org.
June 29, 2014