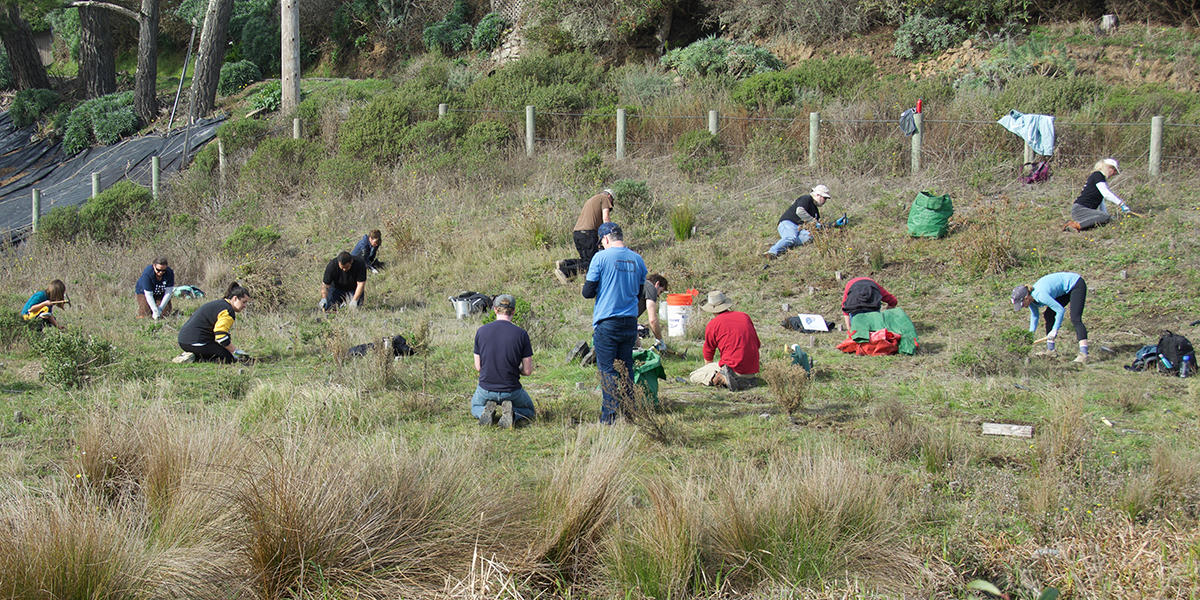 Volunteers weeding
Nancy Hassanein/National Park Service
Last summer, we were a part of LINC (Linking Individuals to their Natural Communities), an internship with the Golden Gate National Parks Conservancy that strengthened our personal connections with the natural surroundings. We went around to different parts of the Golden Gate National Parks, such as Alcatraz, Mori Point, Fort Miley, and the Presidio Nursery—as well as the San Francisco Maritime National Historical Park.
The time we spent with LINC helped us understand the importance of native habitat for plants and endangered species. By weeding out invasive plants, we worked to restore and preserve that habitat. We also got to learn more about the different plants in the Golden Gate National Parks and how to take care of them.
Other activities that we did through LINC included maintaining historical sites at the Maritime park, and performing trail maintenance on various hiking trails throughout the Golden Gate National Parks. All these activities were extremely enjoyable and educational, so we decided to come back to work for the Parks Conservancy again this summer.
This summer we were given the opportunity to be a part of an incredible community at the Presidio Native Plant Nursery. We were able to help out with volunteer days, education programs, and propagation days. During propagation days we did tasks such as sow flats, transplant, transfer plants from the mist-house to the shade house, prune, and weed. We also assisted in leading volunteer days, when volunteers come and help tie-up loose ends around the nursery by seed collecting, transplanting, or weeding in the garden.
We also helped with education programs that came to the nursery, by giving tours and leading other fun activities for the kids such as nature journaling and pot washing. Along with working with the public and other employees at the nursery, every intern was asked to work on an independent project, which was a great way to learn more about the nursery itself and to find a way to give back to it. Our independent project has given us an opportunity to have our opinions heard and respected by the public and our fellow employees.
While all of these experiences have been wonderful, the highlight of our time at the nursery definitely has been meeting and working with all the incredible people. All the people at the nursery have been so welcoming and friendly, and always have such positive attitudes. They are all truly amazing and extraordinary people and it certainly was a pleasure to work with them this summer.
With love,
Jessica Tung & Vivian Yu
Presidio Native Plant Nursery Summer Youth Interns
To learn more about internship possibilities in the parks, visit www.parksconservancy.org/get-involved/volunteer/internships.
October 31, 2014