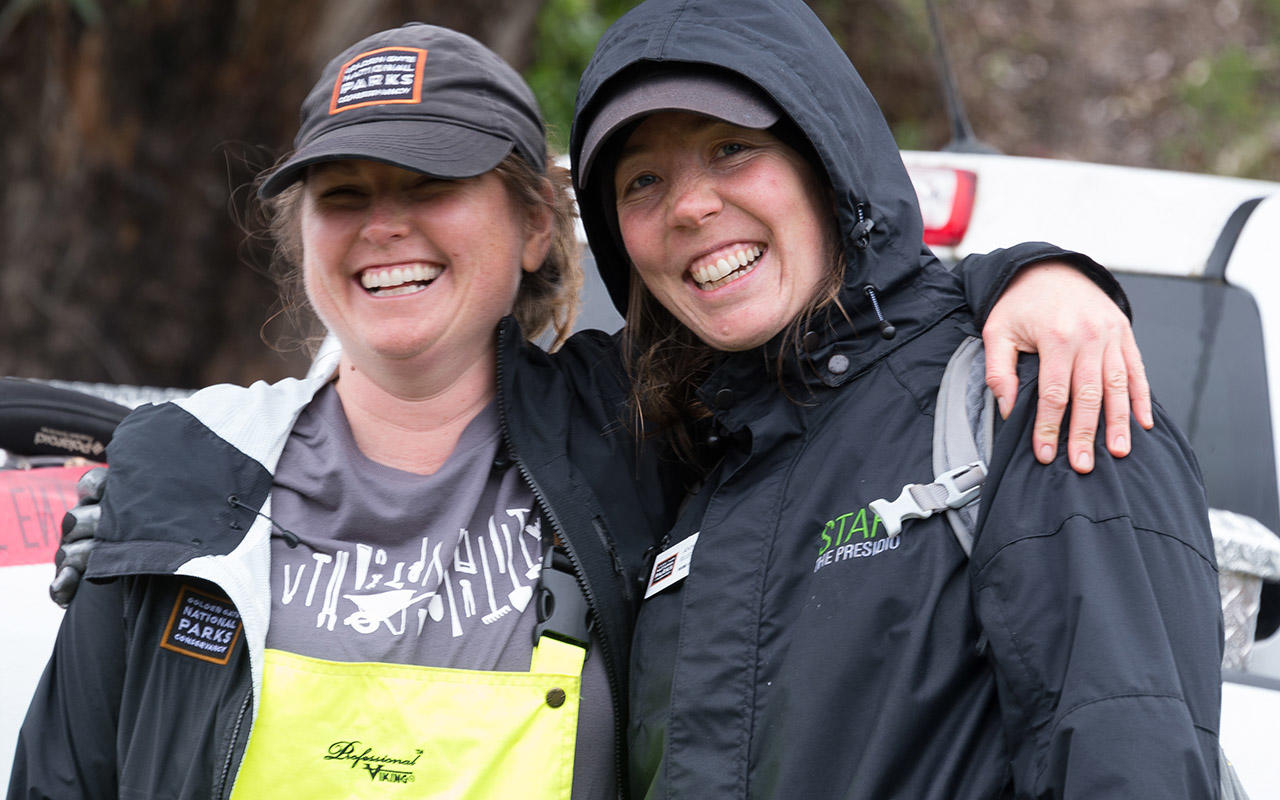 Parks Conservancy staff during a service day in the Marin Headlands in 2018.
Alison Taggart-Barone / Parks Conservancy
Pathways through the Golden Gate National Parks don't always mean trails. 
For many staff members at the Parks Conservancy, the National Park Service (NPS), and the Presidio Trust, their paths to full-time employment started during internships or youth programs offered in our parks. Talk to any ranger or project manager, and you might hear about a history with our supportive park programs.
So that's what we did: We talked to 13 full-time staffers about their own park roots. 
Their answers illuminate the strong ties among the Conservancy, NPS, and Presidio Trust, and the opportunities available to those who want to make the parks their career. For those we talked to, they often found the full-time positions to be just as rewarding as their internships, getting outside and working in the parks on a daily basis.
Interested in starting your own park pathway or know somebody who might? You might have to be as dedicated as somebody like Park Ranger Takeo Kishi, who sent his letter on the back of a mule (read on for more on that story!). Or just start by checking out the Conservancy's internships, youth leadership programs, and jobs online.
Meet our panel, with their first jobs in the parks, followed by a Q&A:
Katie Teschler, Trails Stewardship Manager at the Conservancy, interned with the NPS Trail Crew and with the Presidio Trust before joining the Conservancy.
Chrissy Sullivan, Natural Resource Specialist with the NPS, did a year-long internship with the NPS' Habitat Restoration Team (HRT) in 2011. 
Michael Chasse, a biologist with NPS who's currently serving as the GGNRA's vegetation team lead, interned with the NPS and the Conservancy before landing a full-time job with the Conservancy in the Native Plant Nurseries.
Takeo Kishi, a Park Ranger on Alcatraz, interned with the NPS Trail Crew in 2011.
Emilio Merino, a trails technician with the Conservancy, interned with the trail crew in 2017 before being hired full-time.
Wendy Solis, a Park Ranger for the last six years on Alcatraz, first volunteered at Alcatraz in 2011 before landing an internship there and eventually a full-time gig in interpretation.
Nessa Ramos, Executive Assistant & Board Liaison to the Parks Conservancy Trustees, started with the Conservancy in 2004 in the Inspiring Young Emerging Leaders (I-YEL) program at the Crissy Field Center.
Georgia Vasey, San Mateo Community Programs Manager with the Conservancy's Park Stewardship department, started as an Ecological Restoration and Volunteer Management Intern in Marin in 2013.
Teresa Ely, Banding Program Manager with the Golden Gate Raptor Observatory (GGRO) at the Conservancy, started her career as a research intern at the GGRO.
Janet Klein, Director of One Tam Conservation Science Programs with the Conservancy, started as a volunteer steward for Wolfback Ridge in 1993. Her winding road back to One Tam includes a masters degree, a temporary stint with the Conservancy, a season with the Bureau of Land Management, and 17 years with One Tam partner the Marin Municipal Water District.
Roger Fang, a Park Ranger in the Presidio, started with the NPS as the Historical Interpretation Intern at the Golden Gate Bridge in 2016. 
Claire Mooney, Senior Director, Projects & Design at the Conservancy, started as a volunteer high school intern with the Presidio Natural Resources department at the NPS in 1996. 
Robin Binaoro, Seed Ecologist with the Conservancy's Native Plant Nurseries, started as a San Mateo Ecological Restoration and Volunteer Management Intern with the Conservancy in 2013.
How did you first hear about the internships offered IN THE PARKS? 
Katie Teschler: My sister saw a posting on internmatch.com (no it's not a dating site!) for the Trail Construction and Maintenance Internship, sent it my way, it really intrigued me, and I applied.
Michael Chasse: It's been so long I honestly can't remember. I think I saw a volunteer posting somewhere (probably a paper flyer, as this was back in the ancient times before smartphones and internet).
Takeo Kishi: I was working on a California Conservation Corps backcountry trail crew in the Stanislaus Forest. We were sleeping in tents and rolling rocks around in the wilderness for six months. A corpsmember told me about this internship she'd previously done. It sounded interesting, so I wrote a handwritten letter and shipped it out on a mule to Fort Mason. That's how I applied.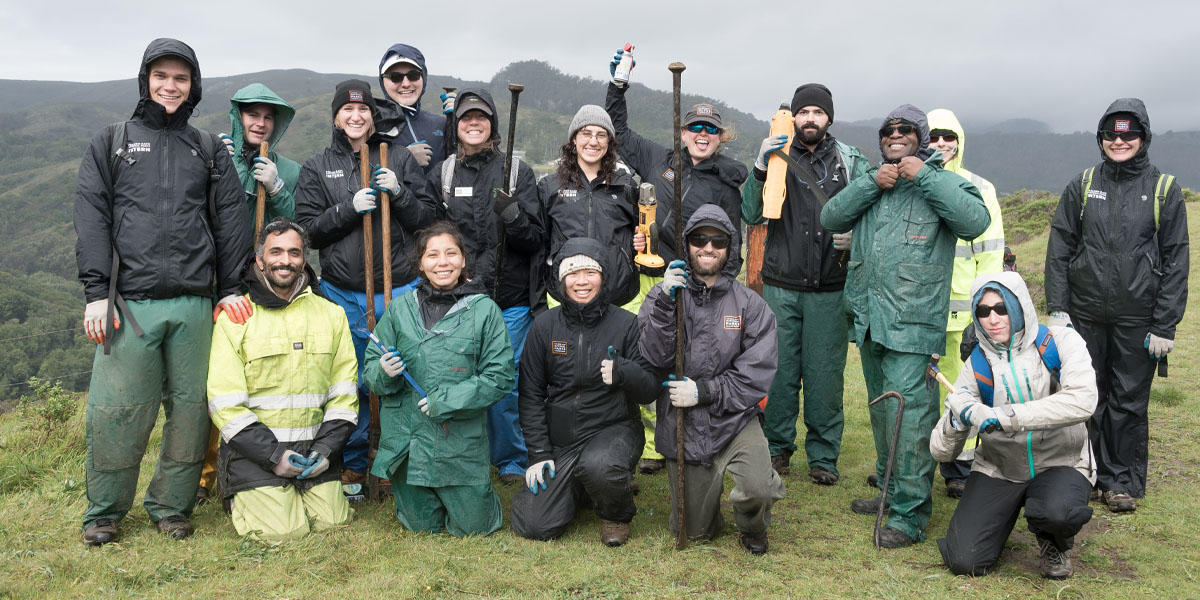 Interns and staff shown in 2018.
Alison Taggart-Barone / Parks Conservancy
Emilio Merino: I was unhappy at my old office job and typed "trail maintenance San Francisco" into Google. I found the Conservancy website and applied to for the trails job. I saw other opportunities but trails interested me most.
Nessa Ramos: My biology teacher recommended that I apply to the program. He announced it during class and made sure that he mentioned it to me again after class. I was an incoming sophomore in high school and that was four months after I immigrated from the Philippines to the United States. I had no awareness of what was available to me and what sort of opportunities a 14-year-old immigrant even had. My teacher knew what was up!
Georgia Vasey: I found the opportunity looking on job boards the summer after I graduated college. I had no idea how many opportunities were in the park, but it looked like a fun and engaging internship. I love connecting with people, so volunteer management resonated with me, and I'd been a gardener for a few years so restoration also seemed like a good fit. Why not combine two things I enjoy?
Teresa Ely: I had first heard about GGRO years before from my friend's dad, he was a volunteer GGRO bander. Years later, after I finished my undergrad, I saw a flyer for the GGRO internship and thought—I should apply because I love raptors and the internship sounded amazing. I had been working with educational programs that brought raptors into classrooms, and this internship seemed like the perfect next step—studying raptors in the field.
Janet Klein: In the fall of 1993, I was enrolled in a botany class at City College of San Francisco and the professor announced an extra credit opportunity for students who participated in a volunteer habitat restoration activity in the Marin Headlands. I attended one. I don't recall the specifics but shortly after that Sue Gardner invited me out to meet with her for the first time. She brought along the NPS vegetation ecologist and another City College student (David Munro). We walked through the site, discussed the problems and needs for a sustained volunteer effort to restore mission blue butterfly habitat and described the idea for the not-yet-developed stewardship program. David and I were the first recruits for the Wolfback Ridge site. Two other sites were also up and running at that time.
Claire Mooney: As legend has it, my mom stopped a park ranger at the Marina Safeway and asked how her daughter could get involved to complete my community service requirements.
Robin Binaoro: I was a volunteer at the Presidio Nursery for about 6-8 months. I met some of the interns a looked on the website for opportunities.
What is one favorite memory or moment from your internship?
Katie Teschler: I really loved my internship with the NPS trail crew! A favorite memory of mine was working on the SCA Trail (in the Marin Headlands) digging drains and clearing brush. I had a lot of fun with my intern buddy, Matt, and crew members Corbett and Brian. The views were incredible as we worked above the fog many days, with the sun setting over the Pacific Ocean on our hike out to the truck. To this day when people ask what my favorite trail in the GGNRA is, I tell them the SCA Trail. I spent two weeks (about 80 hours!) on this trail with my crew, and have nothing but fond memories of it. We would eat lunch on the top of a hill adjacent to the trail and gaze at the Golden Gate Bridge, San Francisco, and the larger Bay Area to the east, and then stare at the Pacific Ocean in awe to the west. Every time I go back and hike this trail, I have a huge cheesy grin across my face as I think about the hard work and fun times my crew and I spent here. 
Chrissy Sullivan: My co-intern, Amanda, and I got to organize and lead a service trip to Hawaii to do habitat restoration with a bunch of the long-time HRT volunteers. It was such a fun, adventurous group and we were amazed we got to be there at all! 
Michael Chasse:  Many favorite moments, but one epic day stands out. I co-led a big, I mean BIG, volunteer group for Earth Day 1996 with fellow intern Peter Brastow, who is now a Senior Environmental Specialist for the San Francisco Department of Environment. There were over 120 volunteers in our group! Sixty-plus volunteers per intern! That might be a park record, never to be broken again...
Takeo Kishi: I remember seeing a fox pee on a shovel in the Headlands.  That was pretty rad!
Emilio Merino: Gah! There have been so many good memories it's hard to choose. But the one that immediately comes to mind is when we were replacing speed rail on Hill 88. A storm was scheduled to come in that afternoon. On our lunch break we drove over to the lighthouse. We watched the waves crash up against the cliffs as the storm came in towards the headlands. A rainbow appeared briefly over the coast as it was just starting to rain. On the way back to our truck, we saw some foxes on the small beach of the trail that goes to the lighthouse.
Wendy Solis: One of my favorite memories as an intern was taking the Crissy Field Urban Trailblazer kids throughout the island. Seeing how excited they were to hear the stories reminded me of why I was interning on Alcatraz. 
Nessa Ramos: Too many to count but my most favorite would be the epic road trip we took to Yosemite and the Grand Canyon. Not only was it my first time at these two National Parks but we got to meet so many amazing people and we all got to spend so much time together. We even advocated for social justice with our own poems that we wrote and performed in front of complete strangers!
Georgia Vasey: When I was an intern, we were in a long drought year. Working at Muir Beach, I was waiting for the anticipation of the creek breaching so the salmon and trout could return home. The weekend it finally downpoured in February 2014 was a special time. I went out to the beach with my co-intern, wearing heavy rain gear and boots. We waited until the creek finally broke through to the ocean. As we saw this happen, we danced and rejoiced on the beach. I was excited to know the fish could finally return to the Redwood Creek—a place I had been restoring with the help of many volunteers for endangered species like the coho salmon.
Teresa Ely: I don't know if I have just one. I loved working with my fellow interns, the staff, and the GGRO volunteers. Two of the 2008 former intern cohort are also currently banding volunteers, so we all still get to work together. One of my favorite things about GGRO is that the organization is one big raptor-loving community. Being part of GGRO is being part of a unique community whose purpose is to study, protect, and preserve California raptor populations. 
Janet Klein: Being up on the ridge with my co-steward/proto-intern Dave Monro in the mid afternoon with the fog rolling in—watching the bridge and the highway and city disappear…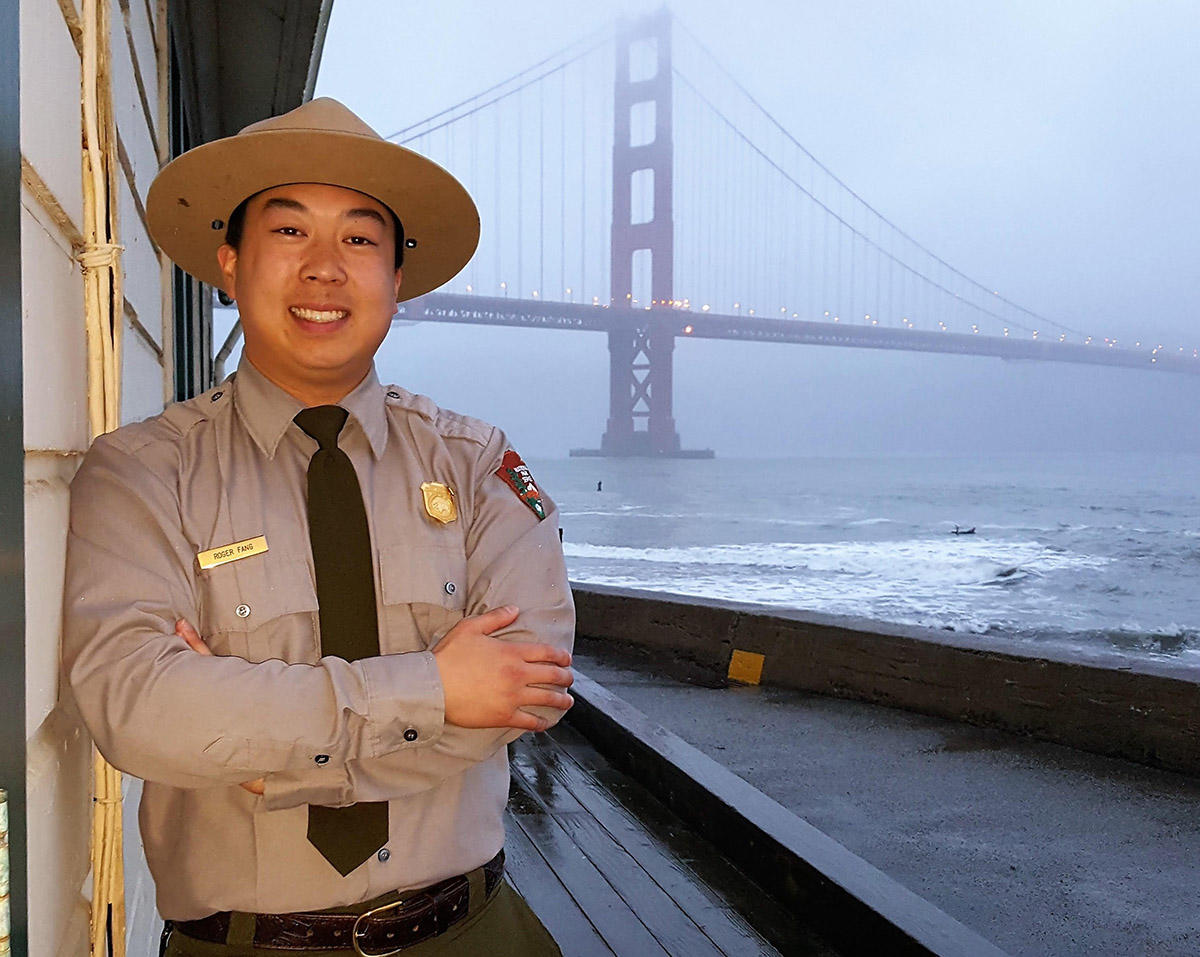 Park Ranger Roger Fang.
Courtesy Roger Fang
Roger Fang: I remember having days away from the visitor center where my supervisor would take me and fellow interns out to explore other park sites. The most memorable was a visit out to Mori Point, as it is such a beautiful area in the park. It was also a great experience to get to know my supervisor and fellow interns. 
Claire Mooney: I was an intern with Ryan Jones (a beloved member of the parks family, known for his intricate illustrations of the natural world, who passed at age 30). He was an amazing friend and inspiration to me, and continues to play an influential role in my life.
Did you get a position in the parks quickly after your internship? Was there a moment you knew you wanted a full-time staff position within the parks?
Katie Teschler: I knew I wanted to come back to work in the GGNRA immediately after I left my internship with the trail crew, and was so thankful to get a position with the Presidio Trust when I returned to the Bay Area. It's been so great and eye-opening to have worked with all three agencies during my time here, and I am incredibly grateful to work in such a diverse, open, and welcoming national park.
Chrissy Sullivan: My internship quickly helped me decide to go to grad school and I started applying a few months in. I did a one-year professional master's program in Ecological Restoration at the University of Wisconsin-Madison. I wasn't sure where I'd go next, but I missed the Bay and the park community so much that I started applying for jobs here again as soon as I graduated and landed a spot on the Conservancy's Restoration Technician crew.
Michael Chasse: After my internship, I wanted to continue in the field of ecological restoration and was fortunate enough to be hired for some seasonal and contract work in the Presidio. Those experiences led to a full-time job with the Parks Conservancy at the Presidio Native Plant Nursery, where I worked for five years as a Seed Ecologist. The knowledge and experience I gained from working with folks like Sharon Farrell, Joe Cannon, and Betty Young allowed me to get my first NPS job, as a Natural Resource Management Specialist, in 2003. Fifteen years, two kids, and a master's degree later, I am now the vegetation team lead for NPS lands San Francisco, the rare plant program coordinator, and currently serving a temporary detail as the park's supervisory vegetation ecologist.
Wendy Solis: I got in as a ranger after a few months interning on Alcatraz. I think I told pretty much everyone I encountered that I wanted to work as a ranger for the NPS, and if I got the job, it would be a dream come true. I was very fortunate to be surrounded by an encouraging staff on the island. The rangers on Alcatraz helped me out tremendously with navigating through USA Jobs, modifying my resume, and building additional skills for the position. I've been a park guide for over 6 years on Alcatraz, and this has been my first NPS position. 
Nessa Ramos: After high school I went to college in the East Bay and I was able to get a full-time job in a hotel in the city. I worked there for 8 years while I was attending college but my sights were always on the lookout for a job at the Conservancy that aligned with my career. Thankfully, the I-YEL alumni are consistently updated with job openings at the Conservancy. 
Georgia Vasey: I was incredibly inspired by my internship, and knew if given the chance, I would pursue a career with the Parks Conservancy. The work environment within Park Stewardship was so supportive, and having a job in which I was outside almost 40 hours a week was such a treat. Each new volunteer group that I met during my time as an intern had a unique story and always something fun to learn. After I wrapped up with my position in fall of 2014, I was fortunate to secure a seasonal position right after as the Redwood Creek Nursery Specialist. This was supposed to be a 4-6 month position to help with the last year of the Redwood Creek Nursery and Volunteer Program in Muir Woods. A few months into my position, I applied for the San Mateo Community Programs Manager with the Park Stewardship Program, and was chosen for the position. Juggling both jobs for a few months was challenging, but it was well worth it in the end. Fast forward four years later and I'm still working in this capacity. I've been able to build my program, have five rounds of year-long interns (the same internship that got me into the park), and continue to enjoy this wonderful department! It's been an amazing chapter of my life.
Roger Fang: I was still an intern when the former ranger at the Golden Gate Bridge got promoted. This left the position open, and soon after, I interviewed and was hired on full-time. Currently, I am a month and a half from my two year mark working for the park. Even before becoming an intern, I had always admired the passion that park staff had for their sites, whether it be maintaining trails for visitors or interpreting information for visitors. After many positive interactions with current staff while interning, I realized I wanted to be a part of the team as well as a full-time employee. 
Robin Binaoro: I filled in for a position at Fort Funston for a month since the intern there left their position early. A temp position opened up in the Headlands and I interviewed there as the assistant. I have been here since 2014 and am now the Seed Ecologist.
Katie Teschler helped compile this article. Some answers have been edited for clarity and brevity. For more on our programs and internships, go to the Our Work page. 
December 17, 2018