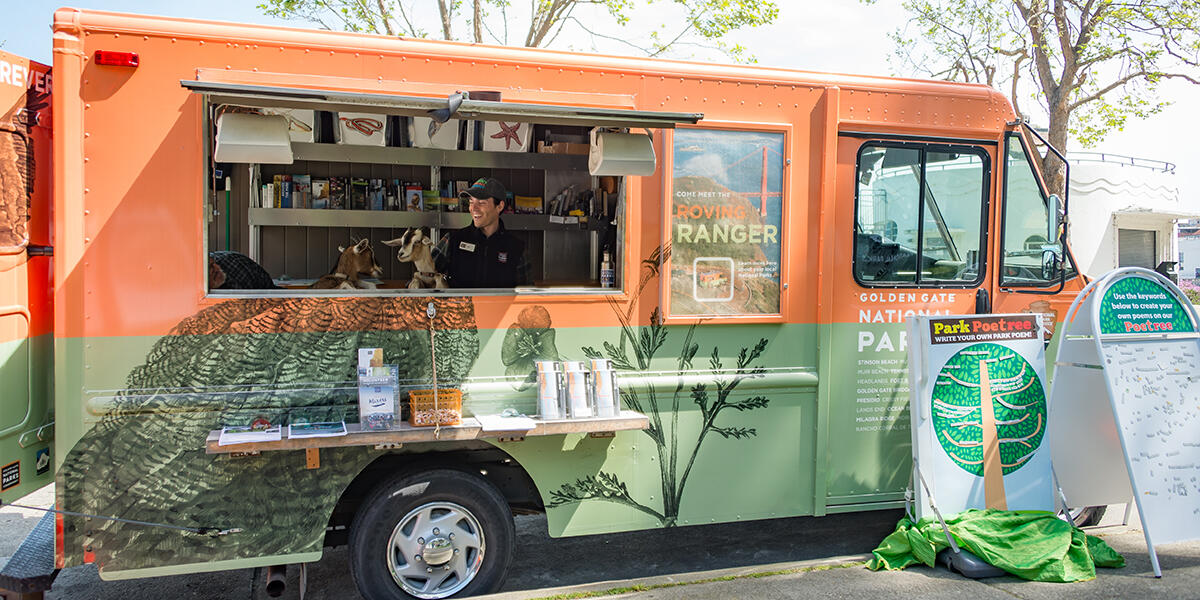 Our pride and joy, the Roving Ranger
Alison Taggart-Barone/Parks Conservancy
After many years of planning, the Roving Ranger has finally come to fruition! With a flashy green and orange exterior, at first glance this vehicle may look like the common food truck. Don't be fooled—this truck offers something much different than tacos.
The Roving Ranger is a mobile trailhead designed to serve as a visitor contact and information center both within our national parks and outside the park. National Park Service, Parks Conservancy, and Presidio Trust employees staff the vehicle to provide information about park sites, topics of interest, park events, and volunteer programs. Staff also offer unique educational programs developed specifically for the Roving Ranger with staff from our Crissy Field Center and partners such as the Headlands Center for the Arts, Oceana High School, San Francisco State University, and San Francisco City College. 
BASE Landscape Architects, located in Berkeley, California, retrofitted the used truck to include a walk-up window, work space, and storage and display areas. Once used as bread truck, the mobile trailhead demonstrates sustainability and recycling. Recycled and second-hand materials from a variety park sites were used to build all the interior fixtures and provide an opportunity for visitors to learn more about park resources. For example: the interior cabinets were built out of fallen trees from our park!
Although this truck doesn't offer any fancy food items, it does come fully equipped with some fancy tricks. The interior is stocked with a mini-library, comfortable lounge area, awesome sound system, and its own in-house weather-monitoring system! Our staff are excited and eager to bring the Roving Ranger to meet you!
 
Keep your eyes open for the Roving Ranger during your next park visit!
Upcoming events where you can expect to see the Roving Ranger:
If you are interested in learning more about how the Roving Ranger can make a visit to your community, e-mail Jamie at jqgunson@parksconservancy.org.
Design and fabrication: BASE Landscape Architects
Exterior graphic design: Hunt Design
April 28, 2013