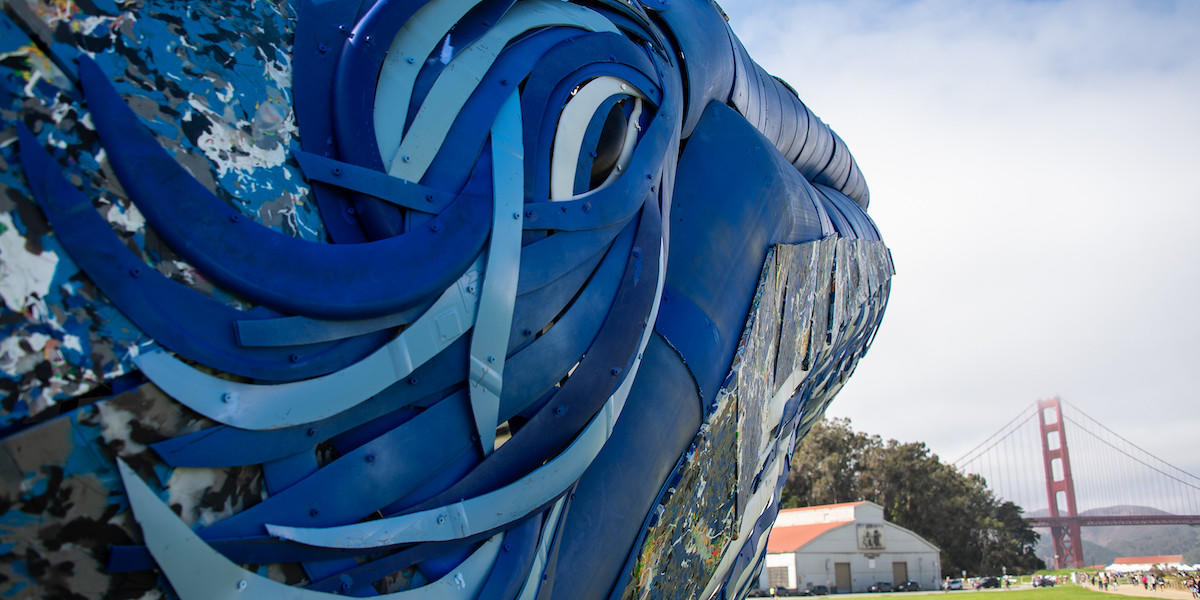 Monterey Bay Aquarium's blue whale art installation at Crissy Field
Alison Taggart-Barone/Parks Conservancy
Every nine minutes, plastic weighing as much as a blue whale makes its way into our oceans. That's 300,000 pounds (150 tons), 160 times every day.
The rapid growth of global plastic production has outpaced humanity's ability to manage plastic waste in a sustainable way. More trash is finding its way to the ocean, impacting a growing number of marine species and ecosystems in its wake.
To raise awareness around plastic consumption and its harmful impacts on the environment, the Monterey Bay Aquarium is building an art installation of a life-sized blue whale in collaboration with the Art in the Parks program, managed by the Golden Gate National Parks Conservancy. Hub Strategy & Communication developed the idea for the installation and commissioned Bay Area artists Joel Dean Stockdill, Yustina Salnikova, and Building 180 (an arts management agency) to build this 82-foot-long blue whale.
"Uniquely focused on the health of our natural resources, blue whale creatively helps us get up close and visualize the scale of our pollution problem," says Sabrina Bedford, Art and Community Engagement Coordinator at the Parks Conservancy.
The artificial leviathan will be made from plastic trash, mostly single-use objects collected from the San Francisco Bay and beyond. The materials were sorted, cleaned, shredded, heated, and molded in a process similar to how plastics are recycled today to minimize any negative environmental impact of the installation.
Crissy Field is no stranger to al fresco art installations. From May 2013-May 2014, sculpturist Mark di Suvero built structures that added vibrancy to the bridge-lined backdrop.
"Crissy Field is a place that has undergone incredible transformations, and is a great example of the kind of change that can happen when people work together," Bedford said.
Like the di Suvero exhibit, Monterey Bay Aquarium's blue whale will be in the center of all the action, challenging everyday visitors to look at familiar problems in a new light. It also challenges us to think bigger and imagine what needs to be changed to make our ocean waters a healthy environment for the wildlife that depends on it.
"Facing the Golden Gate Bridge and the mouth of the San Francisco Bay, blue whale is placed where land meets the water, where the water birds and seabirds explore the restored marsh, and where we can start the conversation of ocean health," Bedford notes.
The mission of the Art in the Parks program is to connect national park visitors with creative experiences that are transformative and unexpected.
"Monterey Bay Aquarium's blue whale follows the longstanding tradition of creativity in national parks and our previous Art in the Parks installations that help us get to know our national parks, including @Large: Ai Weiwei on Alcatraz, Fire of Freedom at Fort Point, and Home Land Security in the Presidio," says Bedford.
The exhibit will make its debut on Saturday, October 13, and will be up through March 2018.
December 7, 2018