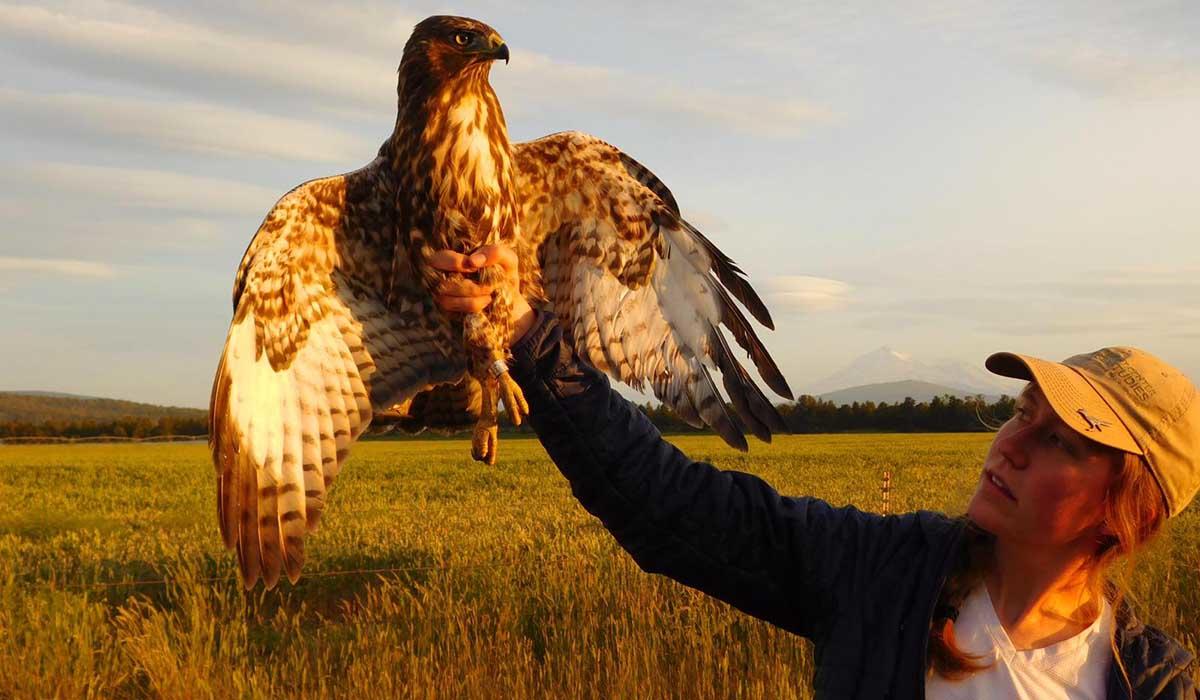 Golden Gate Raptor Observatory intern Kirsti Carr.
Courtesy Kirsti Carr
By Michelle Roberston
For the Parks Conservancy
If you ask Kirsti Carr what she likes about birds, the 23-year-old offers a long list: they're reptilian and endothermic, they lay eggs and make nests, they fly. 
After a few minutes of listing bird qualities, Carr stops herself and laughs. 
"I love everything about birds," she admits. "They're just weird!" 
You can see the passion on her person. When I met Carr in the Marin Headlands on a July afternoon, she was wearing field pants, raptor earrings and a Golden Gate National Parks Conservancy t-shirt emblazoned with a bald eagle. 
For a year, the East Coast native served as an intern at the Golden Gate Raptor Observatory (GGRO). It's a dream gig for someone like Carr, who began birdwatching casually as a teen and studied wildlife biology at the University of Vermont. Over 12 months, Carr learned how to identify the 19 raptor species that pass through the Headlands, how to band and release the birds and how to teach volunteers to do the same. Today, she can even distinguish between a sharp-shinned hawk and a Cooper's hawk (hint: observe the plumage coloring and their tail feathers' shape) though she admits to "sometimes still messing them up." 
Carr said the GGRO internship provided an ideal ratio between bird and human interaction. Much of the work takes place on Hawk Hill, one of the highest points close to the Golden Gate Bridge that places birdwatchers in the midst of migrating raptors' flyway. Besides raptor counters, the hill draws tourists seeking spectacular ocean views, and sometimes more. 
"There's a proposal up there almost every weekend during the season," Carr said.
For the young birdwatcher, one of the highlights of raptor season was meeting tourists who'd stumble up Hawk Hill "not realizing there were people counting hawks up there." She'd help the unexpected visitors get set up with binoculars or a spotting scope so they, too, could observe the migrating raptors. 
It's humans, after all, whom Carr credits with fostering her initial love of birdwatching. Her avian "aha moment" occurred in her teens, while hiking with a birdwise friend around their Connecticut hometown. 
During the walk, Carr remembered her friend calling for a barred owl, and, after a few seconds, the bird hooting its signature "who calls for you?" song in response. 
"I was like, what? You can get a bird to respond to you with your own voice? It was magical," she said. "It sparked something in me."
Millennials and birdwatching aren't often linked in the public imagination. A 2011 report by the U.S. Fish and Wildlife Service determined 53 to be the average age of American birders. (The survey defined "birders" as those who have closely observed birds around their home, or who've traveled more than one mile to watch birds.) 
The demographic might be changing. In 2017, the Telegraph proclaimed bird-watching "the new must-have string to the millennial's bow." There's a Feminist Bird Club for young urban birdwatchers to explore New York City's parks and pursue social justice. The trendy Ace Hotel in Los Angeles sometimes hosts "Birds and Booze" parties at its rooftop bar and pool, where cocktails and bikinis historically outnumber binoculars. 
Though Carr couldn't speak to a national trend, she did say she has "a lot of friends" who birdwatch.
"It's a really nice way to connect with people," she said. 
"Especially in our society today, with all the phone use and running around, birding really slows me down. I think I just listen better—to the bird calls and the people around me."
In a famous lecture, which later inspired the critically acclaimed book "How to Do Nothing," millennial artist Jenny Odell describes how birdwatching helped her to unplug from social media and connect to the material world: 
Observing birds requires you quite literally to do nothing. It's sort of the opposite of looking something up online. You can't really look for birds. You can't make a bird come out and identify itself to you. All you can do is walk and wait until you hear something, and then stand motionless under a tree trying to use your animal senses to figure out where and what it is. In my experience, time kind of stops.
Carr described a similar sensation while birdwatching. 
"Many young people, myself included, have a lot of anxiety and stress," Carr says. "Going out and seeing birds gives me good perspective: They're these tiny little creatures that are living their lives, regardless of the issues going on in the human world." 
It's soothing, she said, "to watch something else live for a little while." 
The day after we met at GGRO's headquarters overlooking Rodeo Beach, Carr's internship was coming to an end. Her next destination: the Goshute Mountains in Nevada, where she'll observe the hawk migration for three months with Hawkwatch International. 
"I guess I'm a little raptor-biased," she joked.
Carr's not sure where she'll eventually land. "But no matter where I go—the city, the woods, any continent—birds are always going to be there," she said. 
Interested in birdwatching? The Golden Gate National Parks Conservancy frequently hosts free, guided birdwatching hikes and tours. You can find upcoming events here. 
For more information about volunteering with GGRO, click here. 
August 30, 2019