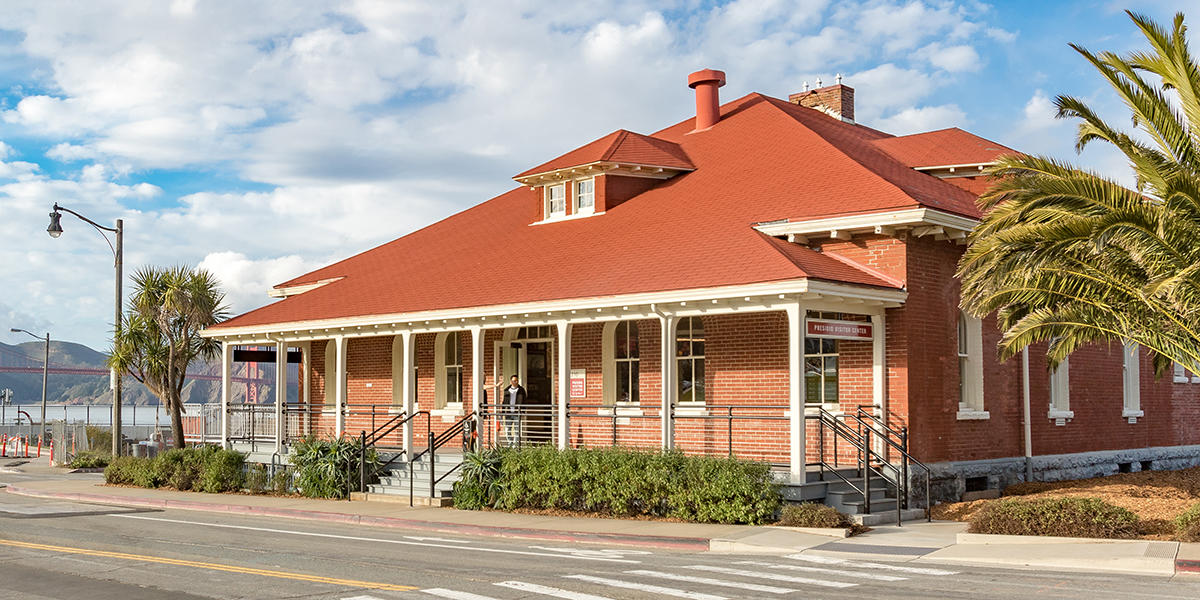 Presidio Visitor Center
Kirke Wrench/National Park Service
On February 25, the doors to the William Penn Mott, Jr. Presidio Visitor Center will officially open to the public.
The 4,000-square-foot facility at the north end of the Main Post will serve as a new welcoming and orientation gateway, where visitors are introduced to the vast natural, cultural, and historical resources of the Presidio—and plan their adventures across the park.
The visitor center, located at 210 Lincoln Boulevard (cross-street Anza) will be open from 10 am to 5 pm, every day of the week.
"It is located at the intersection of the history of the Main Post, the nature of Crissy Field, and the scenery of the Golden Gate—a perfect blending of the nationally significant qualities of the Presidio," says Greg Moore, President & CEO of the Parks Conservancy, which will operate the visitor center in conjunction with the Presidio Trust and National Park Service.
Made possible by the generosity of the William Penn Mott, Jr. Memorial Fund, the Lisa and Douglas Goldman Fund, and the Horace W. Goldsmith Foundation, the facility also blends cutting-edge contemporary features with a historic Colonial Revival-style structure.
Through the expertise of architects from Bohlin Cywinski Jackson and exhibit designer Macchiatto, the ADA-accessible center includes a large-scale model of the Presidio, touchscreen interpretive panels, a video wall showing current events and activities, and interactive exhibits highlighting the history and landscapes of this national park.
In addition to a staffed information desk, the facility also offers a curated selection of of Presidio-themed retail items that will enhance visitors' experiences in the park.
Moreover, the designers have meticulously preserved and restored many period architectural details, such as the original wainscoting and brick walls. Originally built in 1900 as an Army guardhouse and prison for those who ran afoul of military law, Building 210 was more recently used as a post office and First Republic Bank location.
While acknowledging the rich history of the Presidio, the visitor center also opens a new chapter for its future. This facility represents the first piece in a grand vision at the nexus of the Main Post and Crissy Field: the 14-acre Presidio Tunnel Tops parkland.
As the design phase wraps up, the Parks Conservancy will continue to rally public support in the months ahead for this brand-new park atop the "roof" of the Presidio Parkway. Learn more here.
To learn how you can support this once-in-a-generation park-making opportunity, contact Kathryn Morelli at kmorelli@parksconservancy.org.
Photos by Alison Taggart-Barone
February 1, 2017