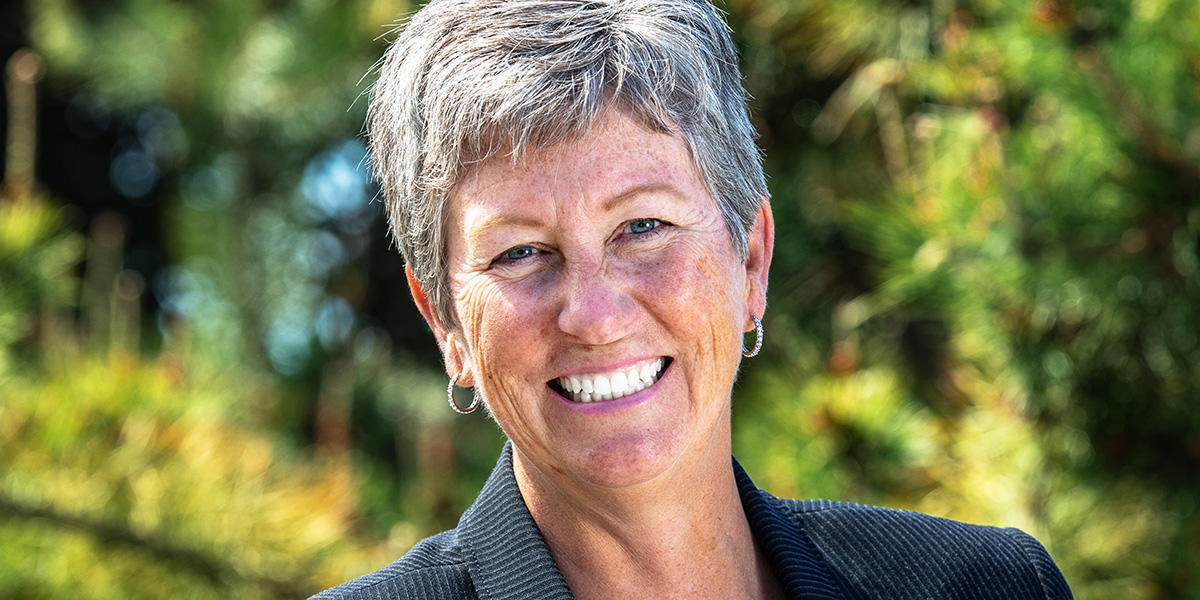 Christine Lehnertz, incoming President & CEO of the Golden Gate National Parks Conservancy.
Paul Myers / Parks Conservancy
From the top deck of an Alcatraz Island ferry on a brilliantly sunny San Francisco day, Christine Lehnertz picked out Fort Point in the distance and pointed.
"Is that just so cool?" she asked. "What a view, this is so terrific."
If there was any doubt about Chris' love for parks, just talk to the new President & CEO of the Golden Gate National Parks Conservancy for a few minutes. Whether she's talking about the history embedded in a place like Fort Point or how to inspire park journeys for more people, her passion for parklands shines through.
Lehnertz will officially take over the Park Conservancy's top post on May 13 after a distinguished career in the National Park Service (NPS), including as superintendent of the Golden Gate National Recreation Area (GGNRA) and Grand Canyon National Park. She was also director of the NPS Pacific West Region and deputy superintendent at Yellowstone National Park. 
Before joining the NPS in 2007, Lehnertz spent 17 years with the U.S. Environmental Protection Agency and also spent time with the Colorado Division of Wildlife, the U.S. Forest Service, and the U.S. Fish & Wildlife Service. Originally from Denver, she's trained as an environmental biologist and holds degrees from the University of Colorado at Boulder and Metropolitan State College in Denver.
Lehnertz replaces Greg Moore, who will become CEO Emeritus and transition to a new role as Special Advisor after 34 years with the Conservancy. You can find out more about the transition in our press release here. 
But we wanted you to get to know more Lehnertz, so we asked her about the parks, her love of all things nature, and the value of partnerships. You'll see her out in the parks soon! Here's our Q&A:
As the former superintendent of the GGNRA and director of the NPS Pacific West Region, you're returning home. What was it like when you left San Francisco and what's it like to return to the Bay Area?
Just the thought of coming back is heartwarming. Because this experience is like coming home, it's like being reunited with your family after being gone for awhile. Our connection to the GGNRA is because the lands are so incredible, it's because the community we serve is so diverse, and for me, it just feels like a big, warm hug. 
A few years ago, the Parks Conservancy's current President & CEO, Greg Moore, and I were in the superintendent's office at Fort Mason. I shared with him news that I was going to leave the Bay Area to go start a big new challenge at Grand Canyon National Park. His eyes welled up at my announcement, as did my own. At that time, we had known each other for about five years, but really only worked together day-by-day for about a year and a half. Even then, we knew we had a shared passion for communities, and what it means to support Parks For All Forever. 
You've seen and worked in many different parks, including the GGRNA. What's your favorite National Park site and your favorite spot in the GGNRA?
I've always felt a strong connection to Fort Point. It's just such a part of history. There are not many park sites you can find on the West Coast directly related to the Civil War. So it's really a part of America's heritage. It's the history that everybody should have access to see and feel and understand. (Particularly if they're wearing a jacket, because it's often quite cold when you visit!) And the views, and looking down into the fort from some of the overlooks, there's something about it that captures my imagination. 
But of course, Muir Woods is inspirational in a different way. There's something about national parks, where there are features that are immense like the redwoods and coast redwood trees.  Their immensity brings into focus that we're pretty small on the face of the planet, and so the time here we have is very important. Each day is an opportunity to make a better place.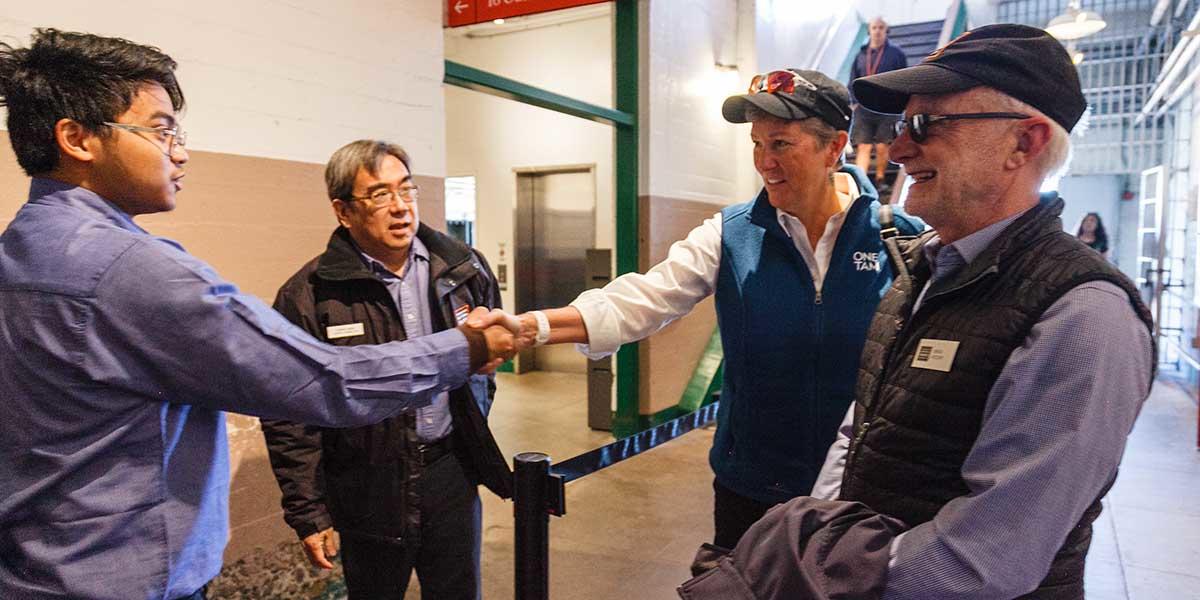 From left, Golden Gate National Parks Conservancy employee Alex Mercado, Edwin Sera, incoming President & CEO Christine Lehnertz, with CEO Emeritus and Special Advisor Greg Moore on Alcatraz Island.
Vivien Kim Thorp / Parks Conservancy

You started your career as a wildlife and biological technician in the Rocky Mountains, what's your favorite biological aspect of the Golden Gate National Parks, which are a UNESCO Biosphere Reserve?
The very first time I came to San Francisco, I was working with the Environmental Protection Agency. I was driving north out of San Francisco to go to a wetlands education program, up in Marin County. When I crossed the Golden Gate Bridge, which is of course in itself an experience that you can't imagine until you're on it for the first time, once I got across I thought, 'this is wildland.' I just left San Francisco and I'm in an area that feels like wilderness. 
As I entered the Marin Headlands, I asked myself, how is it possible that this space is right next to an urban area? I didn't know at the time that it was part of the GGNRA, but it now makes perfect sense: Protecting these lands is in part to keep them as open and accessible by the public as possible. I am grateful that these spaces are protected and looked after by the National Park Service and the Conservancy. With our partners, our priority is to protect and make these places accessible by people, now and forever.
You've been committed to inclusion and welcoming new people to our parks. Why is that so important?
When national parks were first created, they were far away from urban centers. It was Yellowstone, it was Yosemite, parks were places that people would travel a great distance to reach. And that meant if you were going to go to these places you needed to have some affluence, you needed to be able to afford to travel, take a train, whatever you needed to get there. 
What we know now is that the opportunity to preserve America's heritage in national parks—whether it's the home of a former President or John Muir, or Port Chicago Naval Magazine Memorial—is also about the stories that are special to Americans and are significant to our history. So 36 percent of America's national parks are now in urban areas. 
What those of us who work in parks haven't done enough of is to spend as much time as we can making sure people felt comfortable and welcome visiting parklands located in urban places. So the Parks Conservancy, I think, is well-positioned, with park service partners, to get into communities and bring people to parklands. Often national parks have been a place where National Park Service employees waited for people to come, right? We kind of said, come on y'all! Come and see us in the national park! What we can do better is go out into our communities and build confidence and familiarity and education about why these lands belong to everyone. 
Greg Moore has been an important champion, both locally and internationally, for parks. You've worked with him closely through the years, what are some of the things you've learned from Greg's passion for the parks?
He just inspires people. He's able to inspire them to action, which is what matters. We know that within the national park system, people find the opportunity to have friends groups or associations. For those of us who work in parks, we've focused on advocacy, but Greg turns advocacy into action, and that's what has always impressed me. 
CEO Emeritus is the title Greg will have. That really describes the fact that he has a lot to hand off, he has a lot of knowledge, he has a continuing vision for where the Parks Conservancy can go. We're never really finished with the jobs we love, whether it's as superintendent or CEO or president. We will never let go of our passion because we've been thinking about it so deeply, for so long.
How do you envision taking action for the parks?
A ton of it is already in the hearts and minds of the employees who work here, whether it's the National Park Service or the Parks Conservancy. We've built so much together already, from volunteers to youth programs to wildlife monitoring. And that's really a testament to Greg and all the people around the parks who have led the way.
I think a lot of our next chapter is just being able to activate our constituency and say 'now is our time to really think deeply.' Think deeply with the city of San Francisco. Think deeply with the folks in Oakland. Think deeply with the people in Marin City. Think deeply with the people of San Mateo County. Ask: 'What's going to work best for your community members,' and from the answers we receive, come together to find solutions and be inspired. Let's tap into what's already surfaced in our community's hearts and mind, and from that place, be inspired.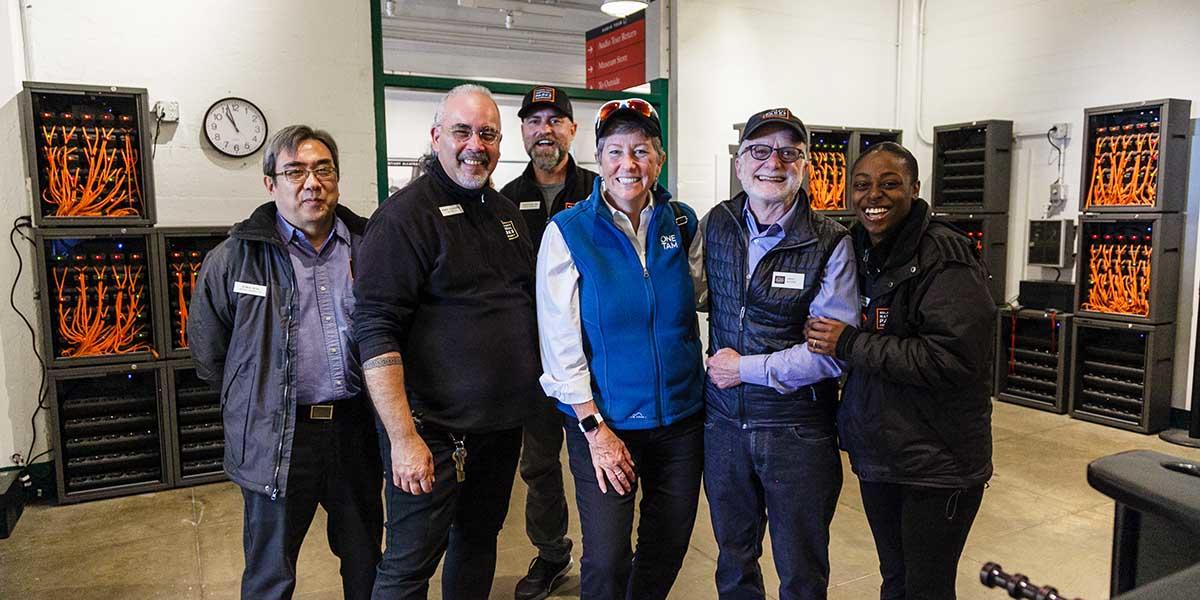 From left, the Golden Gate National Parks Conservancy's Edwin Sera, Robert Blackiston, Christopher Key, incoming President & CEO Christine Lehnertz, CEO Emeritus and Special Advisor Greg Moore, and Whitney Layne.
Vivien Kim Thorp / Parks Conservancy

You have a special take on the key partnerships among the Parks Conservancy, National Park Service, and Presidio Trust. How do these partnerships unlock the full potential of the parks?
The GGNRA has partners in almost every sector. Obviously the primary partner is the National Park Service, they manage and are responsible for these lands. But then you partner with organizations out in Marin County that offer youth education programs. You've got programs with the YMCA and an Art in the Parks program, because you've got partners who are special. 
I think a part of it is understanding more about one another others' organizations. For example, Slide Ranch in Muir Beach has a role that's crucial to help people understand where our food comes from, it helps teach kids what a goat looks like and acts like. We can learn a lot from Slide Ranch about how to engage youth with meaningful and fun activities. So the idea, I think, is to recognize and honor the expertise of each partner and their organization, and also to share and learn from each other, to lift the collective boat if you will. Working together, we can become the best we can be. 
What do you see as the next chapter of the Parks Conservancy?
When you're in the business of stewarding a place in perpetuity, it's hard to know where the chapters begin and end. So in my mind, there's a lot of continuity, and there isn't really an end. And that's what makes this job really exciting: to be a part of not just the nation's history and heritage but also its future. 
These parks have become international icons because of the stewardship of resources, and continued care. The GGNRA gets 15 to 18 million visitors a year. When you look at these incredible visitation numbers you might think, oh there are plenty of people enjoying GGNRA parks.
But what about the people living in the Bay Area who have never seen these spectacular places, or have never been to the ocean or a military fort? That's really the question: how do we get our neighbors to benefit from the inspiration of these special places? How can we support connection with families or friends in the parks? How can we make the park experience enriching, for a young person and for generations of a family?
Is there anything else you want parkgoers to know about you?
My family and I will search out every square inch of San Francisco and learn about it, because I think there's a real unique spirit to San Francisco. It's a bit of a microcosm of the United States. So understanding what goes on in the Outer Richmond, understanding what goes on in the Castro, understanding the dynamics of all of us living together in this little space, and then what it means when you go out to the East Bay, what it means when you go to San Mateo County, Marin County. I want to get out and I want to see things, and I want to see people. And I just want to take it all in and understand how we can work better together. 
April 19, 2019