Respected National Parks Leader Takes the Helm at Acclaimed Bay Area Nonprofit
Golden Gate National Parks Conservancy Names Christine Lehnertz as President & CEO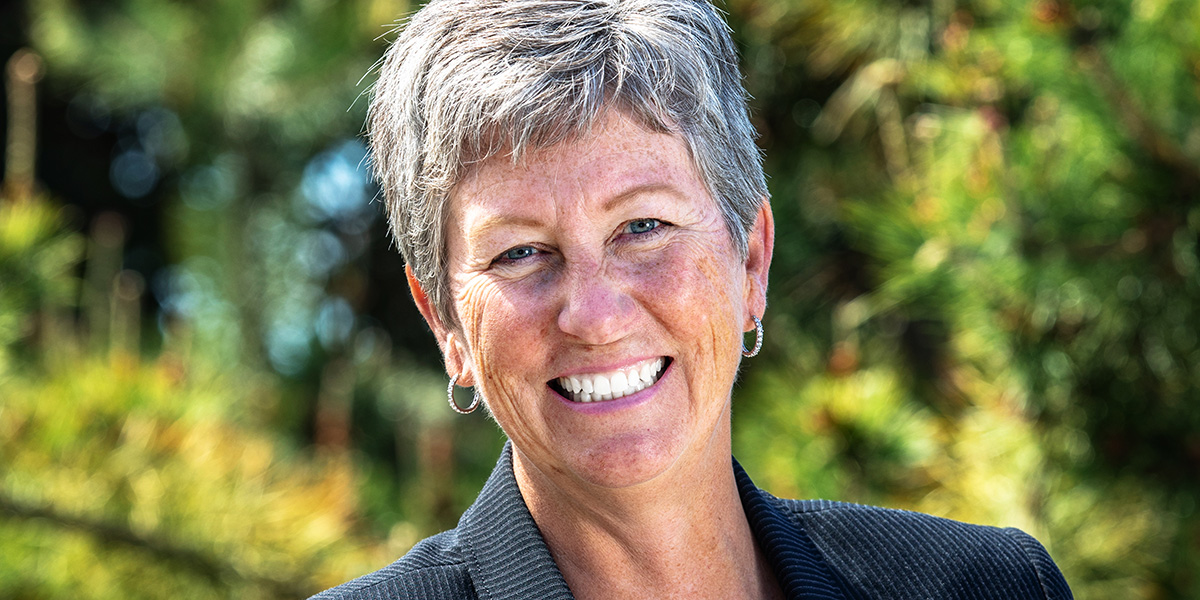 For Immediate Release
April 17, 2019
Contacts: Angela Leung, (415) 561-3064
aleung@parksconservancy.org
Veda Banerjee, (415) 561-3082
vbanerjee@parksconservancy.org
SAN FRANCISCO (April 17, 2019)  The Golden Gate National Parks Conservancy Board of Trustees today announced its selection of Christine S. Lehnertz as the organization's new President & CEO. Lehnertz brings extensive experience managing some of America's most iconic national parks and a passion for making parks relevant and accessible to all communities. She will begin work on May 13, 2019.  At that time, Greg Moore will become CEO Emeritus and transition into a new role as Special Advisor with the Conservancy.  
Lehnertz's distinguished career at the National Park Service (NPS) included serving as superintendent at both Grand Canyon National Park and Golden Gate National Recreation Area, director of the NPS Pacific West Region, and deputy superintendent at Yellowstone National Park. 
Her leadership at Golden Gate National Recreation Area and her role as director of the Pacific West Region, headquartered in San Francisco, gave her considerable time working and living in the Bay Area. As General Superintendent of the Golden Gate National Recreation Area, Lehnertz was actively involved in serving the full Bay Area community—giving attention to youth leadership programs, supporting efforts to reach new audiences, and promoting national parks as a vital tool for serving broader civic needs such as education and literacy, wellness, and urban quality of life.   
As director of the NPS Pacific West Region, Lehnertz had significant and complex leadership responsibilities, including overseeing 61 national park sites visited by more than 56 million people annually. Her purview included stewardship of resources as diverse as the extraordinary tropical rainforest of the National Park of American Samoa, the Port Chicago Naval Magazine National Memorial commemorating the tragic deaths of hundreds of African American sailors, and the rich and inspirational history of the César Chávez National Monument.
Most recently, Lehnertz led efforts at Grand Canyon National Park to increase access and participation for traditionally associated Native American tribes, implement strategies for stewarding natural and cultural resources in the face of substantial increases in visitation, and plan for the modernization of failing water and wastewater infrastructure. She was assigned to Grand Canyon in 2016 by Secretary of the Interior Sally Jewell, to address workplace issues associated with a long-term pattern of sexual harassment and hostile work environment. Lehnertz worked with employees at Grand Canyon to provide training and engagement programs, shift to a more respectful and inclusive culture, and reduce the substantial backlog of misconduct cases. Her priority to ensure a respectful and inclusive workplace is an excellent fit with the Conservancy's values. 
"After an extensive national search, we have found Chris to be an ideal choice to lead the Conservancy into its next phase," said Colin Lind, Chair of the Parks Conservancy's Board of Trustees.  "She is an accomplished and courageous leader, with a clear vision for the future of our national parks, an in-depth knowledge of the Bay Area community, and deep experience and dedication to inclusivity in our public lands. Following on the Conservancy's long history of transforming and restoring parklands, Chris is exceptionally well-suited to broaden who we welcome and serve."
"I am excited to lead the tremendous work of the Conservancy," Lehnertz said. "I have long supported its unwavering commitment to these treasured parklands and its work to enhance recreation and education programs for people who live in the Bay Area and millions of visitors from around the world. The unparalleled access the public has to these Bay Area national park sites is extraordinary. With our partners, I hope we can help instill a sense of joy, stewardship, and community as people visit, utilize, and enjoy these awesome spaces.
"I look forward to working with our staff, trustees, and our many partners, including the National Park Service, the Presidio Trust, the Golden Gate Bridge, Highway and Transportation District, and our One Tam partners to further the Conservancy's mission and continue to expand our reach to new audiences," continued Lehnertz.
"I am delighted to welcome Chris to the Parks Conservancy," Moore said. "Having worked directly with Chris during her time at the Golden Gate National Recreation Area, I can attest to her principled leadership, immense dedication, and humble and caring spirit. I am confident she will bring new energy and insights to our efforts to make national parks relevant to the needs of urban America, and visitors from across the globe." 
In Moore's 34 years of leadership, the Golden Gate National Parks Conservancy has become one of the most successful nonprofit organizations supporting any unit of the national park system. Since its inception in 1981, the Conservancy has provided more than $500 million of support to park projects and programs. Moore and the Conservancy have helped transition the Presidio from military post to park, transform Crissy Field, and usher in San Francisco's next great park, the Presidio Tunnel Tops. Moore will continue to work on the Tunnel Tops and Crissy Field Next projects, and work with Lehnertz to ensure a smooth leadership transition.
Before joining the NPS in 2007, Lehnertz spent 17 years with the U.S. Environmental Protection Agency in Denver and Washington D.C., implementing an array of environmental protection statutes including the Clean Water Act, Clean Air Act, Resource Conservation and Recovery Act, and the Safe Drinking Water Act. Her work also included managing partnerships with states and Native American tribes, environmental and natural resource departments, and local government and non-governmental organizations.
Trained as an environmental biologist, Lehnertz started her conservation career in the Rocky Mountains of Colorado where she worked as a seasonal wildlife and biological technician for the Colorado Division of Wildlife, the U.S. Forest Service, and the U.S. Fish & Wildlife Service. 
Lehnertz received a degree in environmental biology from the University of Colorado at Boulder and holds a secondary education certificate from Metropolitan State College in Denver. In Denver, she served on the boards of the Regional Institute for Health and Environmental Leadership and Girls Sports International. She and her spouse Shari Dagg will reside in San Francisco.  Read more about Chris here.
About the Golden Gate National Parks Conservancy
The Golden Gate National Parks Conservancy is the nonprofit membership organization that supports the Golden Gate National Recreation Area—the most-visited unit in the national park system in the U.S. Since 1981, the Parks Conservancy has provided over $500 million in aid for site transformations, habitat restorations, research and conservation, volunteer and youth engagement, and interpretive and educational programs. Learn more at parksconservancy.org or call (415) 561-3000.
About the National Park Service
The National Park Service (NPS) is a federal agency within the U.S. Department of the Interior charged with managing the preservation and public use of America's most significant natural, scenic, historic, and cultural treasures. The NPS manages the Golden Gate National Recreation Area, as well as 416 other park sites across the U.S. For more information, visit www.nps.gov/goga.
About the Presidio Trust
The Presidio Trust is a federal agency that manages the Presidio of San Francisco—nearly 1,500 acres in a spectacular setting at the heart of the Golden Gate National Recreation Area. In partnership with the National Park Service and the Golden Gate National Parks Conservancy, the Presidio Trust brings alive the park's historic, natural, and recreational assets for the inspiration, education, health, and enjoyment of all people at no cost to taxpayers. To learn more, visit www.presidio.gov.