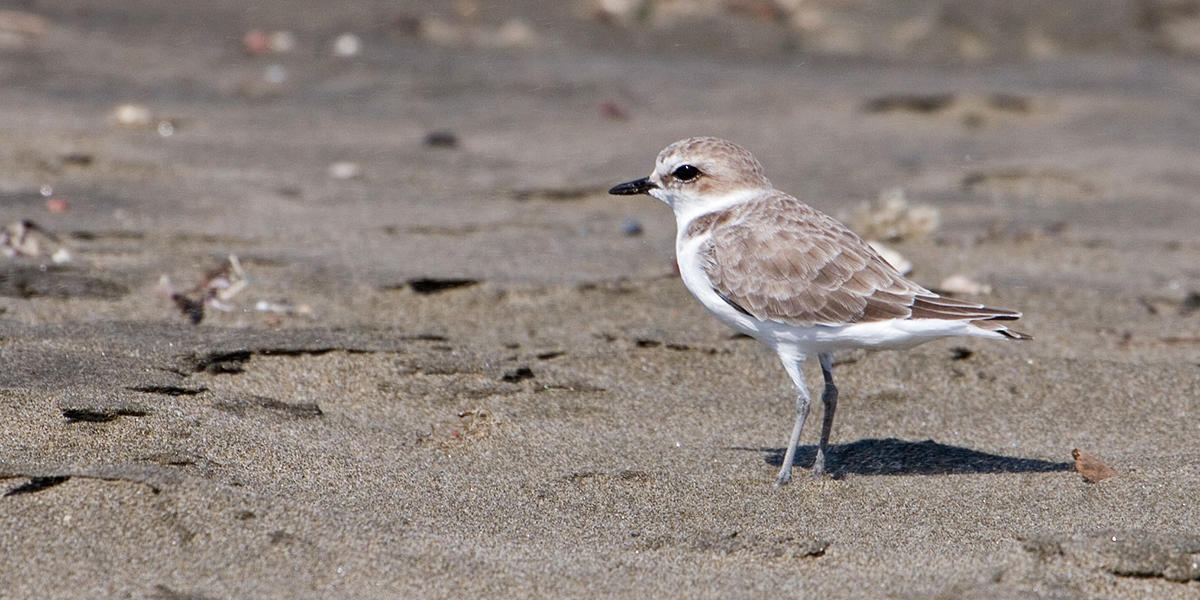 Western Snowy Plover
Will Elder/National Park Service
Among the dunes and the wide, sandy shores of Ocean Beach and the Crissy Field Wildlife Protection Area lies the overwintering grounds for one of the 37 federally endangered or threatened species in the Golden Gate National Parks—a six-inch shorebird called the Western snowy plover (Charadrius nivosus nivosus).
On January 26, 2016, our colleagues at the National Park Service observed 104 plovers at Ocean Beach, a record number since they began monitoring populations in 1994 (one year after the species was listed by the U.S. Fish and Wildlife Service as federally threatened).
According to Dr. Bill Merkle, wildlife ecologist for the Golden Gate National Recreation Area, the average count at Ocean Beach is in the low- to mid-20s per survey. "[Spotting] 104 birds is four times what we've normally seen over the last 20 or so years," he says.
At the Crissy Field Wildlife Protection Area (west end of Crissy Field Beach), the population is much smaller than that at Ocean Beach, with averages hovering between one and six birds per surveying season (early July until the end of April or early May).
Habitat Loss
Once abundant on the West Coast (from Washington in the north to Baja California and Mexico in the south), the Western snowy plover has a total nesting population around 2,100 birds. According to Taylor Ellis, wildlife technician for the Golden Gate National Recreation Area, the plover's threatened status is linked to development, human population growth, and human activity that has caused a decline in its nesting habitat.
"Encroachment of exotic European beachgrass into nesting areas and predation by other animals, like ravens, are also threats," Ellis adds. "There are also the increasing storm surges and sea level rise with climate change that are eroding their habitats at places like Ocean Beach."
That erosion might explain the recent spike in plover numbers. Merkle hypothesizes the surge in sightings this year might be attributed to the El Niño storms washing out most of Ocean Beach—and driving the birds to move to other areas of the shoreline.
This is the third year in a row where, according to Merkle, "the numbers have been particularly strong and building."
"This year, we had one other count with 99 [birds seen on Ocean Beach]," he notes. "We've had lots of plovers on the beach in 2015 (fall and winter). Our previous high count was in 1994 when we first started the monitoring, and that was 85 birds. We hadn't really come close to that until this year, and we've surpassed that on several accounts."
Contributing Environmental Forces
Merkle mentions one more possible weather-related explanation for this spike in sightings: Mild winters in previous years could be causing plovers to survive in larger numbers, and that's why we see more. He doesn't dismiss other, non-weather-related possibilities, though.
"At least last year [2015], we heard some rumors that Oregon had a really strong breeding year," Merkle says. "And that's why they saw a lot of the banded birds from Oregon, and maybe some of these other birds were coming further south."
The ideal habitat for Western snowy plovers consists primarily of coastal beaches, sandbars, sand dunes, and river-mouths, above the high tide line—making Ocean Beach and Crissy Field prime real estate for overwintering and finding their food source (small insects and beach invertebrates).
"They like this wide, sort of flat sandy beaches so Ocean Beach [from stairwell 21 to Sloat Blvd.], especially on the outer coast, is one of the primary beaches in the Bay Area," Merkle explains. "The next big, sandy beach you would find is up at Point Reyes [National Seashore], and to the south is somewhere around Half Moon Bay. We think Ocean Beach, in between Point Reyes and Half Moon Bay, has high ecological value for shorebirds."
Plovers usually land in Northern California (from Point Reyes to Half Moon Bay), starting in April for their breeding and nesting season, but, as Ellis clarifies, he and Merkle haven't documented any plovers nesting or breeding in the Golden Gate National Parks. They've only seen the shorebird use the parklands as overwintering grounds.
"There's likely too much disturbance from people, dogs, and ravens for their vulnerable eggs and chicks to survive," Ellis explains.
How to Spot a Plover
Merkle and his team (two interns and a wildlife technician) perform their seasonal monitoring of Ocean Beach and the Crissy Field Wildlife Protection Area every Wednesday and Saturday almost year-round.
The observers walk the entire length of Ocean Beach (3.5 miles), armed with binoculars, and scout the sand-covered horizon for any signs of the diminutive and elusive shorebird.
"We also collect a little bit of data on how high on the beach they are," Merkle adds. "Are they down on the water line? Are they in the old tide line, or are they above the old tide line? Are they foraging or not foraging?"
Ellis notes that it's important to note the various locations on the beach that the Western snowy plover populations are consistently occupying. These observations guide park management to make informed decisions on how to best protect the threatened shorebird and its sensitive habitat.
Despite seeing only a fraction of the sightings compared to Ocean Beach, the Crissy Field Wildlife Protection Area and the surrounding dune habitat, through restoration efforts, has become prime, bridge-side Western snowy plover  habitat. Merkle believes the "dunes look really nice [to the bird]."
"At Crissy [Field Wildlife Protection Area], we'll see the plovers out on the open beach by the water sometimes, and other times they are in the vegetated dunes," Merkle says. "We had sporadic sightings of one or two birds every so often [at Crissy Field] in 2005, and then we had birds that came and started hanging out in the Wildlife Protection Area, and we think it was related to that beach starting to accumulate sand and growing much wider."
Even with robust Western snowy plover numbers this year, these birds still have a ways to go before they bounce back from their imperiled status.
March 1, 2016