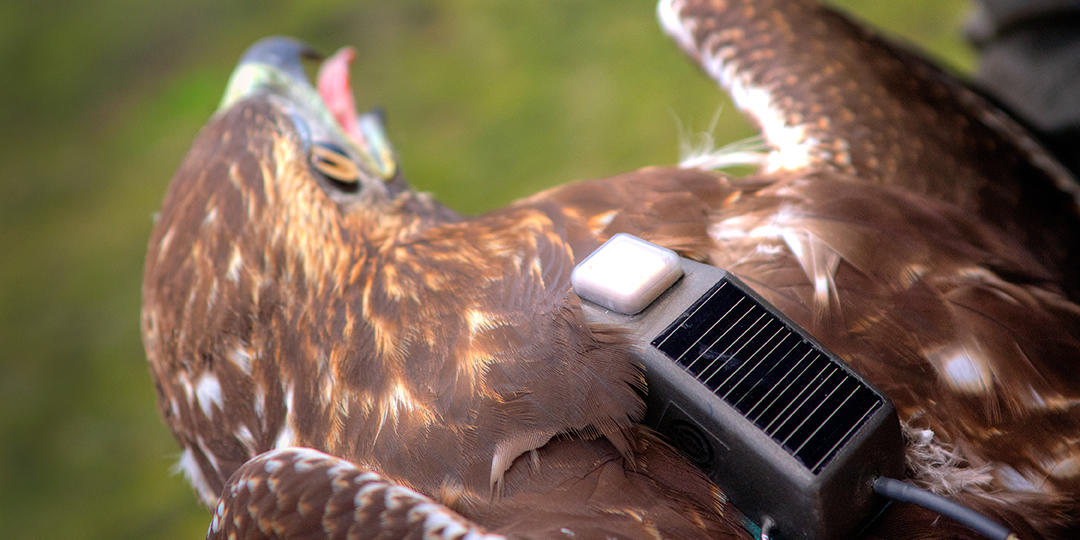 Red-tailed Hawk monitoring
Mason Cummings/Parks Conservancy
This season, in 2012, the GGRO is able to use brand-new technology to help us track bird movements. On Friday, August 23 we put out a GSM (cell phone) transmitter on a female juvenile Red-tailed Hawk, nicknamed Augusta. This device utilizes a GPS device, similar to a hand-held or car GPS unit, and uses cell phone networks to e-mail us the GPS points of Augusta's locations.
A solar cell recharges the battery, so the unit can function for up to two years. The unit is a larger, backpack-style unit, not a tail-mount as are the traditional GGRO telemetry units. However, the unit can only report 2–4 times per day (depending on battery power and sun exposure). This is very new technology and has only just come onto the market, so GGRO is on the cutting edge of tracking technology.
We are hoping to put two GSM units out this year—the first is already out on Augusta. The second unit we plan to deploy during the second Red-tail peak period, to compare and contrast movements of birds from different peaks. This data will add to our database of hawk movements from both band recoveries and GGRO's traditional telemetry.
GSM units don't provide as many locations per day as our traditional radiotelemetry research, which can track a bird constantly throughout the day. While we won't get as much data about Augusta's daily movements, locations, and behavior with this unit, we can get data for a much longer period of time. We may not always get location data for Augusta if she is out of cell range, or if cloud cover or other impediments block a good GPS reading.
At first, Augusta stayed close by—first in Rodeo Valley near the stables for a morning, then over to Angel Island for a day and a half. The next reported location was on San Bruno Mountain, where she stayed for three days. Then she moved south of SFO, lingering on the edge of San Andreas Lake for several days before moving to the base of San Bruno Mountain, where she has remained in the same place for over a week. Check out her movements on our interactive map and stay tuned for updates!
It's an exciting time at GGRO, as we hope to continue utilizing cutting-edge technology to track the migratory and dispersal patterns of raptors moving through the Marin Headlands. To find out more about the work of the GGRO, see this recently published Park Science article.
October 30, 2012